Armor All AA255 2.5 Gallon 2 Peak HP Wet/Dry Shop Vac Review
One of the biggest challenges faced by various shop owners is how to keep their space neat and tidy. With regular indoor and outdoor work, the different tasks taking place, it becomes unavoidable that the shops may get filled with dust particles and filth.
The best way to ensure your shop remains dust-free and unblemished is to get a perfect shop vacuum. However, these days, this task can prove to be a difficult one, since the market is flooded with hundreds of vacuums from different brands, with varying features and services provided by them, thus, leaving you spoilt for choices.
The real headache is to choose the best one for your workspace; that particular appliance that carries out the vacuuming process effectively and efficiently, and is also budget-friendly.
Reviews of Armor All AA255 Wet Dray Shop Vac
2.5 Gallon Polypropylene Tank.Specific uses:Car,Garage,Shop
2 Peak HP Motor
10 Ft. Cord With Cord Wrap
Blower Function – Easy Conversion
On-board Accessory & Hose Storage
Note: It is a 1-1/4" diameter hose which will make it difficult to pick up leaves or other larger debris.
PROS-
Following are some of the benefits which can be enjoyed by the users of Armor ALL AA255 VAC-
The product has an auto shut off, which conveniently detects the fill limit and avoids any overflow.
The polypropylene tank of Armor ALL' Utility vac, makes it ideal for portability.
The product comes with a built-in air and noise diffuser, which ensures a noise-free cleanup process.
Since all the accessories come as a built-in, the users require no assembly process.
The product is equipped with on-board accessory storage, to provide proper storage space for its users if they are willing to carry some extra required tools with them to their office place.
The best thing is that the Armor All AA255 comes with a two-year warranty card and also provides a quick remedy service when contacted to the customer services.
This product is easily affordable and budget-friendly.
CONS-
Along with the merits enjoyed, Armor ALLAA255 VAC, there are some of the disadvantages which can cause a little trouble to the users. Following is the list of the cons of the product.-
One of the biggest disadvantages which are faced by the users is that the product is not very powerful. The people may find the product inconvenient and inefficient while picking up huge debris.
Another disadvantage of the product is its short hose.
This appliance has a relatively small tank.
After a lot of research, we suggest that the ARMOR ALL AA255 vacuum may be one of the best choices for keeping your shop dirt-free. This article enlists the detailed description of ARMOR ALL AA255 VAC.
PRODUCT DESCRIPTION:
The Armor All AA 255, is an average-sized vacuum, which is specially developed, and designed to clean and dredge the interiors of a shop or any medium workspace center. It can efficiently be, used to clean both dry/solids and wet/liquids pickups from a medium-sized space.
The appliance is adroitly equipped, with all the additional pieces of equipment necessary for a proper interior cleaning up process. It is also furnished with an automatic shutoff feature, which prevents the overflow. This 2.5 Gallon polypropylene tank can be, carried out efficiently.
The Armor All AA 255 has a 10-foot cord with wrap, a reusable foam sleeve, a 6 foot, 1.24-inch hose reusable cloth filter, a blower nozzle, a deluxe car nozzle, and a detailed brush. These built-in pieces of equipment require no assembly at all.
FEATURES: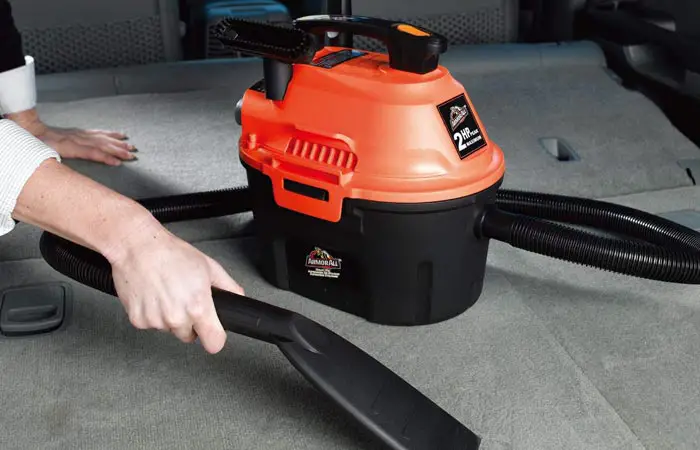 If you want to have a clear and brief outlook about this product, then here are its features that justify and portray the service provided by the product-.
The best feature of this appliance is its lightweight model. It can be measured as 14.10 by 10.37 by 14.36 inches. This equipment has a two peak HP motor.
You can be relieved with the pain of attaching extra extension cables since this vac comes with a 10-foot power.
Another fantastic feature is that it requires no replacement bags since this product comes with a 2.5-gallon tank, which can conveniently store wet or dry substances, from the floor of your shop floor.
When it comes to other vacuum cleaners, they require some other and extra spare tools and equipment, which are sometimes necessary to buy along with them.
However, when talking about this product, it can be mentioned that this equipment comes with all required built tools, to ensure a complete cleanup process. It has a crevice tool, a detail brush, a blower and a deluxe nozzle, along with a two-in-one utility nozzle.
CAPABILITIES:
The Armor All AA 255 has a wet and dry vac unit, which comes with a 2.0 peak horsepower motor, which has a quite robust and sturdy suction power. It can also be conveniently, transformed into a blower.
One of the best things which can be enjoyed by the users of this equipment is that it has a storage compartment, specifically built to allow you to keep and store useful and necessary accessories, that may be required while away at work.
Its blower function is capable of blowing away the debris pickups or even inflatable pool gears. The Armor ALL AA 255 has a built-in noise diffuser, which allows the accessory to ensure an efficient and nice-free cleaning operation.
SUITABILITY:
The Armor ALL AA 255 is one of the most suitable vacs if you aim at the whole cleaning process of your medium-sized car. It is, explicitly designed to ensure comfortable mobility and easy installation though it does not have enough power to clean up large debris.
Recommended Article:
CONCLUSION:
Thus, these were some of the different sections, which briefly attempt to explain, what basically Armor ALLAA255 VAC is and how it works assists in the cleaning process. The different features and merits of the appliance are enough to justify the efficiency of the product.
Even though the product comes with some minor demerits, it has numerous active users, and they have reviewed the product well. With its manageable size and amazing features, many people have considered this product as the best choice to carry out a perfect and adequate cleanup process, rather than undergoing any extra costs.
So, it can be, concluded that the Armor ALL AA255 VAC, can be a good choice when looking for that particular vacuum, which is affordable, efficient, effective and convenient.