Top 10 Portable Air Purifiers According to Specialists Reviews
Air purifiers are not a new invention, but this appliance came a long way since it first debuted in the early '60s. With relatively modest construction, the air purifier has swept households in all continents. Today, manufacturers are using multi-stage filtration and state-of-the-art-technology that makes air purifiers true health-enhancing appliances that can not only clean the air in your room, office, or even your car, but even fight allergies and viral droplets, and bacteria. Lately, portable air purifiers became more popular. Portability, of course, is the main asset here, but we think that a portable air purifier is a great investment also because it is cheaper than their bulky big brothers, and more importantly more silent for bedside use and in quiet office areas.
After comparing specs and countless expert reviews, we picked ten portable air purifiers with slightly different merits to help you choose the best for you. If you have never considered buying one, a portable air purifier is the best entry to this world!
What are air purifier units and what are their intended uses?
Even though air-purifying might be included within a building's central heating system as a part of HVAC, our main focus in this review is to discuss air purifying units intended for single rooms, and this blog will focus particularly on portable-easy to move- best air purifiers. The air within a room contains a lot of particles, like dust, allergens, mold starters, pet hair, and viruses. Air purifiers work by capturing these particles while circulating the air in a certain enclosure. Air purifier units use several purifying technologies like UV light, HEPA filters, carbon activated filters, or PECO filters.
Why should you consider a portable air purifier?
Well, the most important reason is that it's portable, as the name suggests. Just like any tech gadget out there, the portable version offers easy transport and a smaller footprint. When it comes to air purifiers, portable versions offer several advantages.
Besides their smaller size, portable air purifiers are cheaper to run as they consume way less electricity, your can place them closer to you, and are quieter, meaning they are a better option for bedside and office use. Moreover, advanced portable air purifiers offer other cool features like a night light, digital clocks, without compromising filtration quality, but they might offer less room coverage than bulky air purifiers.
What do experts say about portable air purifiers? What are their benefits according to experts?
According to Shelly Miller, Ph.D., an environmental engineer at the University of Colorado-Boulder, portable air purifiers are very good at removing viral particles from indoor air. According to several studies and expert opinions indoor areas are likely 5 times more polluted than outdoor air. Meaning that using the right air purifier will help disinfect indoor air from allergens, viral droplets, dust, and smoke, improving the overall quality of your room.
Another piece of information worth mentioning is that 80% of people who look for guidance with buying an air purifier are looking to improve sleep. The American Psychology Association (APA) 60% of adults report having sleep trouble a few nights a week.
A clinical study conducted in May of 2019 found substantial improvements in subjects' sleep just by improving the air quality. Here is where a portable air purifier comes in handy because it focuses on your breathing zone particularly rather than the whole room.
Top 10 Portable Air Purifiers According to Expert Reviews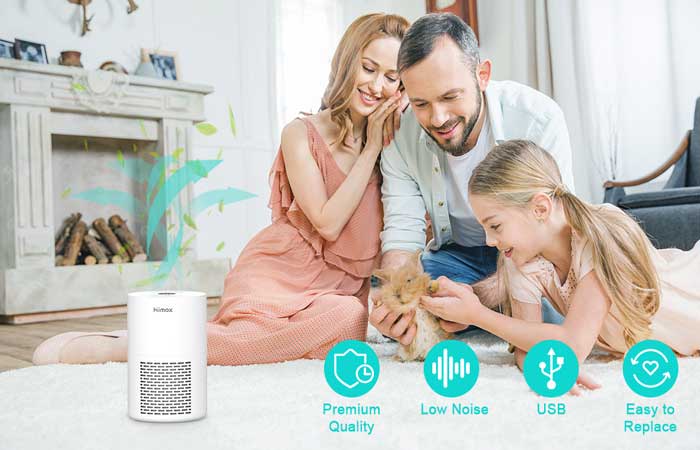 1. Blue Pure 311 Auto Air Purifier
AUTO ADJUSTS SO YOU CAN REST EASY: One touch auto mode uses a particle sensor to monitor pollutant levels and adjusts fan to ensure optimal air quality; LED indicator displays air quality status as excellent (blue), moderate (orange) or polluted (red)
CLEAN AIR IN MINUTES: Blueair's HEPASilent dual filtration delivers up to 45% faster cleaning and up to 67% less noise than traditional HEPA filtration alone; Quickly cleans 388sqft medium room in about 12.5 min or up to 1862qft XL space in 60min, on high
ONE OF THE QUIETEST AIR PURIFIERS: Quieter (23 dB) than whisper on low; ENERGY STAR rated - uses less energy (3W) than an LED lightbulb on low so it's kind to your wallet and the planet
ASTHMA & ALLERGY: Removes 99.99% of pollen, helping reduce allergens and pollutants that trigger allergy and asthma symptoms
REMOVES ODOR & PARTICLES DOWN TO 0.1 MICRON: Ideal for smoke & smog during wildfire season; Removes 99.97% of airborne particles like smoke, dust, viruses and pet dander, while the carbon filter traps light household odors from smoking, pets and cooking
MOST AWARDED AIR PURIFIER BRAND IN THE US: Blue Pure 311 Auto has won Wirecutter Pick – The Best Air Purifier 2021, 2020, 2019; The Spruce Recommends – Top Pick
INDEPENDENTLY TESTED FOR PERFORMANCE & SAFETY, ZERO OZONE: AHAM Verifide for CADR; Ozone Safety Standards Certified by CARB; Zero Ozone Verified (<5 ppb) by Intertek Sustainability Program; Trusted Education Partner of British Health Professional Academy
GENUINE FILTERS FOR OPTIMAL PERFORMANCE: Replace your filter every 6 months to ensure proper functionality & only use genuine Blueair filters; Shop 311 Auto replacement filter: B08F13YBG2; Upgrade to SmokeBlock filter for enhanced removal: B0B45D9TDS
The Blue Pure 311 Auto is considered one of the best portable air purifiers according to many expert reviews. It's compact, easy to use, and performs like a beast. Weighing 6.8 lbs this lightweight portable air purifier is a great bedside companion especially if you have asthma or allergies.
With a price tag of 200$ the Blue Air 311 Auto has a 3-stage filtration system, which consists of:
Pre-filter found outside the air purifier makes cleaning fairly easy by wiping or vacuuming.
Particle filter The 311 Auto does not have a True HEPA filter, instead, it uses a polypropylene filter that captures up to 99% of particles including dust, allergens, pollen, fungi, and pet dander.
Activated Carbon Filter which is very effective for odor control, gases, and VOCs.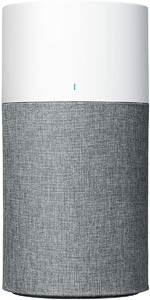 Features:
Lightweight compared to the performance
Very quiet (23 dB)
Certified by the Association of Home Appliance Manufacturers (AHAM)
Captures 99.97% of particles down to 0.1 microns (smaller the True HEPA)
A smart sensor that changes speed according to the environment
388 sq. ft. room coverage
Pros
Outstanding performance/weight ratio
Dust and a smoke sensor for increased sensor sensitivity
Extremely quiet especially at low speeds
Impressive room coverage for a portable size
Different color option
Cons
Not available on all sites
More expensive than other portable air purifiers
2. Medify MA-25 Portable Air Purifier
QUALITY TESTED & BACKED: CARB, ETL, and Energy Star certified. Backed by a USA registered Lifetime Warranty when genuine Medify replacement filters are used. The replacement filter (B084Q965BF) lasts 2,500 hours or about 3-4 months
The MA-25 is worthy of this list, while you may find smarter models and lighter ones, the performance, and features for this device aren't bad at all and can compete well in the low-mid-range portable air purifier. The design is pretty straightforward (which is not a bad thing in my opinion) and features a tempered glass panel on top.
At 199$ as an official price this portable air purifier has a pretty steady build and scratch-resistant glass on top with three color options (white, black, and silver) it weighs 8.5 lbs making it easy to move around the house and plug it almost anywhere. The Medify Air MA-25 has a 3-stage air filtration system:
Pre-filter this stage captures large particles like pet fur and large dust that prolongs the rest of the filters
True HEPA filter (graded H13) can capture 99.97% of particles 0.3 microns and larger
Activated carbon filter uses a thick carbon filter with carbon pallets to trap odors and toxins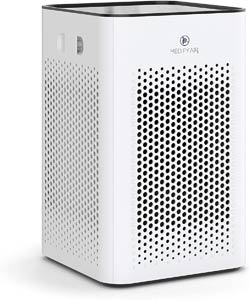 Features:
250 sq. ft. room coverage (4 times in one hour)
35 dB noise level on low speed
Energy star product (25 watts)
A dimmer setting for the bedroom
Basic timer (up to 8 hours)
Child lock
LED indicator for filter replacement
Lifetime warranty
Pros
Advanced HEPA filter
Lifetime warranty
Neat design
Powerful fan if used in rooms under 300 sq. ft.
Cons
VERY high filter cost
No smart features or smart sensor
3. Levoit LV-H128 Bedroom Air Purifier
REFRESH YOUR AIR TODAY: Still struggling with allergy symptoms and unwanted odors. Breathe clean air with the effective Levoit LV-H128 Desktop HEPA Air Purifier—perfect for anyone wanting to improve their indoor air quality
3-STAGE DUAL-FILTER DESIGN: Dirty air in, clean air out. the 3-stage filtration system with dual-sided the HEPA filter of the 3-in-1 filter removes at least 99.97% of dust, pollen,  and any airborne particles with a size of 0.3 microns (µm)
WHISPER-QUIET: Babies are easily woken up by noises and sleep deprivation can negatively impact their well-being. This air purifier keeps noise levels as low as 28dB and has a Sleep Mode, so you and your family can feel well-rested every night
Official Levoit Filters: Search for B08H8QNW1S or LV-H128-RF to find the Levoit Personal HEPA Replacement Filter. Levoit replacement filters provide the best fit and filtration, while off-brand filters are unreliable and may damage the air purifier
WHISPER-QUIET: Looking for stress relief after a high-pressure day. Add 2-3 drops of your favorite essential oils to the aroma pad and enjoy natural fragrance throughout your space
SMALL SIZE, POWERFUL DESIGN: Weighing only 3.3 pounds, you can take this air purifier anywhere. Enjoy completely refreshed air in just 30 minutes in 161 ft² spaces. It's perfect for living rooms, kitchens, offices, and bedrooms
ONE-BUTTON CONTROL: Forget about adjusting settings and knobs. One simple button controls the air purifier and lets you know when the filter needs to be checked. This air purifier is user-friendly, effective, and convenient
SAVE ENERGY, SAVE MONEY: We understand the importance of conserving energy. With a low rated power of 10W, you can run this air purifier 24/7 and pay as little as dollar 10 for the amount of electricity it uses in one entire year
Weighing half the Blue Air 311 Auto, the Levoit LV-H128 is a perfect portable air purifier if you are on a budget. Impressively though, the LV-H128 did not compromise on the filtration system, it has a 3 stage filtration system consisting of:
Pre-filter captures large particles easily before even going through the HEPA filter
True HEPA filter captures 99.9% of dust, mold, pet dander, dust mites, and any particles down to 0.3 microns.
Carbon activated filter for odor control whether being in the kitchen, office or bedroom
After comparing lots and lots of portable air purifiers, we found that this Levoit model is one of very few that have a True HEPA filter with under 50$! Moreover, other 50$ models with HEPA filter, do not boast a three-stage filter and especially good odor control. In other words, if you especially want a reliable portable air purifier with a HEPA filter under 50$ that's your boy!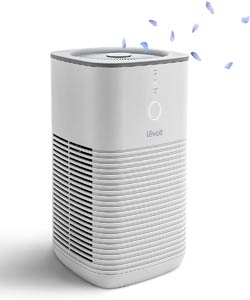 Features:
3-stage filtration system
3.3 lbs
Aroma pad
LED indicator for filter replacement
Pros
Great price/performance ratio
Very lightweight
Low cost
Aromatherapy
Cons
Does not have a sleep mode
Not the best-looking design
4. Levoit Core 200S Smart WiFi Air Purifier
OZONE FREE: Our most popular air purifier series is back with an all-new smart model. Levoit air purifiers avoid using UV-C light, which is especially harmful for Asthma sufferers and pets
GENUINE REPLACEMENT FILTERS: For the best performance and longest lifespan, use genuine Levoit replacement filters. Use the in-app feature to monitor your filter life. When it's time for a fresh filter, search "Core 200S-RF"
EFFECTIVE PURIFICATION: The compact frame and 360° design help the Core 200S purify the air wherever you put it, refreshing the air 5x per hour in rooms as large as 183 ft² / 17 m². The optimal air cleaning performance can only be delivered by powerful motors installed on products over 6 pounds, Operating Conditions Temperature: 14°–104°F / -10°–40°C
IMPROVED FILTRATION: While the ultra-fine Nylon Pre-Filter and High-Efficiency Activated Carbon Filter capture large particles and absorb odors and fumes, the HEPA filter of the 3-in-1 filter removes at least 99.97% of dust, pollen,  and any airborne particles with a size of 0.3 microns (µm)
QUIET OPERATION: With noise levels as low as 24dB, the Core 200S cleans your air without keeping you up at night. For a completely uninterrupted sleep, turn off all lights with the Display Off button
ACCESS ANYWHERE: With the VeSync app, you can control your smart air purifier from anywhere. Adjust settings while you're in the other room, at the office, or out walking the dog
VOICE CONTROL: The Core 200S is compatible with Amazon Alexa and Google Assistant, so you can use your air purifier without having to lift a finger
NO MORE ALLERGIES: If you or anyone in your family has allergies to air pollution, smokes, or if mold is present in your home, choosing Core 200S is a smart choice to solving these air pollution problems
EASY SETUP: To get started, simply turn on the Core 200S and open the VeSync app. There you'll find easy instructions to connect your air purifier. Once setup is complete, you'll be able to control the air purifier with your smartphone or the display panel
FULLY CERTIFIED: The Core 200S has been thoroughly tested for safe performance. It is ETL Listed, FCC Certified, CARB Certified, and compliant with California's strict standards for indoor cleaning devices. Note: Power Supply: AC 120V/60Hz (Only applies to the USA and Canada.) CADR: 118 CFM / 200.6 m³/h
Are you looking for a smart portable air purifier under 100$? This might just what you're looking for. The Core 200S has more than 4500 positive reviews on Amazon, with an 89$ price tag, this portable air purifier is considered the cheapest model with smart features when compared to other competitors.
The Levoit Core 200S has a 3-stage filtration system:
Pre-filter catches dust and pet hair and other large particles (even though we suggest vacuuming it regularly)
True HEPA filter capturing particles as low as 0.3 microns with an almost perfect rate
Activated Carbon filter which tackles smoke and odors produced from pets and cooking
After comparing performance with other models, we found that the Core 200s do serve well in the performance department, this doesn't mean it's bad, but rather not top-notch at a lower speed. Nevertheless, the Core 200S still has an impressive 183 sq. ft. room coverage and its CADR is 118 cfm.
The Lvoit Core 200S uses a top control panel and has a nice cylindrical design with simple controls like a night light, timer, and control panel lock (a useful feature for children). Of course, the VeSync app (available on iOS and Android) helps control all features in this portable air purifier through your smartphone. You can use voice control to turn on your air purifier and control fan speed and also track your filter life.
Features:
3-stage filtration system
183 sq. ft. room coverage
Smart app control
Night light and child lock
Sleep mode (24 dB)
Built-in WIFI capability
Pros
Sleek design
Smart features with low price
Great for bedside use (very quiet w/ sleep mode)
3-stage filtration
Cons
Lower fan power
No smart sensor for air quality
5. Winix A230 True HEPA 4-Stage Air Purifier
Room Size 230 Sq. Ft.: AHAM Verified room size of 230 sq. ft. Suitable for small to medium size living spaces
Fine Mesh Pre-Filter: The first line of defense against the largest airborne particles found indoors
Activated Carbon Filter: Reduces VOCs and household odors from cooking, pets, and smoke. It is designed to catch airborne particles found indoors, which also helps prolong the True HEPA Filter life
True HEPA Filter: Captures 99.97% of airborne allergens including pollen, mold spores, dust, pet dander, microbes, and smoke (particles as small as 0.3 microns in size)
PlasmaWave Air Cleaning Technology: Acts as a permanent filter to safely break down odor, allergens, chemical vapors and other pollutants with no harmful ozone
"Compact design without compromise" that's what WINIX claims when they describe the A230, and we think they might be right! The South Korean company managed to maintain good performance, have smart features, improve the design, and squeeze a four-stage filtration system under 100$!
The design isn't completely cylindrical, but rather wider at the bottom than the top for a more balanced and stable design. The WINIX A230 does not have WIFI connectivity or smart features, but it has a very important smart option that is the smart sensor, not all portable air purifiers have this.
The reason this is important is that it lets you keep the air purifier on while it goes from low to high to even stand by without caring about consumption. The smart sensor will detect the room air quality and decide how strong the fan should be accordingly.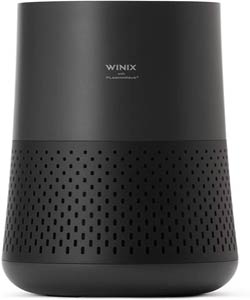 One more feature that makes the A230 stand out is that it has a 4-stage filtration system as follows:
Pre-filter fine mesh filter that captures large particles like pet hair and skin particles
True HEPA filter capable of capturing up to 99.97% of particles down to 0.3 microns which includes allergens, viral droplets, pollen, mold, and fungi
Activated carbon filter eliminates most odor formation from pets and kitchens and some chemical particles
Winix PlasmaWave which is a type of ionizer that reduces pollutant and neutralizes bacterial particles (available with on/off switch)
We wish the A230 had some smart features, which would've made it one of our top choices, but it certainly made up for it with its power and advanced filtration and sensor system.
Features:
230 sq. ft. room coverage
AHAM verified
CADR of 147 cfm (higher than most portable air purifiers)
Quiet operation (25 dB at minimum power)
Smart sensor for air quality
LED indicator for filter change
LED off feature for bedtime
Pros
A smart sensor that relieves you from manually change the fan speed
360 degrees all around pre-filter
Trusted reviews by customers and experts
PlasmaWave ionizer
Very nice design with two color options
Cons
Filter replacement is costly
Does not have a timer
No smartphone connectivity
6. TruSens Z-1000 Air Purifier for Home
CAPTURES AND DESTROYS POLLUTANTS: 360-degree DuPont HEPA filtration captures pollutants such as airborne viruses, allergens, and certain VOC gases. Ultraviolet light (UV-C) kills germs and bacteria trapped in the filter. Filters pet dander, odors, allergies, smoke, bacteria, dust, mold, and more. Perfect for dorms, bedrooms, nurseries, and small rooms.
DUAL AIRFLOW: PureDirect proprietary technology splits clean air into two air streams, delivering purified air more comfortably and efficiently throughout the room. Bi-directional airflow delivers purified air more effectively throughout a room, and in some cases, has been proven to be up to 24% more efficient than traditional air purifiers with vertical airflow.
TOTAL ROOM COVERAGE: Most purifiers can leave rooms with areas of little to no air circulation, or dead zones, by only shooting air either vertically or straight out. TruSens PureDirect proprietary technology uses two separate airflow streams to minimize those dead zones. From quiet speed to Turbo cleaning mode, the Z-1000 has been carefully optimized to deliver cleaner air.
TRUSENS: TruSens is designed for your lifestyle. Our focus was to create an air purifier that is beautifully designed, simple to use, and beneficial to your living space. Trust TruSens for cleaner air.
CLEANER AIR EVERYWHERE: The Z-1000 Air Purifiers are recommended for spaces up to 250 sq ft at 2 air changes per hour (ACH) or 443 sq ft at 1 ACH.
The Z-1000 has a very unique design, good build, good power, and is still considered a mid-range portable air purifier at 119$. At almost 7 lbs you can still easily take it from one room to another especially with its strong build handle design. The idea of a good portable air purifier is that you can move it around all day throughout the house until you place it under your bed at night.
The filtration system is pretty decent and is also a 3-stage system, but we must mention that it uses a HEPA-type filter and not a True HEPA filter.
The TruSens Z-1000 has a 3-stage filtration system that consists of :
Activated carbon filter which captures large particles and control odors generated from cooking or smoke
HEPA filter the HEPA-type filter captures 99% of particles larger than 0.3 microns
UV-C light filter which uses UV sterilization which kills 99.8% of hazardous germs, bacteria, and microbes
It's worth mentioning the TruSens filtration named DuPont (trademarked) which combines HEPA filter with UV sterilization to catch particles, allergens, and VOC's. The UV -C light filter is also certified by the California Air Resources Board (CARB) meaning it is ozone-safe and won't be harmful to use.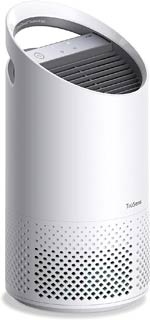 Features:
230 sq. ft. room coverage (but has double the efficiency in 110 sq. ft. rooms)
CADR of 96 cfm
PureDirect technology for better performance
65 dB at high speed
Energy star power consumption (40 watts)
LED indicator for filter replacement
Pros
High power fan
Dual flow technology
Sleek design and handle for easy portability
Cons
No True HEPA filter
Noisy compared to other models
Pre-filter is hard to clean (not washable)
7. Dyson Pure Cool Me
Pure cool me HEPA air purifier Dyson's first personal purifying fan; Delivers a focused stream of purified air to cool you
Captures: Fully sealed HEPA filter and activated carbon filter captures 99. 97 degree of allergens and pollutants, including pollen, bacteria, and pet dander
Core flow technology: Allows you to precisely adjust airflow to deliver personal cooling with purified air; This makes it ideal for individuals who want to project air precisely where they need it
Precise Airflow: Precisely control your airflow with a simple sliding mechanism; By adjusting the dome's position, you can change the airflow angle of the air purifier
LCD Display: Built in LCD shows airflow level and filter life
Night time mode: Night time mode monitors and purifies using quiet settings, with a dimmed display
Low maintenance filters: Low maintenance, easily changeable filters. The filter life is 1 year if used 12 hours a day
Asthma and allergy friendly: Certified asthma and allergy friendly by the asthma and allergy Foundation of America
Compatible with tower EVO filter, part #: 968126 03
The Pure Cool Me is the British company's model for a portable air purifier, but don't let portable fool you, this personal air purifier is still a powerful performer with a compact and special design.
The Dyson Pure Cool Me is expensive, at 349$ it is considered higher than many competitors.
We found the design to be very tasteful, compact, and we believe is nicer than other Dyson air purifiers. It also has an LCD that displays various information and a magnetic remote control mount. It is also not heavy at 6.2 lbs making it easily portable.
The filtration system includes
Pre-filter that captures large particles
True HEPA filter with excellent quality and extremely powerful for its class, capturing 00.97% of particles down to 0.3 microns
Carbon filter for odor and gases control
Dyson did not reveal the suggested room coverage for this portable air purifier, because they classify it as a personal air purifier. The jet system for the Dyson Pure Cool Me is just great, the advanced dual jets form a high-pressure airflow that you can pinpoint its direction. We think that the projected dual jet system makes the Pure Cool Me a great portable air purifier for your office desk and bedside table.
Features:
37 dB noise level (less than a library) but emits white noise
3-stage filtration
Strong jet system making it work as a fan too
Remote controlled
10 fan speed
Timer function
LCD showing operation info and filter life
Pros
Powerful airflow
Various controls and airflow direction control
Unique compact design
Cons
Very expensive for its size
No smart features
8. GermGuardian AC4825 UV Light Sanitizer Air Purifier
✅【HIGH PERFORMANCE AIR PURIFIER】Circulates the air 1x per hour in 743 square foot rooms and 4.8x per hour in 153 sq. ft rooms, ensuring thorough purification. Ideal for medium to large sized rooms such as: dorm rooms, bedrooms, and other living areas!
✅【TRUE HEPA FILTRATION】This air purifier for home features a True HEPA air filter that captures up to 99.97% of harmful germs, dust, pollen, pet dander, mold spores, and other allergens as small as 0.1 microns from the air
✅【FIGHTS GERMS】Equipped with UV-C light technology and Titanium Dioxide, this air purifier helps reduce airborne viruses, such as influenza, staph, and rhinovirus, while also targeting volatile organic compounds (VOCs)
✅【TRAPS ALLERGENS】Pre-filter traps dust, pet hair, and other large particles while extending the life of the HEPA filter, ensuring long-lasting performance
✅【ZERO OZONE CERTIFIED】Our air purifier is Ultraviolet - C (UV-C) enabled, providing and extra layer of defense, helping to reduce airborne germs such as Staphylococcus Albus, Escherichia Coli, Aspergillus Niger, and Phi-X174 as well as airborne bacteria and mold spores*
✅【REDUCES ODORS】With an activated charcoal filter, this tower air purifier helps to reduce unwanted odors from pets, smoke, cooking fumes, and more
✅【QUIET OPERATION】The lowest setting can be used as gentle white noise at night for a quiet, restful sleep
Not many portable air purifiers bring a True HEPA filter and UV-C light at under a 100$. You can get the GermGuardian AC4825 at 95$. While the HEPA filter captures small particles efficiently, the UV-C light works very well against bacteria and viruses.
Designed based on the bigger model (AC5000) the AC8425 stands 22 inches tall but weighs only 7 lbs with simple controls on tops including fan speed, on-off buttons, and an LED indicator for filter replacement.
This portable air purifier features a 3-stage filtration system
Pre-filter combined with an activated carbon filter for capturing large particles while control odors
True HEPA filter which captures 99.97% of pollutant down to 0.3 micron
UV-C light which kills bacteria and works effectively against virus droplet and mold starters

Features:
167 sq. ft, room coverage
CADR of 125 cfm
3-speed fan with 40 dB at low speed
Energy star consumption
LED indicator for filter replacement
Pros
Good filtration system for its price
UV-C light bulb
3-year warranty
Fairly low price
Cons
A bit noisy for bedroom (but okay for office)
No smart features
9. IQAir Atem Desk HEPA Air Purifier
PERSONAL AIR PURIFIER: Winner of Global Innovations Award. The Atem Desk by IQAir is the ideal personal air purifier for the desktop and portable air purifier when you're away from home or the office. The Atem air filter blankets you and your 300-sq-ft surrounding area in perfectly pure air that is filtered down to 0.003 microns with our exclusive ozone-free HyperHEPA air filtration. The Atem Desk also has Bluetooth capabilities.
HYPERHEPA FILTRATION: Atem's portable air cleaner fans pull mold, pollen, dust, smoke, allergens, pet dander, asthma triggers, and even ultra-fine biocontaminants from the air and creates a zone of safe filtered air around you. Breathe easy all day long.
BETTER AIR FILTRATION: IQAir's exclusive HyperHEPA, personal air filter technology removes 99% of contaminants from your air and filters particles up to 100x smaller than traditional air filtration systems. Our bladeless air cleaners are travel-ready and perfect for on-the-go.
WHEREVER YOU NEED IT: With a simple mount, this air purifier system easily stands on desks and tabletops. The small size and quiet bladeless operation make these air filters perfect for office desks, bathrooms, nurserys, and more. Get the best from your personal air purifier with IQAir.
YOUR AIR, SMARTER: IQAir exists to create safe living and working environments with innovative air purifiers that give you the cleanest air possible. Experience air filtration done better. These orders will require a signature upon delivery. EPA Est. No.: 97566-DEU-1; CARB EO No.: G-18-064.
Considered a high-end personal air purifier this filter from IQAir costs a whopping 399$. Yes, it is quite expensive, but with this high price, you get a high-quality personal/portable air filter with tons of features.
Design-wise, the IQAir Atem looks sleek and sophisticated with a disk-like shape and simple base. It comes in two colors, white and black. The weight is one of the lightest when it comes to portable air purifiers, at 4.4 lbs it easily fits your bag due to its thin design.
The filtration system is simple yet extremely high quality and effective; it boats a HyperHEPA filter that captures 99.5% of particles down to 0.003 microns! Yes! A hundred times smaller than all the portable air filters on this list.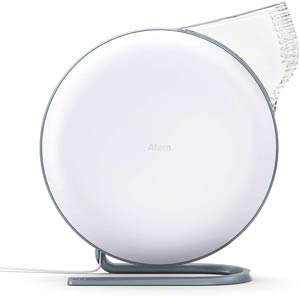 Features:
Clean air delivery to breathing zone (breathing zone filtration)
Purejet diffuser that can be directed directly to your face
Cleans breathing zone every 3 minutes (breathing zone is 3.2 sq. ft.)
Extremely quiet (20 dB at lowest speed)
Extremely energy efficient (3.4 watts at highest speed)
Touch sensor to turn on
Controlled via ATEM app which also indicates filter change
Proximity sensor, which turns the portable air purifier when the user is away
Pros
Top of the line performance
5-year warranty
Excellent design
Extremely quiet
Advanced filter technology and fan
Extremely low power consumption
Smart features
Cons
Expensive
No odor control
Personal use only
10. UNbeaten Air Purifier – FERRIS 360
【True HEPA Air Filters 】The compact frame and 360° design help the air purifier whereever you put it. H13 True HEPA Filter captures 99.97% of particles larger than 0.3 microns including dust particles pollen. The Air purifiers for home rooms space up to 200 sq ft, reflesh the air in room 215ft² in 12 minutes, ideal for bedroom, living room, kitchen, school, office.
【Smart Air Pollutants Guardian】The air purifiers for home with intelligence air quality indicator. The smart filter indicator helps you stay on top of keeping your air clean. Easy filter replacement ( Search ASIN: B07YWWXFL4).
【Auto Mode & 3 Fan Speed】 With a intelligent air quality sensor, the hepa air purifier can automatically adjust between 3 fan speed settings in response to real-time air quality readings
【Night Light with Clock】23dB keeps the bedroom quiet as whisper, keeping the air clean while you rest, air purifier with clock let you no need check phone to know the time.
【High Quality You Can Trust】The air purifier has strictly testing and meets stringent requirements. Have FCC certification, ETL certification and CARB certification.
The Ferris 360 From UNbeaten is a nicely designed portable air purifier, it fits well on your office desk, as well as your bedside table. It has a unique compact design with a transparent removable holder to keep upright. This portable air purifier has a True HEPA filter that captures 99.9% of particles down to 0.3 microns, making it effective against mold spores, viruses, allergens, and dust particles. The price is fair at 105$.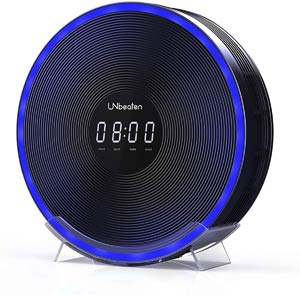 Features:
True HEPA air filter
Digital clock display
Blue antimicrobial fabric
150 sq. ft. room coverage
Air quality sensor
Ozone free
Pros
Stylish design
Very silent
Three color ambient light
Air quality sensor and digital clock
Two-year warranty
Cons
No carbon activated filter for odor control
Review telated articles to read more: 
Frequently Asked Questions (FAQs)
What is CADR?
CADR stands for clean air delivery rate, this value will show you how much of the air particles will be removed from the air. In other words, it shows how fast your portable air purifier will clean your room. It is measured with cfm (cubic feet per minute)
Can portable air purifiers prevent COVID-19?
With the times we're going through, and living with a pandemic on hand this is a question that makes investing in a portable air purifier worthwhile. Of course, the answer can be written in full research, but we're gonna keep it short and simple. COVID-19 is transmitted through contact primarily, so air purifier or not, it is important to prevent contact and keep a social distance.
But, portable air purifiers with a True HEPA filter will catch viruses and virus droplets, more importantly, portable air purifiers will improve air quality and help with allergies and asthma attacks so it will keep your breathing in top quality. In short, a portable air purifier is effective against COVID-19 but only when paired with basic social distancing and surface disinfection.
What factors should be taken into consideration when choosing a portable air purifier?
CADR is an important factor to take into consideration. How big is my bedroom or office? How strong is the traffic in this room? Also, we must stress that filter type is important, this is why we only chose HEPA filters and HyperHEPA filters or something as effective. Smart features are just a plus, but investing in a smart sensor portable air purifier will let you keep it on all the time, and smartphone connectivity will make your life easier but of course, increase the price.
Conclusion
There are tons of types and sizes of air purifiers, we wanted to focus on portable air purifiers in this blog because we believe that they can replace several air purifiers since you can easily move them around your house. So this might be a good entry into the world of air purifiers. Also with the increased interest in improving indoor air quality, a portable air purifier can be your travel body whether you are staying away from home or going to work, or even a meeting. You should invest in a personal/portable air purifier. This blog will help you choose the best model for you. Keep in mind to focus on filter types and air cleaning power as essentials before looking into extra features. Stay purified!