DEWALT DWE7491RS 10-Inch Table Saw Review
When talking about powerful woodworking tools, that one appliance which pops up, is a table saw. However, what is a table saw, and how exactly does it work? When mentioning table saw, we can say that it is a forceful woodworking device attached with a saw blade, which works by an electric motor. It is specially developed and designed for woodworkers.
The table saw because of its dynamic features, and working can usually cut anything. For providing proper support to the woods or any material lined up for the cutting process, the blade in the saw table is shoved up to the surface of the table, to provide proper support. However, if one thinks that choosing a perfect saw table is not an issue, then one might reconsider their belief. In today's period, many companies develop and launch many efficient table saws equipped with excellent and robust features.
In the following article, we shall discuss one of the most powerful tables available in the market- DEWALT DWE7491RS 10 INCH TABLE SAW.
REVIEW OF DEWALT DWE7491RS 10 INCH TABLE SAW
Your purchase includes one Dewalt table saw, 10inch 24-tooth carbide blade, rolling stand, push stick, miter gauge, rip fence, 2x blade wrenches, blade guard assembly manual
Other Specs: Max rip to left of blade – 22inch | Max rip to right of blade – 32-1/2inch | Max width of Dado – 13/16inch | Arbor size – 5/8inch | Amps – 15 | Depth of cut at 45inch – 2-1/4inch | Depth of cut at 90° – 3-1/8inch | No Load Speed: 4800 RPM
Rolling stand designed for easy set up and breakdown with excellent stability
Rack & Pinion Telescoping Fence System Make fence adjustments fast, smooth and accurate
Features a 15.0A high torque motor with the power to cut pressure treated lumber and hardwoods
PROS-
Besides mention the capabilities and suitabilities of the DEWALT DWE7491RS 10 INCH table saw, it is also important to mention the merits and the advantages of this equipment which can be enjoyed by its users-
This table saw comes with massive rip capacity.
It is easy to install and use.
Suitable for wide and narrow rip cuts.
It offers smooth and accurate adjustment facilities.
The table saw is light-weight in nature and can facilitate easy transportation of the equipment.
This table saw is dado compatible.
This table saw comes with a smooth table surface.
It comes with advanced and enhanced safety features.
CONS-
No doubt this table saw is equipped, with many striking features and merits, but still, there are some demerits which are faced by the users of this table saw. These disadvantages include-
The metre gauge is not that accurate and systematic.
This table requires the users to purchase the dado plate separately.
It lacks when talking about the extra accessories
There are no ½ degree markings available on the bevel.
PRODUCT DESCRIPTION-
Here we are talking about a 100-year-old company-DEWALT's one of the best-launched products- DEWALT DWE7491RS 10 INCH TABLE SAW.DEWALT is a company that can be regarded as a dependable and reliable brand when it comes to woodworking tools.
DEWALT DWE7491RS 10 INCH TABLE SAW is that equipment that is precisely constructed and devised with a rolling stand that ensures professional and efficient performance.
It is extremely light-weight in nature. The table saw measures 26 X 22. It is also a 2-½ inch dust port at the end of the table unit along with a 1-½ dust port attached to the top of the table. It can expertly cut through 3 inches depth at 90 degrees and 2.25 inches at 45 degrees. This tool is equipped, with a powerful 15 Amp motor.
FEATURES-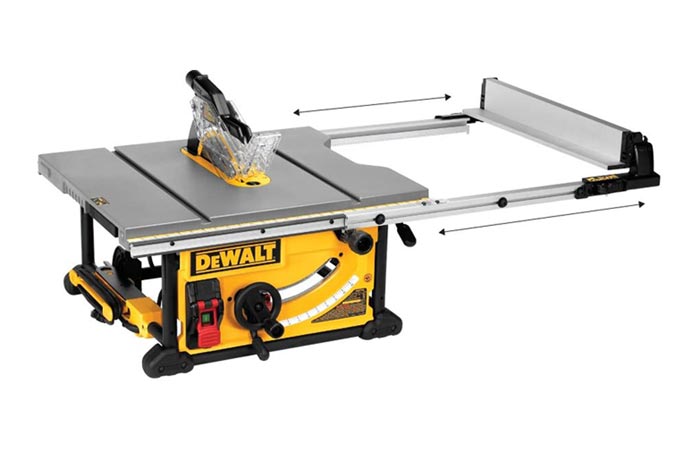 This powerful, productive appliance is driven, by amazing effective efficiency and safety features.
One of the best features of the table saw is its rack and pinion fence. The user can easily lock and unlock the fence and adjust and alter the table settings following the task requirements. Even when adjusting, the wood will remain firmly and securely at its place, which will allow ease of operation.
Other striking features included in the equipment are a new power switch and a power loss reset option. These features offer automatic reset of the table saw, at the time of any power outage, tripped circuit, or any other kind electric interruption like an unplugged power cord.
The Dewalt table saw has 32-½ inches of rip capacity. With a solid and strong rail extension, the table saw can easily handle the larger cuts.
SUITABILITY-
Apart from the features and detailed description, it is critical to mention the suitability of the product, which makes it easy for potential buyers to go for the best option.
Since the table saw fence could be adjusted, according to the type of material you are cutting, this equipment is suitable for both wide and narrow rip cutting. With a powerful 15 amp motor, this table saw can undertake any cutting procedure within a few minutes, allowing you to save energy costs.
The DEWALT DWE7491RS 10 INCH table saw is an ideal choice for those who need the saw with advanced safety and productive features. This equipment is also suitable for those who want to upgrade to a bigger and better table saw.
CAPABILITY-
This wonderful table saw is capable of accurate and authentic adjustments because of its rack and pinion rail system. It offers a fast, smooth and time-saving cutting process. Its 2-½ inch dust port at the unit end and 1-½ dust port at the top of the blade offers dual capability features that capture the dust accumulated at both above and below the blade surface.
It helps the users to maintain a clean and tidy work environment. The table saw now comes with enhanced roll-up capability, which allows significant portability access.
Thus, with these facts and points mentioned, it can be evident that this Dewalt table saw is capable of meeting almost all the necessary and critical requirements of the users.
Recommended For You:
CONCLUSION-
If you go through the sections mentioned above regarding the workings, features, merits or demerits of the DEWALT DWE7491RS 10 INCH table saw, you can assess that it is a powerful and useful table saw, which one can purchase for cutting purposes.
The Dewalt table saw is one of the highest-ranked table saws available in the market. The brand is known for making standard tools and appliances, which are equipped and enhanced with proper safety and productive and high-quality features.
The DEWALT DWE7491RS 10 INCH table saw, is not very exclusive or expensive and can suit your budget if you are looking for a good quality table saw.
If you consider the points and facts as mentioned on the appliance, then you can purchase this Dewalt table saw, without having any second thoughts.