DEWALT DWS780 12-Inch Sliding Compound Miter Saw Review
While choosing the perfect saw for your task, there are a lot of questions that pop up, which are necessary to consider. The reason for the consideration is to provide a base of features and requirements which are as per the buyer's needs. Every buyer wants to purchase the best slider miter saw available in the market. They all wish for that particular miter saw, which is equipped with all professional features and suits the budget of the buyer.
It is evident that the potential buyers already know what a standard miter saw is and what a sliding saw is. They usually require that saw which is capable of delivering both bevels as well as miter cuts, along with the versatility of having a sliding facility. According to their needs, the saw should also be capable of having a radial arm, which offers the users a free movement of the blade both forward and backward, and which further facilitates the cutting of wood into wider pieces.
However, before mentioning the best slider compound miter saw, it is critical to describe what a sliding compound miter saw is and. A stationary or a compound miter saw is the specially designed saw, which is capable of cutting more than just simple angles. These saws can be, used to carry a 'bevel' cut since they are equipped, with an arm that pivots and allows the blade to be, tapped to the side.
One of the fundamental reasons behind the fact that these are called 'compound' saws is, because of their tilted angle planes which make it possible for the user to cut two angles at the same time.
Read Also: DEWALT DW745 10-Inch Table Saw Review
So, it can be, mentioned that with these powerful features and facilities provided by a sliding compound miter saw, every potential worker demands the best sliding saw available in the market.
Review of DEWALT DWS780 Sliding Compound Miter Saw
Integrated CUTLINE Blade Positioning System provides adjustment free cut line indication for better accuracy and visibility for the 12-inch miter saw blade
Powerful 15 Amp, 3,800 rpm motor delivers extended power and durability for the mitre saw
Super-efficient dust collection system of DEWALT miter saw captures over 75% of dust generated
Tall sliding fences support crown molding up to 7-1/2-inch nested and base molding up to 6-3/4-inch vertically against the fence while easily sliding out of the way for bevel cuts
Exclusive back fence design cuts up to 2x14 dimensional lumber at 90 degree and 2x10 at 45 degree
Adjustable stainless-steel miter detent plate with 10 positive stops improves productivity and ensures cutting accuracy
Miters 60 degree to the right and 50 degree to the left providing increased capacity
Oversized bevel scale makes bevel angle adjustments accurate and easy
Compact, lightweight design (58 lbs.) allows for easy transport and storage
Cam lock miter handle with detent override deliver quick and accurate miter angles
PROS–
The following are some advantages of the Dewalt dws780 miter saw which can be enjoyed by its users. These merits of the product are the main reasons why this product one of the most used and highly ranked sliding compound miter saws available in the market-
The model is equipped, with a new XPS LED alignment system, which lights the blade This casts the shadow on the blade, and this process allows the user to know where exactly the cut will take place

The tool comes with a proper, convenient cord

It offers smooth, accurate and authentic cuts

It was specifically, developed and designed to facilitate portability and hassle-free installation

The product comes with excellent durability and power

This equipment also has a dust bag

To enhance the user experience, the company also offers a three-year warranty period with the purchase of the product
CONS-
Though it can be undoubtedly, stated that Dewalt dws780 miter saw is a powerful and extremely professional tool, some drawbacks can be faced, by the users of this tool.
Following are the listed demerits of this product-
The product has no adjustable bearing features

It has a rough dust collection system

It is slightly heavy
Keeping this condition in mind, the article features one of the best and highly rated sliding compound miter saws- DEWALT DWS780 12-INCH SLIDING COMPOUND MITER SAW.
PRODUCT DESCRIPTION-
The DEWALT DWS780 12-INCH SLIDING COMPOUND MITER SAW is a 12-inch double bevel sliding compound miter saw, which comes with a powerful 15 Amp motor. The third Dewalt product is equipped with an integrated XPS to cross-cut the positioning system to facilitate an adjustment-free and accurate line cut indication.
The tall sliding fences of the product are supported, by 7-½ inch of the nested crown and 6-¾ inch of the base which is, modeled vertically. The powerful 3800 RPM tool model has durable guards and precision-machined castings, which are specially developed, and designed to handle the precise job requirement.
FEATURES-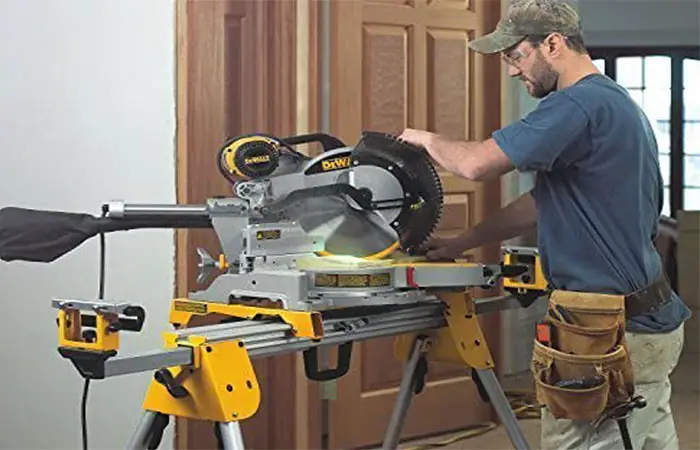 The DEWALT DWS780 12-INCH SLIDING COMPOUND MITER SAW, comes with many superior features and facilities. Its integrated CUTLINE blade positioning system offers an adjustment-free, accurate and professional cut line indication. The model is unconditionally useful when it comes to dust collection. It can capture over 75% of dust generation from the job site.
The product has an adjustable stainless-steel detent plate, which offers ten positive stops that allow productivity to improve with better cutting accuracy. The users can increase the capacity of the appliance by adjusting the miters 60 degrees to the right and also 50 degrees to the left.
The product is lightweight and compact. It approximately weighs 58 lbs. It facilitates ease of transportation and storage to the users. The Dewalt compound miter saw comes with a cam lock miter handle along with a detent which offers quick and accurate miter angles.
CAPABILITIES-
The saw's sliding features are capable of gliding the unit back and forth which allows you to cut the wood straight up to 14-inch wide pieces. The oversized bevel scale attached to the equipment can provide secure and accurate angle adjustments. This equipment also has an ergonomic handle which offers better portability.
The product comes with a cord management system, which provides convenience to the users. Its innovative gearbox further enhances the capability of the product along with a belt-driven design which grants vertical cutting facility.
SUITABILITY-
The equipment is undoubtedly suitable for carrying any decorative or trimming cutting. Its miter system and machine base fence system makes it a product that offers durability and accuracy, which can be considered a suitable option by the users for carrying out complex cutting tasks.
If you are looking for that sliding saw which provides accuracy, professional suitability, and durability, then it can be the one, since it allows for all these features because of its dual horizontal steel rail and clamping mechanism along with linear ball bearings.
Recommended For You:
CONCLUSION-
In the end, we can state that DEWALT is one of the most reputed companies that provide professional and trustworthy products.
Dewalt dws780 miter SAW is also one of those genuine products, that provides professional facilities and services to the users. This product is budget-friendly and is the best option available in the market. Thus, the product can undoubtedly be, regarded as an excellent option for potential DIYers.