Hayward SP3400VSP Ecostar Variable Speed Pool Pump Review
Even if you are not an exceptional swimmer, people still enjoy swimming in swimming pools. It rejuvenates and revives our body and mind. It helps in keeping your body fit and healthy. But what about the pool's protection? Nowadays, even swimming pools require care and nurturing. The pool pumps are the best device that can be utilized for the safeguarding of the pool. A pool pump is an equipment, which moves pool water to the swimming pool filter at least once every 12 hours. The process is commonly known as 'turnover'. The bigger the pool, the higher and faster, is the turnover rate.
When planning to install a perfect pool pump for your swimming pool, it is necessary to keep specific facts in mind before its purchase. Like, the strength of the pump which should be in accordance to your pool, the amount of energy the pool pump will consume, the extra services provided by the machine, etc. Thus, one of the best pool pumps which you can go for is Hayward SP3400VSP Ecostar Variable Pool Pump.
Review of Hayward SP3400VSP Ecostar Variable Speed Pool Pump
Specifications: Union Connection – 2" x 2 ½" | Voltage – 230V Single Phase | Speed range – 600 to 3450 RPM
ENERGY STAR Certified and compliant with industry regulations including Title 20 and APSP 15; eligible for local utility rebates
Installed in any application: in stand-alone mode, with Hayward automation (including OmniLogic), or with competitive control systems (via relay control)
Permanent magnet, totally enclosed fan cooled (TEFC) motor offers incredible efficiency and reliability. Fully programmable, touch pad control can be rotated to four different positions or mounted to the wall for more convenient access
One of the industry's most energy-efficient pool pumps at any speed. Exceptionally quiet compared to single speed pumps | No-rib, extra- large basket design ensures easy leaf and debris removal and extends time between cleanings
PRODUCT DESCRIPTION-
Hayward SP3400VSP ECOSTAR VARIABLE POOL PUMP is one of the most potent variable speed pumps available in the market. It is considered the industry's most energy-efficient pool pump at any speed.
The EcoStar SVRS facilitates additional security and protection against the suction entrapment and that too without undergoing any kind of plumbing or wiring process.
Specially developed for medium and large pools, the pump can save up to 90% of energy costs, as compared to other exclusive single speed pool pumps. The pump can operate effectively without creating any irrational sounds.
The pumps are specifically designed for use with 2â€/2 ½ plumbing and are also self-priming .ie.the suction can lift to 10'above water level. Its larger strainer basket doesn't require frequent cleaning and maintenance. The service model of the pool pump allows services to clean the pool quicker.
FEATURES OF HAYWARD SP3400VSP VARIABLE SPEED POOL PUMP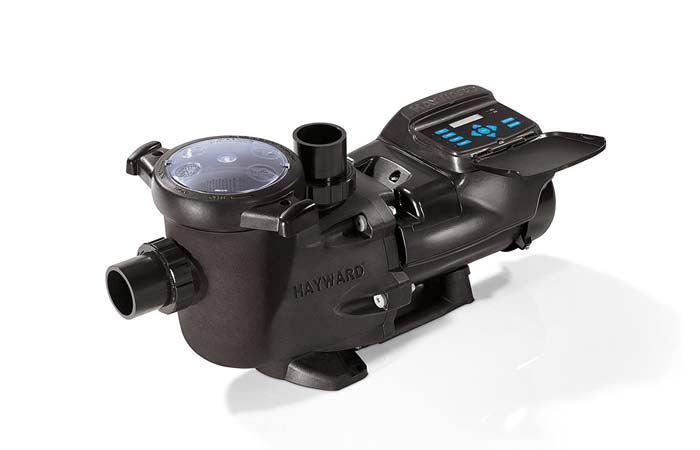 Some of the features which are enjoyed by the users of Hayward EcoStar Variable Speed Pool Pump-
The pool pump comes with universal compatibility and operates independently. The speed pool pump delivers maximum energy efficiency and ensures proper operation because of its permanent magnet with totally enclosed fan cooled motors.
This EcoStar speed pool pump is fully programmable with a self-contained 24-hour time clock which can be further modified by eight specific custom speed and timer functions.
The product has a digital touch-pad control interface that rotates to 4 different positions. The pump can also be removed or mounted according to requirements. It comes with an optional wall mount kit, to facilitate smooth wall installation. The product can be easily controlled and managed by pool and spa control platforms without any extra application of accessories.
CAPABILITIES-
The pool pump comes with an efficient output of 166 GPM at 10 feet of the head along with 144 GPM at 50 feet. These stats justify its high capacity, and that it can filter and clean large amounts of water at a rapid pace and that efficiently.
It's no-rib basket design ensures debris removal. This product offers high monetary savings for the long term because of its high saving capacity. The pump protects the swimming pools from harmful bacteria, insects and chemicals.
It has an immersive suction power. Its extra leaf-holding capacity basket extends the time between the cleaning processes.
SUITABILITY-
This product is highly suitable for in-ground pools and spas of all sizes and types. It comes with compatibility features with most of the filters and pool cleaning systems. It is ideal for new construction as well as for the aftermarket.
PROS-
The following are some of the advantages offered by Hayward SP3400VSP EcoStar VS Variable Pool Pump.
It is fully programmable.
Comes with digital touch-pads controlling systems
It comes with automatic protection from priming failures.
The product is highly customizable and customarily in nature.
Powerful and dynamic.
Easy to operate and install.
Removes and reduces irritational machine generation notices.
.Long lasting and dependable
Protects from voltage spikes and brownouts
CONS-
Following are some of the drawbacks faced by the users of this product-
It can prove to be a challenging task for a new customer who is not well versed in the installation process of pool pumps. The person may have to call for professional help for carrying out the installation process.
Another drawback of the product is its warranty card. The card may contain some complex clauses which should be carefully considered before initiating the purchase of this product.
Recommended Article:
CONCLUSION
The pool pumps are mandatory equipment if you have a swimming pool to enjoy. It is important to take care of the pool. But the pool pumps are also the equipment that needs to be used aptly and methodically. It should not be overused. There are certain factors which can be kept in mind if you want to improve the efficiency of the pump. The pump should be kept close to the pool by using shorter length pipes. You should avoid using 90-degree angles. One can also increase the size of the pool's filter.
The proper pool pump comes with congenial specifications like the pump has a strainer basket attached to it to catch debris, a water inlet, an impeller which is tagged with the motor to propel the water, and a water outlet through which the water can exit to the filter and the heater.
The Hayward SP3400VSP EcoStar VS Variable Speed Pool Pump one of the most potent, productive dynamic, long-lasting, efficient pool pumps offered by the market. This Energy Star-certified product comes to proper accuracy, authenticity, and consistency.
It would be wise is this product is purchased keeping in mind features, energy bills, budget, maintenance cost, and durability. The VRS model meets all relevant and required ASME/ANSI Standard as required by the Virginia Graeme Baker Pool and Spa Act. The product is environment-friendly.