Netgear Nighthawk AC1900 WiFI USB Adapter Review
The internet plays a central role when it comes to the sharing of information across the globe today. A majority of people in the world find it impossible to run their businesses without using the internet. Thus, the world as a whole relies heavily on it. However, However, not all parts of the world are sufficiently covered. This implies that speeds may differ at times. Slow internet can be annoying and may lead to losses in some instances. However, with the Netgear nighthawk ac1900 WiFi USB adapter you can be able to sway the tides to your favor.
The Netgear nighthawk ac1900 USB adapter can override your laptop or desktop computer inbuilt wireless utility, thereby enabling faster and stable internet connection to the available link signals via the USB port. This way, you will experience good internet connections with no network interruptions. Apart from enabling you to access wireless internet on a computer that cannot support WiFi, the WiFi USB adapter allows for a more extended range of connectivity—thereby giving the user access to enjoy WiFi in places where they could have not previously. It makes the gadget ideal for those who want to connect outdoors remotely.
Features Of Netgear Nighthawk Ac1900 WiFi USB Adapter
AC1900 WIFI SPEEDS Up to 600Mbps on 2.4GHz and 1300Mbps on 5GHz.Standards: IEEE 802.11 b/g/n 2.4GHz. IEEE 802.11 a/n/ac 5.0GHz
DUAL BAND WIFI—Faster connections to more Wi Fi networks.System Requirements: Windows OS or Mac OS computer. Best performance with USB 3.0; compatible with USB 2.0 Microsoft Windows 7, 8, 10, (32/64 bit). Mac OS X 10.8.3 or later
MULTIPLE OS SUPPORT—Compatible with Mac and Windows. The Windows standalone diver allows you to use a built in windows configuration tool to connect the adapter to a WiFi network
3x4 MIMO DESIGN—More bandwidth capacity when downloading and uploading data to and from the wireless network
WORKS WITH ANY WIFI ROUTER— Connects to any Wi Fi and for extreme Wi Fi speed
The Netgear nighthawk ac1900 WiFi USB adapter offers up to 1.9Gbps at home, in the office, or on the go with 802.11ac Dual Band WiFi technology. Netgear nighthawk ac 1900 assumes speeds of up to 1300 Mbps on 5GHz and 600Mbps on 2.4 GHz. The USB adapter can handle ultra-fast internet speeds, making it ideal for HD streaming and gaming online. Its 3×4 MIMO design provides more bandwidth capacity, which is crucial during data upload and downloads on a wireless network. Its beamforming technology, together with four high-gain internal antennas, helps boost speeds, connectivity, and range of WiFi network coverage. The adapter is compatible with both 32 and 64 bit Windows 7,8,10 and Mac OS X 10.8.3 or the latest versions plus it works on any given router. Its magnetic cradle, together with USB 3.0 cable, allows flexibility when deciding where to place it.
Netgear nighthawk ac1900 WiFi USB adapter can be mounted on the metal surface of a laptop or PC. The adapter can be folded, making it compact and, therefore, ideal for use on the go. It is important to note that, for best performance speeds, use a 3.0 USB port.
Pros
Compatible with all WiFi routers
Easy installation
Works on Windows and Mac OS
Connects router's WiFi network with WPS (WiFi Protected Setup)
Dual-band WiFi
3×4 MIMO design
Beamforming technology
Great speed for gaming
One-year warranty
24/7 technical support within 90 days of purchase
Cons
A bit large and occupies a more prominent space, therefore, adding some weight to your computer
Can potentially damage or limit the use of adjacent ports owing to its big size
What to consider when choosing a suitable WiFi adapter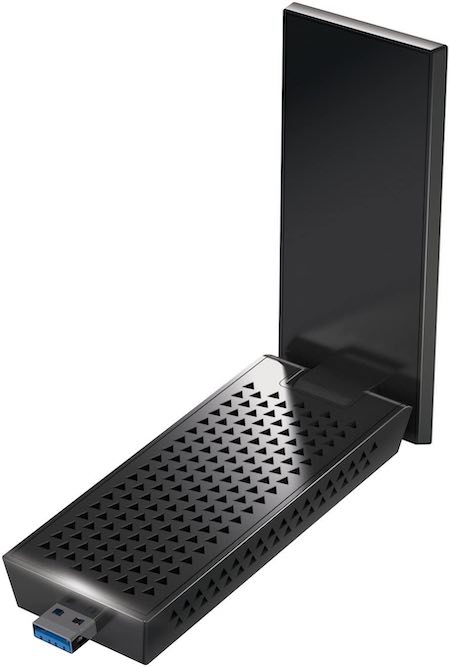 There are several things to consider when shopping for a WiFi adapter.  These gadgets come in different models and specs, making them diverse and unique, for instance, the Netgear nighthawk ac1900 WiFi USB adapter. For example, a gamer would require more speed than a blogger or a regular internet user. Below are some essential things to look out for when seeking to acquire a USB WiFi adapter.
The number of USB ports available on your computer
It is essential to identify the USB ports on your laptop or PC. Make sure all the ports are working. In case you come across any challenge, remember that you can acquire a powered USB hub that will enable you to plug in your WiFi adapter.
Consider the compatibility of the adapter.
Before further engaging in the features of a WiFi adapter, it is advisable to check if it is well-suited with your devices. Avoid spending before confirming its suitability. Otherwise, it will be of no use after purchasing. Although such occurrences are rare, it remains equally important to counter check the USB adapter with your device's OS to be sure if it is supported.
Type of port on your device
Each computer has either USB 2.0 or USB 3.0 port. The latter is majorly found on most older version computers. The type of router is also crucial as a different router model has different USB ports, some of which cannot support various models of WiFi adapters. Before investing in a WiFi adapter, confirm the type of USB ports on your devices or routers. Technological advancement has seen the rise of USB 3.0, therefore edging out USB 2.0.  The former is superior with a speed of up to 5Gbps while the latter gives up to 48Mbps of speed. As a result, many people are opting to use USB 3.0 to experience fast and reliable connectivity.
Beamforming is a nouveau technology with rapidly advanced network reception between routers and devices through concentrating WiFi signals in a focused beam directly to a computer at an incredible level of energy. That way, fluctuating transmissions that are common to WiFi signals are tackled.
Having many devices on a single WiFi adapter slows down the wireless connection. However, with the all-new MU-MIMO (multi-user multi-input multi-output) technology, one can stream across several devices in real-time while maintaining a steady wireless connection. Researchers have established that MU-MIMO can increase wireless connectivity way above 100 percent faster than a standard network connection.
Since there is a possibility of flaws in the product, it is essential to ensure that you are well covered in such eventuality. The damage may be from the manufacturer, at storage, or during movement. Always inquire about the terms of the warranty before deciding to purchase a product. For example, Netgear nighthawk ac1900 WiFi USB adapter comes with a full year warranty and 24/7 technical support within 90 days from the purchase date when purchased from an accredited dealer.
Related article for additional:
Conclusion
Netgear nighthawk ac1900 WiFi USB adapter has been rated among the best in the industry today. It is suitable for gamers and those who are centered on live streaming. It comes with some of the latest technology in the industry. The most important factor when choosing a WiFi adapter should be its functionality. Having the right WiFi adapter will enable you to access the internet fast and conveniently.