Are you confused over which router is going to work with Spectrum Internet? Choosing a perfect router can be overwhelming. The confusion gets worse if you are trying to pick up a router for Spectrum, one of the biggest internet providers in the US. The best Spectrum compatible routers should get you maximum speeds for the cable internet plans of your choice without paying extra for internet speeds you cannot reach.
Before you start seeking a great router to use with Spectrum, you will want to understand what a router is. The device comprises three main components, including a switch, a router, and the Wi-Fi access point. The router inside your router assigns IP addresses to devices that connect to your network. Additionally, it routes traffic between devices within and outside your system. Routers often have one to four ports for the purpose. The Wi-Fi access point lets wireless supported to connect to your network.
To know what routers are compatible with Spectrum Internet, you'll want to decide on a few elements of the routing component. First off, determine the number of clients you intend to connect to the router. Then you must determine your area of coverage along with the type of devices connecting to your router. Your usage will finally help classify the best router for you. Since Spectrum internet isn't compatible with all routers, we've made it easy for you by providing a list of specific routers that Spectrum supports.
Top 10 Best Spectrum Compatible Routers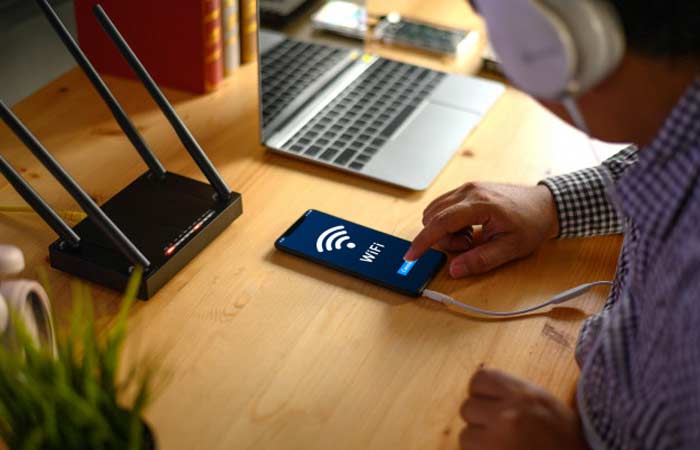 Picking up the best router for spectrum internet on your own can be an overwhelming task to accomplish. To make it simpler for you, here are our top ten compilations of best routers for spectrum internet.
1. NETGEAR AC1000 Dual-Band Smart Wi-Fi Router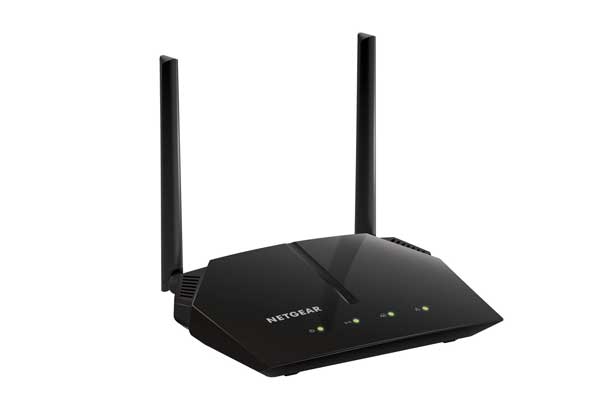 NetGear AC1000 is among the most excellent dual-band smart Wi-Fi routers you can use with spectrum internet.
Key Highlights
Covers up to 1000 square feet
Dual-band with AC 1000 speed
Connects up to 15 devices
Allows Ethernet connections
Uses WPA2 wireless security
Pros
Easy to set up
Offers parental controls
Provides excellent performance
Cons
Incompatible with cable voice services
Features of the NETGEAR AC1000 Dual-Band Smart Wi-Fi Router
The Nighthawk R6080 will enable you to quickly enhance your Wi-Fi experience with broader coverage of up to 1000 square feet while maintaining reliable and fast connectivity courtesy of the high-powered antennas. The seamless wireless connection can allow as much as 15 devices.
The dual-band technology lends fast speeds of up to 1000Mbps that are ideal for gaming or HD streaming.
Secure Wireless Connectivity
The router supports high-level WPA and WPA2 wireless security, which comes with firewall protection. You can also create a separate network for guests without compromising private information on the home network.
The NETGEAR AC1000 router carries four Ethernet ports to connect game console and computers with fast internet speeds. And if you choose the best internet for gaming then it will fit well.
2. Synology Mesh Router MR2200ac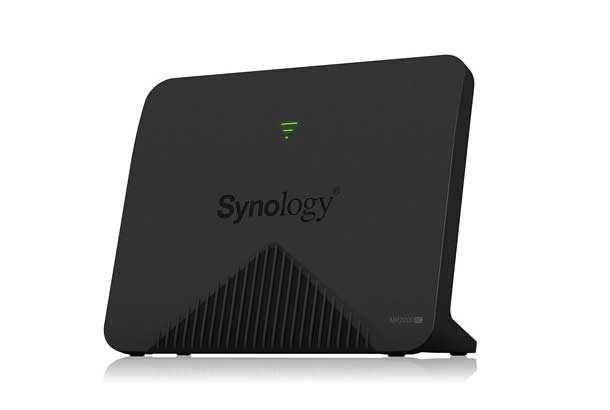 The Mesh Router MR2200ac by Synology is packed with some of the most advanced features for superior internet connectivity.
Key Highlights
Dedicated three-band model
Supports remote management
Provides parental controls
Remote access with an app
Advanced VPN support
Cloud server and file-sharing support
Pros
The 2.4 GHz Wi-Fi offers excellent performance
Features a USB 3.0 port
Comes with advanced VPN interface
Offers DNS and IP threat intelligence protection
Provides cloud backup option
Features of the Synology Mesh Router MR2200ac
Excellent Wireless Technology
With a dedicated tri-band bandwidth including 400+867+867 Mbps, Synology's router supports up to 2.13 Gbps speeds for stable performance and unmatched reliability.
Interactive Setup, Control, and Connectivity
The Mesh Router MR2200ac offers a simple setup with remote management using a mobile app or web client.
The router offers professional-level control for parental management, along with an easy to use interface that features safe access.
You can easily create a personal cloud storage courtesy of the comprehensive file-sharing system that combines a cloud storage server.
Read More:
3. Tenda AC15 AC1900 Wireless Wi-Fi Gigabit Smart Router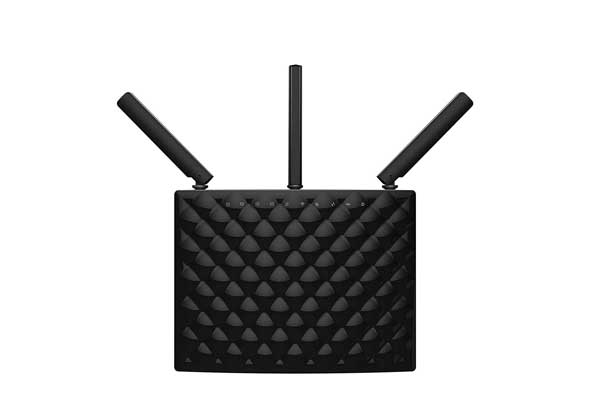 The Spectrum compatible router comes with plenty of enhanced features.
Key Highlights
Up to 1900 Mbps speeds
Comes with a dual-core processor
Lag-free bandwidth speeds
Supports UHD video streaming
USB 3.0 port
Pros
Easy setup
Guests Wi-Fi control
DDR3 memory
Smart control app
Parental control
USB 3.0 for secure, wireless printing and file sharing
Cons
Limits Ethernet ports to three
Features of the Tenda AC15 AC1900 Wireless Wi-Fi Gigabit Smart Router
Excellent Streaming Connectivity
The AC15 integrates dual-band connectivity, including the 1300Mbps 802.11ac at 5Giga Hz on one side and the 600Mbps 802.11n at 2.4 Giga Hz on the other side. With both bands running concurrently, the router delivers up to 1900 Mbps, which is ideal for Ultra High Definition streaming and gaming.
The router integrates a powerful dual-core processor by Broadcom allowing for high-speed, latency-free connectivity.
The AC15 offers the Beamforming+ technology that locks the devices connecting to your Wi-Fi for a stable internet experience. The technology helps to reduce external device interferences to keep a consistent connection.
4. ASUS RT-ACRH13 Dual-Band Wi-Fi 4-port Gigabit Router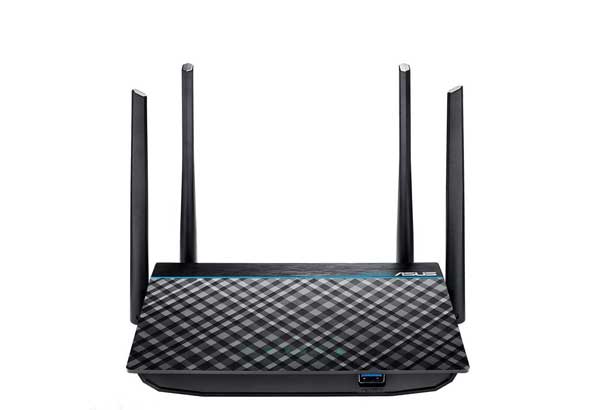 The ASUS RT-ACRH13 router gives an excellent spectrum internet connection along with four amplified antennas for enhanced wireless coverage.
Key Features
New 2×2 MU MIMO technology
Maximum 1,267 Mbps connection speeds
4 amplified 5dBi antennas
Remote internet management application
Built-in USB 3.0 port
Pros
Excellent speed and performance
USB 3.0 port allowing file sharing and network printing
Four amplified antennas for the better wireless connection area
Affordable
Features of the ASUS RT-ACRH13 Dual-Band Wi-Fi 4-port Gigabit Router
Easy Setup and Management
The ASUS RT-ACRH13 comes with the ASUS and ASUSWRT router app for intuitive setup and easy network management from the palm of your hands.
With the ability to automatically switch devices between 5 GHz and 2.4 GHz, the ASUS RT-ACRH13 router provides a seamless connection for your devices.
The RT-ACRH13 integrates four antennas that guarantee a reliable Wi-Fi connection throughout the home.
The ASUS RT-ACRH13 router is a two-band 1300 device integrating the newest 2×2 MU MIMO equipment that gives maximum 1267 Mbps speeds.
5. Netgear Nighthawk R6700 AC1750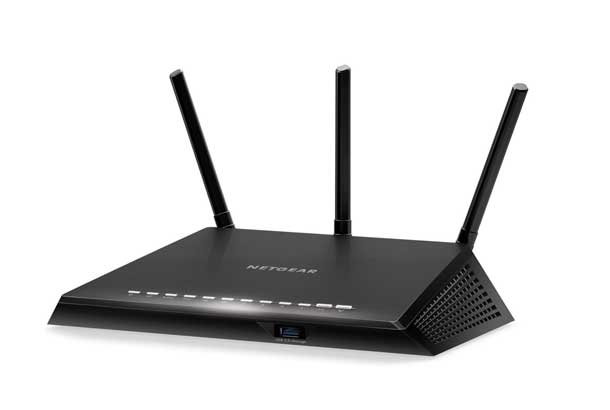 The NetGear Nighthawk R6700 AC1750 offers groundbreaking performance for spectrum internet connections.
Key Highlights
Up to 1750 Mbps speeds
Maximum 1500 square feet Wi-Fi coverage
USB 3.0 port
Supports Alexa add voice devices
Four Ethernet slots
Connects a maximum of 25 devices
Pros
Compatible with Unix, Mac OS, Linux, and Windows platforms
Works with WPA2 wireless security
Supports guest Wi-Fi access
NetGear Armor for maximum online protection
USB 3.0 port
Supports HD streaming
Parental control
Remote access with mobile app
Features of the NetGear Nighthawk R6700 AC1750
Get an extensive wireless 1500 square feet coverage on the dual-band 1750 Mbps speed in 1300 Mbps + 400 Mbps.
The NetGear Nighthawk R6700 AC1750 can up to 25 devices and offer superior online gaming, video streaming, and internet surfing.
With 4 Ethernet ports, you get to plug in your game consoles, computers, and streaming players among other wired devices.
The NETGEAR Nighthawk Smart Wi-Fi Router R6700 packs plenty of advanced techs. Among the features are the one Giga Hz dual-core processor, Smart Connect, three amplified antennas, dynamic QoS, as well as Beamforming+ to give you the best user experience.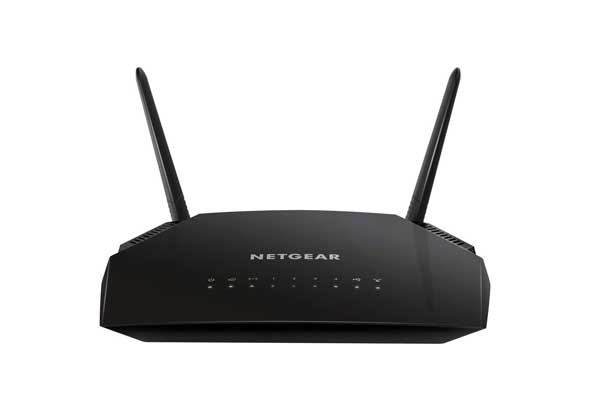 Get up to 1200 Mbps speeds on the latest Wi-Fi technology from the NetGear R6230 AC1200 router.
Key Highlights
DDR3 RAM
Maximum 1200 square feet wireless coverage
Multiple High-Definition streaming
Connects 20 devices max
Supports IPV6 protocol
USB 2.0 port
ReadyShare Vault for easy software backup
4 Ethernet ports
NetGear Nighthawk app for remote access
Pros
0 USB port
Smart parental control
Wide wireless coverage
Secure wireless network
Supports High-Definition streaming
Seamless wireless connection on multiple devices
Cons
Does not have USB 3.0 port
Features of the NETGEAR Wi-Fi Router R6230 AC1200 Dual Band Wireless Router
Excellent Wi-Fi Performance
Secure 1200 square feet of Wi-Fi coverage with AC 1200 dual-band speed in 900 Mbps and 300 Mbps.
Reliable Multi-Device Connection
Connect a maximum of 20 devices with stable internet surfing, online gaming, and video streaming, with an option for smart home device linking.
The four Ethernet ports allow you to attach streaming players, computers, plus game consoles.
The NetGear R6230 AC1200 packs some advanced technology features comprising two amplified antennas, enhanced QoS, and an 880Mega Hz processor for stable user experience.
With the WPA2 wireless security, you will get Firewall protection, guest Wi-Fi control, VPN, and DoS, among others.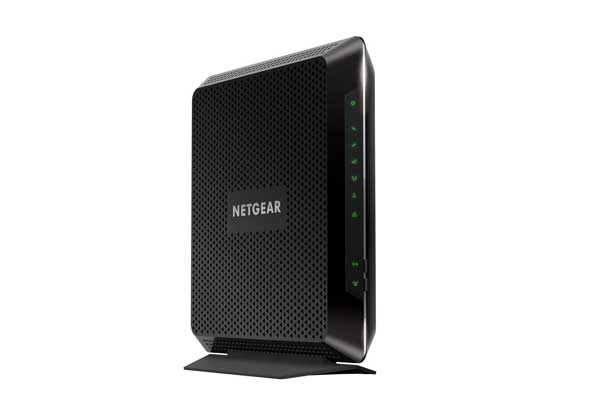 Boost your wireless connectivity with the Spectrum compatible NetGear Nighthawk cable modem router.
Key Highlights
1 GHz processor
128 MB storage capacity
256 MB DDR Random Access Memory
Four Ethernet ports
Integrates Beamforming technology
Maximum 1800 square feet Wi-Fi coverage
Connects up to 30 devices
Two USB ports
Pros
Four Ethernet wired connection ports
Two USB 3.0 ports
Supports WEP, WPA, and WPA2 security
Supports Mac OS, Linux, Windows, and UNIX platforms
Affordable modem router
Cons
Large AC adapter
Bulky design
Features of the NetGear C7000 Nighthawk Cable Modem Router
The NetGear C7000 AC1900 router, along with spectrum internet compatibility, supports all major cable service providers, including COX and Xfinity.
High-Speed Internet Connectivity
The NetGear Nighthawk cable modem router supports cable internet providers with 400 Mbps maximum download speeds, for a fast, seamless connection. The rate can support High Definition streaming, among other uses.
Get robust and reliable wireless coverage of up to 1800 square feet in the home courtesy of the amplified antennas, along with Beamforming+ technology for range boosting.
The Wi-Fi router combo modem is built for high-speed HD streaming and online gaming with a maximum 1900 Mbps wireless speeds.
8. Arris Surfboard AC1600 SBG10 Dual-Band Wi-Fi Router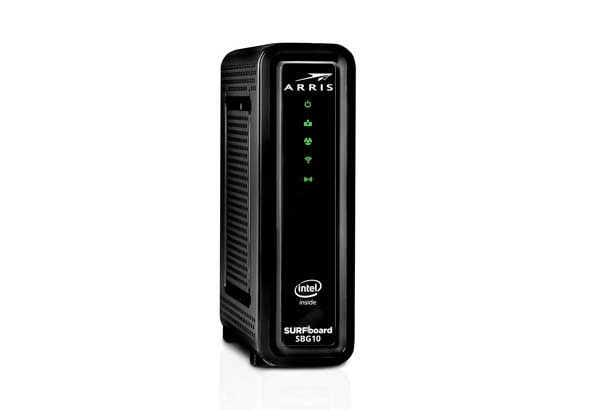 The Arris modem router combo is one of the Spectrum internet compatible devices, which uses a high-speed broadband connection.
Key Highlights
Dual 2.4 and 5 GHz bandwidths
16 X 4 download and upload channels
Supports both IPv4 and IPv6 internet standards
Beamforming+ technology
Pros
Wider ISP compatibility
Quick download speeds
Provides 16 X 4 channel bonding
Carries the DOCSIS 3.0 technology for maximum speeds
Cons
Lacks the enhanced DOCSIS 3.1 technology
Features of the Arris Surfboard AC1600 SBG10 Dual-Band Wi-Fi Router
The Arris SBG10 is a space-saving option that integrates a cable modem with a built-in Wi-Fi transmitter carrying two Ethernet ports.
Connect up to two Ethernet-enabled devices on the two ports, with each having 131 Mbps upstream speed and 343 Mbps download speed.
Seamless Wireless Connectivity
Enjoy Wi-Fi on the dual bandwidth frequencies of 2.4, and 5 Giga Hz with maximum 686 Mbps download rates.
9. TP-Link Archer 7 Smart Wi-Fi Router – Dual Band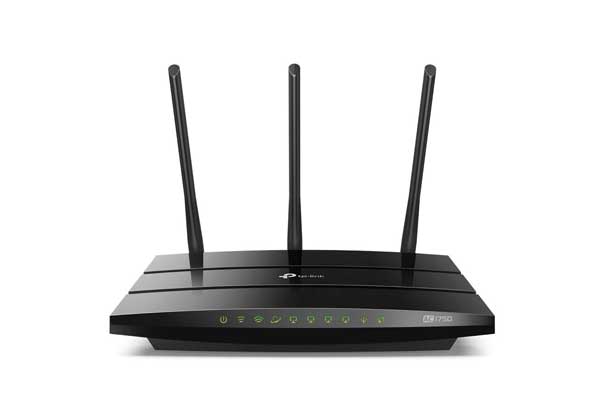 Leverage the three amplified antennas to deliver outstanding Wi-Fi coverage with the Spectrum compatible TP-Link AC1750 Smart Wi-Fi router.
Key Highlights
Compatible with Alexa and other wireless devices
Dual-band 2.4 and 5 GHz frequencies
Three external antennas
Four LAN ports
Remote access with TP-Link app
Maximum 2,500 square feet wireless coverage
Connects up to 50 devices
Pros
Compatible with Alexa voice control
Tether app for remote management
Parental control feature
Compatible with WPA and WPA2 wireless security protocol
Cons
Supports a single USB port
Poorly done web interface
Features of the TP-Link AC1750 Smart Wi-Fi Router
Outstanding Wi-Fi Coverage
Enjoy exceptional 2,500 square feet of wireless coverage in the home with the three external antennas on the Archer 7 router.
TP-Link's Archer 7 has a powerful CPU with QoS bandwidth prioritization for high-speed processing that allows up to 50 devices on the network.
High-Speed Wireless Connection
The AC1750 Wi-Fi offers three times the speeds for seamless gaming as well as 4K video streaming experience. The dual-band connection gives support to more devices with fewer latency.
With both WPA and WPA2 wireless encryption, you can secure the devices at home with guest access and parental controls.
10. NETGEAR R7800 Nighthawk X4S Smart Wi-Fi Router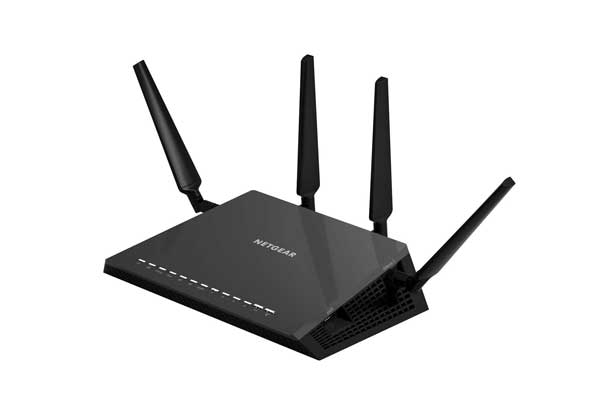 Secure the whole home with one of the best routers compatible with spectrum internet, the NetGear R7800 Nighthawk X4S.
Key Highlights
Maximum 2,500 square feet wireless coverage
One eSata port
Two 3.0 USB ports
Four one Gig Ethernet ports
Supports up to 45 devices
Works with Alexa voice control
Pros
Supports a strong WPA2 wireless security protocol
Provides eSATA and USB 3.0 connections
Beamforming+ technology for steady wireless access
Compatible with Alexa voice controls
Multiple 1Gig Ethernet ports
Supports up to 45 devices
Cons
Lower maximum speeds for its price
On the pricey side
Features of the NETGEAR R7800 Nighthawk X4S Smart Wi-Fi Router
Super-Fast Wireless Performance
The spectrum internet compatible router gives a wide 2,500 square feet of Wi-Fi coverage, with up to 2,600 Mbps speeds. The steady wireless connection can support a maximum of 45 devices without issues.
Use the four-1Gig Ethernet ports to connect game consoles, computers, and streaming players on the spectrum internet.
The NETGEAR R7800 Nighthawk X4S Smart Wi-Fi Router integrates 1.7 Giga Hz dual-core processing power for supreme performance, along with four amplified antennas for seamless wireless coverage. The Beamforming+ technology ensures constant Wi-Fi connectivity on multiple devices. Additionally, the router carries dynamic QoS, MU-MIMO, and Alexa voice control features for enhanced user experience.
With the eSATA port, you can create cloud storage for remote access. The two USB 3.0 ports allow you to share a printer and storage drive with any device connecting to the network.
Leverage the Nighthawk app to filter websites and control devices accessing the spectrum internet.
FAQs for Spectrum Compatible Routers
Q. What routers will work with Spectrum?
Some of the equipment in the market will not work with Spectrum internet. The best router for Spectrum is often the 802.11ac. However, we recommend that customers check with this list spectrum compliant routers before deciding what to buy.
Q. Is the spectrum router good?
Even though Spectrum offered routers are not the worst in the market, they might still not be the best router for their network. A good rule of thumb is to decide on the speeds and other requirements for your internet connection. Doing so should help a good spectrum router.
Q. What is the best router to use with Spectrum Internet?
After the 2013 launch, the 802.11ac continues holding the crown for the fastest speeds among wireless routers, with at least three times the rate you will find in the conventional 802.11n. For that reason, we recommend the 802.11ac as the best router to use with Spectrum Internet.
Q. Does Spectrum use DHCP?
Yes. While Spectrum uses DHCP, customers are supposed to check their network settings to make sure that computer network settings have the right configuration. Configure each computer to access an IP address automatically over the DHCP protocol.
The Wrap Up
Taking time to find your own Spectrum compatible router will ensure you have a device that can accommodate the performance you need. While Spectrum Internet provides basic rental routers, they do not take into account individual network needs for performance. Purchasing your own spectrum compatible routers lets you find the best speeds stretching beyond one Gig, which enables you to do all you want online.