What is the Best Internet for Gaming in 2021
Technology is evolving rapidly. Internet speed is going up and getting much cheaper even available for any type of online work. Gaming is one of your hobbies and you might want to get a little bit higher speed while gaming. Now the internet enables gaming so fast and smooth to make sure you are going to play games online which has excellent perks and features. Surely your gaming is going to be more enjoyable and funny with the help of high speed internet. There are some internet service providers like Spectrum, Xfinity, Verizon FiOS, Cox, and Frontier. These internet service providers are well known for providing the best internet for gaming with their speed, affordable price and gaming online is much easier than before.
Best Gaming Internet Speed
There are thousands of internet-based gaming that add up more enjoyment and satisfaction. The first thing to consider when you play games online is speed. Speed is split into two types which are download speed and upload speed. However, what you need is download speed should be faster and it should be at least 3 Mbps and upload speed is 1Mbops. This speed structure according to PS4 and Xbox is good enough to make the games playable and enjoyable.
Additionally different internet service providers may offer higher speed specifically for gaming purposes. More importantly, you need to be informed a little bit about internet speed. It means which type of connection you should have to make the internet speed faster for gaming purposes.
There different types of internet connection that explain the speed variation. These include DSL, Coaxial Cable, Fiber Optic Cable, Satellite and mobile network, and so on. However, the connection may also be wired or wireless. Recently many internet service providers are providing wireless wifi hotspot data to feed the needs of high speed internet. You may also know how they work.
Related Article:
What is the Best Internet for Gaming Online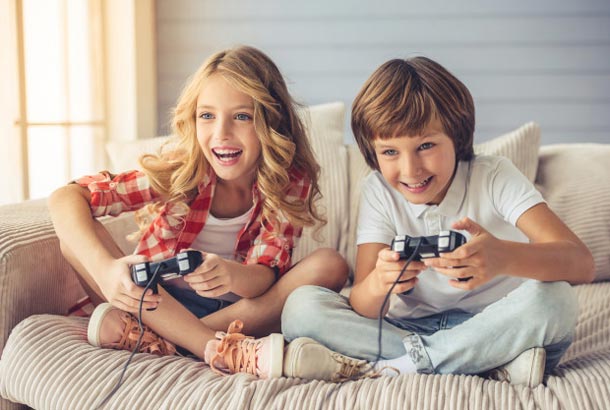 Now that you are going to seek the internet service provider that offers high speed internet, we can recommend the best unlimited internet service provider. These internet service providers are also known as highly affordable prices with adequate speed to make your gaming easily playable and enjoyable. The contract is another issue to consider. In some cases, contract policy may include more features and no contract policy is also available and this is going to be totally your choice what type you are opting for. However, you may know their plans, features, and conditions.
1. Cox High Speed Internet Plans for Gaming
Cox is giving really high speed internet for your gaming without any interruption. Cox is mainly available for DSL type internet where you don't have to compromise any speed factor. Cox has four plans that define the speed limit.
Starter internet has 10Mbps at the rate of $19.99 monthly.
Essential Internet has 30Mbps at the rate of $29.99 monthly.
Preferred Internet has 150Mbps at the rate of $49.99 monthly.
Ultimate Internet has 300 Mbps speed at the rate of $69.99 monthly.
Cox always seeks people who use the internet and is ready to offer what type of internet the surfer needs. In case you are a heavy online gamer, there is a specific internet package to feed your needs.
However, you are getting cable type internet which is widespread in nationwide. The internet surfer or online gamer is also happy with this carrier because it is budget-friendly and can go low speed plans. But one thing that makes you happy is that you have to go for one year contract.
2. Frontier Communication High Speed Internet Plans for Gaming
Frontier can be another good name in getting high speed for gaming purposes. Frontier FiOS plans are designed for gamers who play games online. There are a lot of plans for Frontier communication which may feed the needs of different types of online work. When you need Gigabyte speed, you are really happy to go with Frontier. So the plans of the Frontier FiOS are
Simply FiOS 50/50 has 50Mbps download speed at the rate of $29.99 monthly
Simply FiOS 200/200 has 200Mbps download speed at the rate of $39.99 monthly
Simply FiOS 300/300 has 300Mbps download speed at the rate of $100 monthly
Simply FiOS 500/500 has 500Mbps download speed at the rate of $39.99 monthly
Simply FiOS 1G/1G has 1000Mbps download speed at the rate of $199.99 monthly
Gaming online is now easy with Frontier as this is giving high speed for online games with uploads and download speeds as well. The gamers are flying in the sky with a seamless online experience. But the speed can be reduced in congested traffic areas. Apparently, the speed is high and the price may be a little bit high but you can experience an awesome speed with FiOSplans of Frontier.
3. Verizon FiOS High Speed Internet Plans for Gaming
Gaming online needs a little bit of high speed and you are seeking for the best carrier who can provide the best speed. There are a few factors behind speed as of DSL, Fiber, and Cable and so on. Fiber Optic is really one of the most powerful ways to provide high speed. Data is transmitted through the light and high speed is easy to get. However, Verizon FiOS is known as the best internet provider for gaming purposes for a number of reasons. There are three plans you may know.
FiOS Internet 100/100 has 100 Mbps download speed at the rate of $39.99
FiOS Internet 300/300 has 300 Mbps download speed at the rate of $59.99
FiOS Gigabit connection has up to 940 Mbps download speed at the rate of $79.99
The internet surfer or online gamer may put confidence in Verizon FiOS Internet plans because of their high download and upload speed. Service of Verizon FiOS is limited to the East Coast that may be a matter of unhappiness for the gamer especially located west of the Mississippi.
4. Xfinity High Speed Internet Plans for Gaming
You might seek for one of the affordable and cheap internet. Xfinity is one of the smart choices to go. Unlike any other carrier that has contract policy, it is really exciting to know that Xfinity plans include plans which may provide internet service with contract and no contract according to your needs. The plans are
Performance Starter has 15 Mbps download speed at the rate of $29.99 monthly
Performance Starter with no contract has 15 Mbps download speed at the rate of $39.99 monthly
Performance Plus has 60 Mbps download speed at the rate of $39.99 monthly
Performance Plus with no contract has $60Mbps download speed at the rate of $49.99 monthly
Blast Pro has 250 Mbps download speed at the rate of $69.99 monthly
Blast Pro with no contract has 250 Mbps download speed at the rate of $79.99 monthly
Gigabit has 1000 Mbps download speed at the rate of $70 monthly
Gigabit pro has 2000 Mbps download speed at the rate of $299.95 monthly
It is seen that speed is limitless and price may vary according to your living location. But the no-contract policy can be one of the smart deals to go with this internet service provider.
5. Spectrum High Speed Internet Plans for Gaming
Spectrum provides a higher speed compared to other internet service providers. It is one of the best deals to know the plan details of the Spectrum because gaming online needs speed. The price of the internet is one of the considering factors. However, here are the details of the plans
Spectrum Standard Internet has 100 Mbps download speed at the rate of $44.99 monthly pay.
Spectrum Internet Ultra has 400 Mbps download speed at the rate of $69.99 monthly pay
Spectrum internet GIG has 940 Mbps download speed at the rate of $104.99 monthly pay.
Spectrum fast internet comes from cable-based internet and you may go unlimited enjoyment with your gaming purposes. This internet plan is considered one of the great because it starts from 100 Mbps which is really good enough to carry on gaming. Additionally, Spectrum internet has no contract policy which might be another problem and you don't require any contract to go with spectrum.
Recommended to read:
21 Best Ways to Get Free Premium Cable Channels
Best Portable Mobile WiFi Hotspot for International Travel
How to Get WiFi at Home for Free
Games and the internet are now an indispensable part of the people who love to play games online. Gaming online comes with exciting features and perks. But people do have a lot of questions about online games and internet speed. The speed may vary according to the plans and price. Many internet service provider may also include various types of internet plans which may suit you best. However here are some questions that the consumers frequently ask to know.
Q. What is a good Mbps for gaming?
Gaming online needs internet speed and speed defines gaming amusement and smooth gaming online. The minimum speed for gaming is at least 3Mbps and upload speed is 1 Mbps though many recommend as 0.5Mbps. As online gaming has so many features compared to desktop games without any internet connection, gamers feel more satisfaction and get more enjoyment online gaming.
However, there are a different carrier who offers internet speed specifically for online gaming. Though 3 Mbps may be backdated and gamers now can avail more speed like up to 100 Mbps. More speed means you have to pay more. Additionally, there is also the cheaper rate of the internet for gaming which may start from $20 to get 15Mbps.
Q. Is 25 Mbps fast enough for gaming?
Online gaming is really different and has unique features. Some games may require high speed internet according to game performance and capabilities. Additionally, when your device is good enough and updated with present technological features, 25Mbps is really awesome and it adds up more enjoyment in playing the game online. But this speed can be available from the network of DSL, Optical Cable satellite and other means of the internet that offer 25Mbps.
More importantly, this speed limit is adequate and enough in case you are a single user. But there may be more users where more internet speed may be required instead of this speed.
Q. Is Spectrum Internet good for gaming?
It is needless to say that online gaming needs only 3Mbps as download data. Spectrum is one of the great internet service providers in the field of providing internet data. Spectrum minimum speed limit starts from 100Mbps which is really much adequate for the single user. Spectrum is also offering lightning fast download speed up to 940Mbps in the specific area and you can include this network to make your gaming experience to remember.
Q. Who has the best WiFi for gaming?
When you are a regular gamer, your question is about the speed. However, there is a broadband connection that ensures high speed for the desktop game at your home. So you need to make sure the best gaming router that can provide you with Wi-Fi support for your gaming. There are so many routers that can support your Wi-Fi and these are TP-Link Archer C5400 V2, Asus RT-AC86U, TP-Link Archer C5400X, Netgear Nighthawk Pro Gaming XR500, Asus RT-AC5300. These routers are used at home and support the most area at your house.
You don't need to compromise any speed issue because they are best known as wireless speed. Additionally, some wireless router comes with excellent traffic analysis software. Additionally, you may connect more devices that are going to be an issue because these are designed to solve the problems of traffic congestion.
Final Verdict
Gaming online is now easier than before with the help of the internet. Day after day, the internet service providers are increasing the speed limit and the consumer is also getting a better experience in playing online gaming. As there are so many internet service providers, the details of their plans also vary. Additionally, your location also issues to get the speed of the internet. Before buying any internet product, you should know these issues about your location, compatibility, connection type, plans details and price tag.
However you are the single user of the online games, the price may be a little bit higher. You can also share the connection with other users to reduce the cost. Though internet speed is limitless which may be adequate, you should opt for the lowest plan with the lowest price of the internet plans provided by the internet service provider.