Free Computers for Seniors: Low-Cost Laptop (Repairs)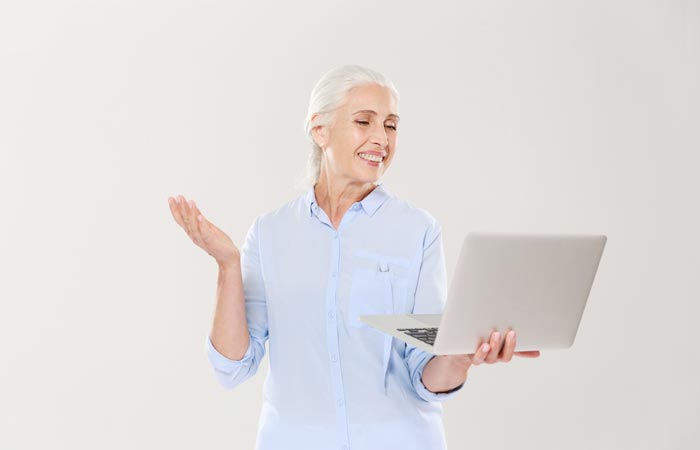 Computers have extensively helped people to connect, prosper, and knit the world into one global community—no wonder the human race might go crazy without them even for a single day. As computers are a necessity and not a luxury, several governmental and non-governmental organizations launched programs to help senior citizens to acquire free laptops or refurbished laptops at low prices, especially for low-income groups. However, the underlying motive for such programs is to give the elderly access to the fast-paced modernized world and endeavor inclusiveness. Sounds unreal, right? Continue reading this article to know more about the legitimate sources that might guide you to avail of free computers.
Table of Contents
Best Ways to Get Free Computers For Seniors
1. Institutions and programs that grant free computers to seniors
Usually, when a lot of MNCs and agencies replace their electronics, they give away the used ones for charity. Gather information on all the national corporations or non-governmental agencies that might provide you with free computers through online sources or acquaintances in your neighborhood.
The prerequisite to looking for a source is income proof or, in some cases, valid referrals by governmental schemes for senior citizens. There is no problem in reaching out to as many sources as possible if you have access to a computer at your library.
Read Also: How to Get Free Government Internet and Laptop
2. Microsoft Refurbisher Directory
The Microsoft Refurbisher Directory is a website that will track and locate all the registered computer refurbishers in your locality. Microsoft is associated with several refurbishing agencies to recycle e-waste and help underprivileged citizens to use free computers or relatively cheap computers.
The Microsoft-sponsored program emphasizes the necessity to reduce e-waste because of its adverse effects on the environment. Additionally, e-waste should be utilized in a way that will bridge the digital gap and imply cohesiveness.
Trending Popular:
Buy Now Pay Later Laptops No Credit Checks
The Best MetroPCS WiFi Hotspot Plans
Comcast Deals for Existing Customers
The Cheapest Unlimited WiFi Hotspot Plans
How to Get Free Wireless Internet?
3. Computers with Causes
"Computers with causes" is a welfare program that donates refurbished laptops, computers, and tablets to the people in need across the USA. Although the organization predominantly helps educational institutions, individuals are eligible to fill the online application form for assistance.
The organization will soon implement a background and reference check to verify your authenticity and eliminate false applications. To fill the online form, check out their website. If you don't have immediate access to a computer, ask for assistance at your library of community centers.
4. Computer Recycling Center
CRC is a non-profit organization that provides free computers and laptops to senior citizens. Electronic gadgets are not brand new, considering the notion that most of them are donated. However, they are highly functional.
5. Freecycle Network
Freecycle Network is also a non-profit organization that grants free computers and laptops to anyone in need. They have a broad network to reduce, collect, and recycle electronic waste daily.
6. Regional level schemes
They are different organizations that give way free laptops and computers to senior citizens locally. There are always regional-level schemes that might assist if you could not reach out to the programs mentioned above. Clarify your eligibility with the institutions beforehand. You can also rely on the Department of Aging for further inquiries regarding services to senior citizens.
7. Smart Riverside Digital Inclusion Program
This program might help you if you live near Riverside, California. It is a collaborative welfare program sponsored by the Government and non-governmental organizations to provide free computers and laptops to low-income groups, especially those who earn less than 45,000$ p.a. The program also involves mandatory computer training for eight hours.
8. Free Geek
Free Geek is a non-profit organization based in Portland, Oregon. The organization works to recreate e-waste and provide free refurbished computers to schools and community agencies. To avail of a free computer, volunteer for more than twenty-four hours, or get the guidance to build your computer. Volunteers receive an extra 20% discount on the Free Geek store.
9. Local sources
Many legitimate local sources provide free computers to senior citizens but don't necessarily advertise. All you got to do is search patiently for leads and reach out.
10. Senior Community Centers
Generally, community centers render a wide range of services to senior citizens, including basic computer training, skill enhancement courses, and many more. Senior Community Centers will be an excellent platform to search for local sources providing free computers to seniors. If you are also a part of other vocational training and social services, you can help track down the agencies near your neighborhood.
Learn Also: Computer Classes for Seniors | Everything You Need to Know
11. Non-profit sources
You can undoubtedly depend on the internet to draw additional information about any governmental or non-profit agencies granting free computers to seniors in your locality. Gather sources regarding agencies engaged in e-waste recycling and charity work within your region through peer groups, community centers, libraries, rotary clubs, and other support groups.
Dell computers partnered with Goodwill industries to operate charitable programs wherein they recycle and give away refurbished computers for underprivileged people. Check their website or visit their stores in your locality to get authentic information on how to go about the process.
12. Electronic Repair Shops
Computer repair shops have a lot of spare parts to fix damaged computers or laptops. Considering the notion that they have a lot of refurbished computers, they may be willing to donate a few computers or at least sell them for minimal costs. Look out for their contact information on your phonebook or their website or directly handle the business with them.
13. Donations of Educational Enterprises
Educational enterprises usually give away used electronics after upgrading. A lot of private schools and universities sign up for charity. Although they might prefer donating to low-income households in their school or college, you can still reach out to them for assistance. Conduct a timely check on charitable programs operated by educational enterprises in your locality.
14. Common Spaces
If you cannot afford to buy a new computer or couldn't get the supplies from the donation drive, you can still utilize shared computers in your neighborhood.
15. Public libraries
Aren't libraries the hub for producing knowledge? They not only contain thousands of books but also computers with decent internet services. You can get access to a computer at the nearest library if you are a cardholder. You can work, read, check emails, and fulfill basic computing needs. However, the only drawback of shared computers is that you might not have access to all the websites, and the time is limited.
16. Educational Centers
If you signed up for learning a new course or a skill at any educational institution, you might get permission to use their computing services to fulfill daily homework requirements or research related to the field of study.
17. Government-sponsored schemes
In case you are from a low-income household and signed up for governmental assistance like food stamps, you can get access to their computers at their agency. Although there are time constraints and you cannot access details like job notifications and job rehabilitation, you can still gather information on how to avail free computers for seniors.
18. Relatively low-cost computers
Don't get disappointed if you couldn't get free computers because of your income. You can at least try to get a senior's discount on computers or laptops. Like some stores provide student discounts, some provide seniors discounts.
You can visit the stores in person and verify the details. Check out all the offers on technology deals, especially for AARP members online. You can also avail of a 10% discount on Dell products if you are a member of the Area Agency on Aging organizations.
Several liquidation centers might provide collected electronics and unsold laptops at lower prices, and you can contact the department of administration for further inquiry.
Be Cautious About Online Scams
Beware about the online distributors that might not be legitimate. Don't give your personal information and bank details to any stranger that might offer you help without verifying their validity.
Be cautious and scrutinize every detail before signing up for any program. Do not send money on unauthorized sites, and don't fall prey to online scams. Properly check if the device is in working condition before payment. You can contact the Better Business Bureau for some advice or help.
Before trying to buy a computer or a laptop, you should decide what to choose and how to choose. Do not stress, we have got you covered with a list of devices you will necessarily enjoy using.
Recommended Article:
What Is The Best Computer Or Laptop For Seniors?
As elders usually need computers to fulfill their basic computing requirements, it is not that difficult to choose a decent option. An economically mainstream computer will work. There should be a balance between price and functionality.
Depending on your preference for portability, choose a computer or a laptop. Both have the same hardware; a desktop is usually more affordable, more expandable, provides better performance with ideal screen size.
In the case of operating systems, Windows is widespread for the past few decades and is easily manageable. However, familiarity with Android OS is an advantage. Android OS works wonders on smartphones and tablets. Several brands offer these features, choose wisely.
Are Chromebooks Good For Seniors?
You can comfortably work on Chromebooks if you are acquainted with Android phones, it's simple and easy. Chromebooks are affordable and generally pack in the ideal screen size of 11-15 inches. It is not designed for performing heavy tasks, but simple tasks are carried out smoothly and efficiently, which is why it is one of the best choices for seniors.
Weekly updates and a good security system make it worth it. Asus Chromebook C425 is affordable, appealing, durable, and lucrative.
How Do Seniors Use A Computer?
Elders generally don't engage in hardcore gaming or, for that matter, intense graphic designing. Instead, they play fun games, write emails, conduct research, and do other basic stuff. However, they are becoming savvier about privacy and security.
To make potential use of any laptop or computer, you have to understand its operative mechanism and overcome your problems.
What Are Some Problems Seniors Face Using A Computer?
Physical constraints: A minimum of 40% of the older generations has physical problems that might hinder learning computing skills. It also includes manual dexterity and visual impairments, which tend to increase in older age.
Advanced technology: The advanced operating systems in computers always leave something to learn. Living through ages, it makes it difficult for seniors to adapt to change quickly.
Need assistance: Senior citizens need some assistance to operate a computer and conduct daily activities. They might as well forget passwords.
There is no specific solution to these problems. However, you can always ask around for help. Several organizations provide computer training to senior citizens. Take things slow and learn. After all, it is a necessity.
Summary
Computers act as a boon for the human race, enabling them to co-operate and conduct transactions online. It will keep you updated on this modernized world. You can search for the best possible ways to avail of a free computer from the legitimate sources outlined in this article.
The Government sponsors e-waste recycling and charity programs to connect you to your loved ones and enroll you in some government schemes for low-income groups.