Traditional landline phone service without internet (2022)
In 1876, Alexander Graham Bell invented the first modern version of the telephone that we use today. This changed the way that people communicated with each other. It brought about a revolutionary change in keeping people connected with one another.
Moving ahead to roughly about 150 years and we have got a host of telephone services available for use, both in our home and office. The availability of electrical wires and phone towers made it possible to connect people from one part of the world to another.
Telephone wires can now be found in almost every place in the world and have provided an opportunity for people in placing easy calls to one another.
Ways to Get Cheap Landline Phone Service without Internet
There are available a host of phone services nowadays along with different data plans. Landlines are the telephone services that are present in one's residence or business. They are comprised of data cables that are placed across land and connect individuals. Landlines offer easy access to network calling and are easy to operate. Even though with the advent of mobile and wireless phones, landlines remain to be one of the most popular means of telecommunication even today.
Why Landlines are still popular
Most landlines of today operate with the help of VoIP (voice over the Internet). These services provide a connection to people with the help of network adapters and do away with the need for physical wires. However, people who use the internet from other sources like broadband or wireless dongles do not actually need internet service for making phone calls. Also, the additional cost of the internet can make a huge difference in their monthly phone bills. Some reasons why internet calling services can be disadvantageous are :
The call quality on a VoIP service may not always be as clear as a traditional phone line. Many users of VoIP have complained of static noises, audio interruptions, and dropped calls.
Landlines can work without electricity. Internet calling services require power to operate. Hence in the event of power cuts, one may lose their phone connectivity as long as the electricity is unavailable.
Internet calls as they sound depend on the connectivity of the internet in your area. In the event where connectivity is not present, one may lose the ability to make phone calls. The service can only be availed when internet connectivity is working.
During an emergency, internet calling services are not always reliable in reaching the registered emergency helpline number. They may route the number to administrative departments and can also fail to provide the operator with your location and phone number.
Read Also: How to Set Up a Conference Call 
Keeping your landline bills in check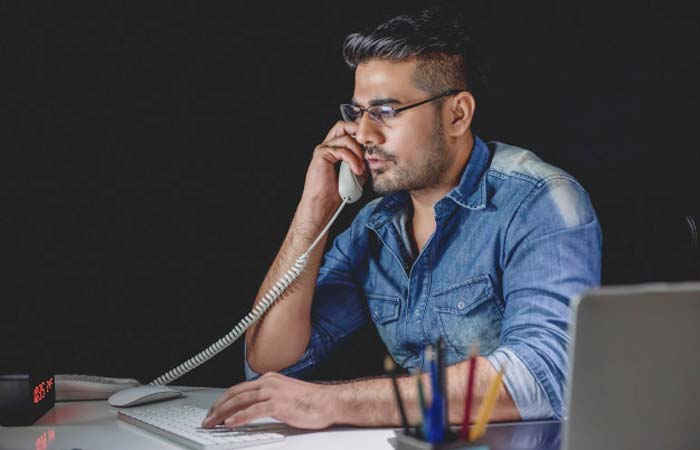 All these above points prove that traditional landlines are way better than internet calling services, not to mention the additional costs one has to pay for the internet service. Although there are a lot of service providers for landline connections in the market, there are various ways to get cheap landline phone service without internet. We list down below some tips to ensure you are getting what you pay for and maybe something extra too.
1. Check for individual landline plans
When you are opting to get a connection for the very first time for your landline, you should check the packages you are getting with the service provider. Some providers manage to bundle cable, internet, and phone calling package in one, in order to get the most amount of money from a customer. You should properly follow up with your service provider and let them know you want only the landline calling service and not anything else. Checking the service plans for additional details can help to discover any hidden costs which your provider is not revealing to you.
If you are opting to take the connection from your cable provider, you should go for packages that come combined with your cable service. In this case, you can save a lot of money from individually signing up for a standalone landline phone service. Combined landline services with cable plans are much cheaper and will save you those few extra bucks you spend at the end of the month.
2. Check the features you are getting from your service provider
When you opt for a landline connection, there are various features to check up on. This may include:
International calls: You get to call regions outside your country.
Local calls: Calling to regions inside your country.
Free minutes: A part of a plan may include free minutes where for a certain amount of time when you are making a call you will not be charged. Service providers generally give some amounts of free minutes for every month.
Caller Id: This helps you to identify the name of the caller as registered with their service provider. It helps in detecting who is calling you and from which location.
Conference Calls: You get to call 2 or more people from the same call and have an in-call conference. Generally, it costs more than a normal call.
Do not disturb feature: This allows you to control when you can receive calls and prevent unwanted calls.
Voice mail:  If you are away when someone calls you and are unable to receive, you can opt for a voice mail feature where the person may send a recorded message in their own voice which gets saved for you to listen to later.
Call returns: This allows you to identify the person who called you and redial their number automatically.
Call blocking: You can have this option to prevent unwanted callers from contacting you by blocking their numbers.
Call forwarding: This ensures you never miss out on a single call by redirecting your number to a local or long-distance one.
Anonymous caller rejection: It allows you to reject numbers automatically when the caller has chosen to hide their caller Id. This feature may come useful in case of spam or malicious calls from people wanting to steal your identity or personal information.
All these above features come with a price. So be sure to choose the features which will actually come in use for you. Also, not many providers reveal the features customers get with their plans. The best scenario would be to have a talk with their agent directly and ask for customized calling plans where you can individually choose the features you want and eliminate the ones you do not require. This can help to save surplus amounts of money every month. You should also check for additional costs for international calls as these incur the most amount of money. If your provider does not give you a plan for international calls or any free minutes, be sure to check the charges for the same. Many people are unaware of their international call rates and end up receiving shocking telephone bills at the end of the month.
Read Also: How to Get Free Internet at Home without Paying
3. Check the quality of cables your service provider is installing
If your provider is giving you traditional copper cables instead of modern fiber-optic ones, then the price for the same should also be different. Although fiber optics are much faster and reliable than cable ones, they tend to add additional rental charges each month. It helps to understand the type of cables you are getting with your connection.
4. Research the popular providers in your areas and if necessary, visit their websites
There are a lot of providers nowadays and each of them provides different plans and features. It is necessary to research each one of them before choosing the best that works out for you. Asking your neighbor might not be the best solution as what works for them may not work out for you. It is best to check their websites where most providers have a list of their services along with rental plans.
5. Evening and weekend calls
Although targeted for senior users, some providers may have the option for free evening calls, and even on the weekends also. This option can come in useful as most people tend to connect with friends or family on these particular time periods. Having a free weekend service can greatly reduce the load of your phone bills.
Learn Also: How to Block Calls on Landline AT&T
6. Checking your landline bills
It makes sense to always review your landline bills once you receive it. The bill should contain a comprehensive list of where your money was spent and which calls were the highest in price. It provides you with an idea of the pricing and features you are availing. If there are any discrepancies within your bill do not hesitate to get in touch with your provider.
Read More Articles:
FAQ Section
Can you have a landline phone without internet?
Yes, the standard landline was the only option before internet. Therefore, no internet connection is required to have a landline.
Conclusion
Landlines are reliable, secure, and easy to operate. They can offer a host of features which come with a mobile phone. However, you should not be paying more than what you receive. It's possible if you're using landline phone service without internet. The above guide will definitely help you to keep those landline bills in check and ensure you are getting the most out of your money.