The Best Family Mobile Plans in 2021
Mobile plans for the entire family are the best if you want to save some bucks in the running and also it is convenient if all your family members use the same network service provider. The family plans that are provided by different carriers come with a lot of perks and they are suited to everyone's needs. Of course, you can take advantage of them and make sure that they help you out in every way. Here are some of the best family plans that are offered by the best wireless carriers.
You can find cheap family phone plans if your primary objective is to save some bucks. Or you can have some of the best family phone plans that offer extra perks like HD streaming of the devices. You can also use unlimited data and if you can share it with your family too. Here in this article, we have put together some of the best available family plans and ways to save money on them.
How to Save Money on Your Family Plan?
When someone chooses a family plan over an individual plan, their main aim is to save money. So how can you save money through the family plan?
You can select prepaid carriers and choose all in pricing plans. When you are taking family plans, there are many prepaid and postpaid carriers.
These run on big networks and when you are choosing a prepaid carrier, you know how much you exactly want to spend every month on phone bills.
This will help you avoid a credit bill. All in pricing we are talking about is the all-inclusive price where the taxes and other charges are included too.
Always pay upfront for the phones. The monthly service plan is not a contract and you can switch your services and switch them anytime.
But please make sure that you are paying off for your phone before you take any other family plan.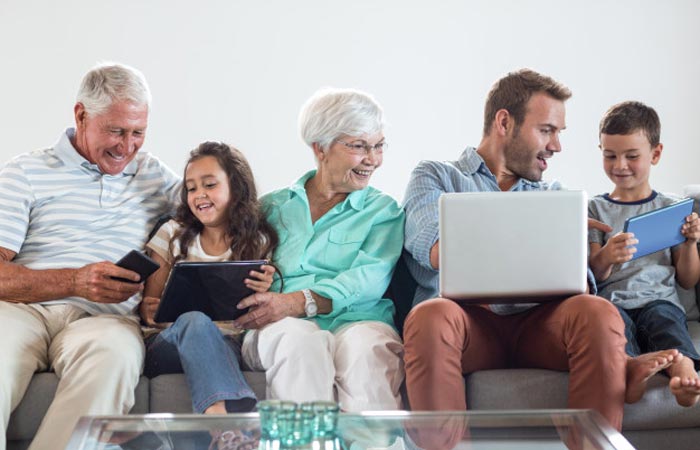 Related Article:
1. T-Mobile: Overall Best Family Phone Plans
T mobile has the best Mobile family plans and they have completed four options now. It completely depends on the no data range to tons of data range plan. Of course, there are many perks like HD quality streaming and premium plans. So, is your family the one where it needs lots of hotspot data and HD streaming, or is it someone who doesn't need much data due to the Wi-Fi at home?
Then you can choose the Essentials plan. Or else if you want to watch TV shows and stream online content, then you can go for Magenta Family Plan or Magenta Family Plus plan. If you are just using the internet for basic E-mail, Youtube and Instagram then the essentials plan is more than enough. If your family practices minimalistic living, then you have a plan that has no data offering.
Why T-Mobile Family Phone Plan?
Compared to any other family plan providers, they have no speed throttling. Until you have exhausted your budget of 50 GB, your internet services won't be slowed down. Apart from that when you compare the other family plan providers, you use 20-22 GB, and it will slow you down. You also get the T-Mobile coverage with data. The only problem with T-Mobile is that the coverage in a few areas isn't really amazing. So unless you are living in a non-urban area, then T-Mobile is the best contender to opt for a family plan. You have good coverage on this, the plans are perfect to suit every family member, and it is worth the money too.
Price of the T-Mobile Family Plan: $170 per month
2. AT&T: Best Family Plan for Media Lover Family
So, AT&T gives a lot of perks to the family plans. Did you know that you can add up to 10 people on the same family plan? If you think that is a lot of amount for a mobile bill, divide the sum by 10 and maybe it is not that expensive after all.
Honestly speaking, if you are on AT&T network service, and you aren't on the family plan then you need to consider getting on it. You can get your partner to sign up on it and you can take a family plan together. If you are new to AT&T and you want to take this network, then it is better you call your parents or your extended family to sign up on this. It is going to be much economical once everyone signs up on this.
Why AT&T Family Plan?
AT&T family plan can be on the expensive side and you may get other cheap family mobile plans, but trust us on this, you will never get the same level of coverage that AT&T provides in the whole country. The data speeds are high and if you think on the other side, you are going to save a lot when there are people sharing the same plan rather than staying on an individual mobile plan. You can reap the value of the AT&T plan only if you are on the family plan rather than an individual plan.
You can also stream some premium channels with the Family Plan subscription. You can gain access to content on HBO, Showtime, Starz, Amazon Music, and Pandora Premium.
Price of AT&T Family Plan: $200 per month
Learn more from AT&T:
3. Verizon: Best Family Plan for Best Coverage 
It's still expensive, but you get the same amazing coverage that you get from other carriers. You get some amazing deal with the Verizon family plan and if you see the cost per line is almost cheaper when you are opting for a family plan.
They are almost cheaper when you are operating with a family and if your family is someone who doesn't use that much of data, then you have perfect Verizon family plans ready for you. There is 4 GB or 8 GB data plan that can be shared up to 10 devices. This means up to 10 members can be added to the family plan.
If you want a mobile hotspot too, then it is best to clear this doubt from the Verizon representative because it is not hoarded on the website.
Why Verizon Family Plan?
Yes, the Verizon family plan might be a little expensive but you do get amazing coverage. They do not throttle your data speeds. But they do charge you a $15 for every Gigabyte of data you have used. Of course, there is a data usage tracking feature in the MyVerizon app. Or if you don't have the app, you can simply text #DATA and know how much you have used. If you really care about the best coverage of the network, then Verizon is the best one for you.
Also, if your family members are using other network carriers and are worried that they have to change their numbers if they change to the data plan, then there is an advantage here for them. For all those who want to change from other carrier services to the Verizon carrier service to get into the family plan, it is free for them. Verizon offers free mobile number transfers. It may take up to one day to transfer the number from the previous mobile network carrier to the present Verizon one.
Price of the Verizon Family Plan: $180 per month
5. Sprint: Best Cheap Mobile Phone Family Plan 
Now you have read about the best overall family plan, the best family plan for media streaming, and the best family plan for the best coverage throughout the country but here we are going to present to you the best cheapest mobile family plan. Yes, Sprint offers cheap family mobile plans than the other wireless carriers. But the only concern is the coverage which is not up to the mark as the other carriers.
Sprint is sure is one of the Big Four Companies in the field of mobile network service carrier providers but it is the cheapest of the others. This may be called a budget carrier because its mobile plans are budget-friendly. The only drawback it has that it does have a lot of coverage problems. But with the upcoming merger between Sprint and T-Mobile, should solve the problem. If you are someone who stays in non-urban areas, then it is better you don't opt for Sprint. But the family plans are super budget-friendly and you also get tons of unlimited data.
Why Sprint Family Plans?
Some quick Pros of considering Sprint family plan: they are cheap, offer tons of unlimited data for your family, some extra perks. They have 50 GB data limit and after that they lower the data speeds but 50 GB is enough to stream Spotify as much as you want. In the Sprint Unlimited Premium Plan, you get 100 GB of shared data before you see any throttled speed. Sprint offers a lot of cool perks like offering free subscription plans of Tidal, Hulu, Amazon Prime, and Lookout. And all the time you have free offers that can get Premium plans at the price of Basic Plan.
The only con of having this family plan is the coverage. Sprint is known for its bad coverage and it is better that you do not expect great coverage if you are in rural areas. Some of the premium features that Sprint offers are International Coverage. You get free texting and data in many foreign countries. If you have plans to visit neighboring countries like Canada or Mexico, then you will get 5GB 4G LTE data and unlimited talk and text.
Sprint Mobile Family Plans:
Get Free Hulu, Tidal and Amazon Prime with Sprint Family Mobile Plans. You get a free Tidal music account and 50 GB LTE hotspot if you opt for the Unlimited Plus Plan. If you go for the Unlimited Premium Plan, then you can get the Hulu, Tidal, Lookout, Amazon Prime, and 100 GB LTE hotspot.
Sprint Mobile Family Plans Price: $100 per month (The most premium one)
6. Simple: Best 2 Line Family Plan
If you are just a couple and looking for a great 2 line plan, then this plan is ultimate. You can check out the Simple's Family Mobile Plan and it has great perks.
Why Simple Family Plan?
Well, for starters, it comes for just $50. But if you are two people who are sharing this plan, then you have $75 per month. This is backed by some of the best coverage and also includes international calling and also to landlines. You have this international calling option to more than 60 countries and it has free roaming in Mexico. It can extend this offer to 2 lines and offers unlimited data.
Simple Family Mobile Plan Price: $75 per month and just pay $1.98 to be exact upfront.
Learn more related: 
FAQs of Family Mobile Plans
Q. What is the best family mobile plan?
T Mobile Family Plan for sure. There is a prepaid one and a postpaid one too. The prepaid metro plan goes by the name Metro and it is for $120 per month. You get unlimited talk time, text and unlimited data too. Each line or family member gets a 15 GB mobile hotspot allowance, then 100 GB of Google One Storage, Amazon Prime membership too. It also has a 35 GB data deprioritization threshold and great coverage of the T- mobile's network.
Q. How it works the family plan of T-Mobile?
The best postpaid plan of T Mobile is Magenta Plus. It is great for someone who travels internationally. You can keep in touch with your folks outside of the country as you have unlimited calling in Mexico and Canada. You also have unlimited texting and data in 210+ countries and places. You can also get some great in-flight Wi-Fi on the US-based flights like GoGo. Plus, there is free Netflix!
Q. Does good credit score help in mobile family plans?
Yes, a good credit score does help in mobile family plans. However, if you join a family plan of the person who is not paying the bills, then your credit score will not be affected. Every month when you are paying off your bill on time and adhering to the rules, that will improve the credit score and if you are late on a payment, that definitely affects your credit score.
Q. Recap of All the Major Family Mobile Plans
Here is a quick recap of all the best family mobile plans we have discussed above. So, if you want an all-rounder plan, then go for T-Mobile. It gives unlimited data and pretty nice coverage as we speak. The prices are also decent. You can certainly look for more plans on their official website.
AT&T is for those if you stream a lot of web and TV content and do not mind paying a bit more. You do get HD streaming perk though. The Unlimited Started Plan gives discounts on many online streaming services.
Verizon is best for those who want great coverage wherever they go. Sprint is for those who are looking for cheap family mobile plans but do not mind much about the coverage. If you are looking for a great 2 line family plan, then you can go for Simple Mobile Family Plan.