Verizon Unlimited Family Plans in 2021
Let us face it, finding the right blend of options for mobile carrier service is difficult. You may be needed unlimited data, or good coverage throughout the country or you may be traveling internationally and you need good international calling and texting. There are so many features you want your mobile plan to give which can seem impossible. But, finding the right blend of features and also a fast response customer service may seem impossible too. Hence, if your primary aim is to pay the worth for amazing coverage, then you have to try choosing Verizon.
Verizon offers some amazing unlimited family plans that offer many perks. Since you will be sharing this plan with your other family members, it won't certainly break the bank. There are always different offers and you have shared mobile data too. Thus, if you want to switch to Verizon from any other mobile service carrier, then take the Verizon family plan. It is affordable when the plan is split into parts. Currently, Verizon offers four plans in the unlimited family plan category.
If you are not sure how to select a plan that can work for your family, read more to find the available Verizon family plans for mobiles now.
Advantages and Disadvantages of choosing Verizon Unlimited Family
The best reason to choose the Verizon Unlimited Family Plan would be the coverage it offers. There is complete freedom of what feature you would like in a plan and if it is not there in the current plan you want to choose, you can opt for a mix and match unlimited plans. But there are a few cons of the unlimited family plans just like other companies' plans. You have standard definition video streaming unless it is not a premium plan and you do get mobile hotspot data on the lesser-priced plans.
Verizon Unlimited Family Plans
Verizon is one of the major four companies that provide unlimited data family plans which have 4 lines. So, here is the main unlimited Verizon family plan we are going to discuss: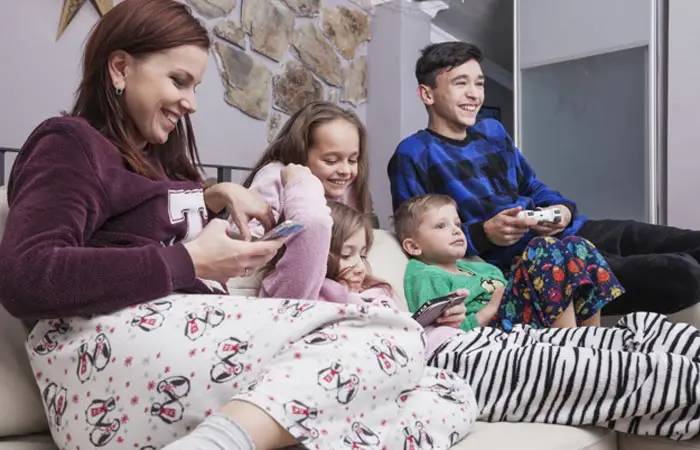 The best part of choosing Verizon over other mobile carriers is that you can happily mix and match the different perks of different family plans. So, it is not like you are stuck to the only plan, you have different perks from different plans that combine to make your one plan. For instance, you can combine international coverage with some high-speed unlimited data.
Related Article:
Some of the Mix and Match Verizon Family Plans:
1. Verizon Wireless Mix and Match Unlimited Family Plan
So this plan is called Verizon Wireless Unlimited Family Plan that is catering to 4 lines. You receive unlimited data in this plan.
Price of the Plan: $160 per month and you have to pay $80 upfront.
2. Verizon Start Unlimited Family Plan
Verizon has a great deal at just $140 per month and it is for four lines of unlimited data and you get superior network when you go international too. But, the only problem with this is that you may have deprioritization of data anytime. This is great if you are looking for an inexpensive way to start a family mobile plan. You also do not have any mobile hotspot for this plan.
Price of the Plan: $140 per month with $80 upfront.
3. Verizon Play More Unlimited Family Plan
Play More Unlimited plan is another family plan and you can get the 15 GB hotspot allowance. You get unlimited talk and text in Mexico and Canada. You also get HD video streaming which is all paired too. Verizon has superior coverage and there is no data deprioritization for this like Start Unlimited plan. For a single line, it costs around $80 per month but for four lines, it is $180 per month only.
Price of the Play More Unlimited Plan: $180 per month with $80 upfront.
4. Verizon Wireless Do More Unlimited Plan
This is priced identically just like the Play More Unlimited Family Plan. There are a few differences though. The cost with auto pay is $80 per month and the data deprioritization for this; you get up to 50 GB. The mobile hotspot limit is the same as Play More which is 15GB limit. The video streaming is DVD quality and you get 500 GB of cloud storage. But, just like the Play more plan, your data speed may be slowed down due to the network congestion after a particular data usage limit.
Price of Do More Unlimited Plan: $180 per month and $80 upfront.
5. Verizon Get More Unlimited Family Plan
The Get More Unlimited Family Plan is the most premium plan and this offers all the core benefits of Play More Unlimited. You can add this for an extra $10/month. The best part of all this is that you get an insane amount of data in the plan. You get 75 GB per month data and if you exhaust the complete 75 GB, only then your data speeds get slowed down. Apart from this, the plan offers a big 30 GB hotspot too and huge 500 GB of Verizon Cloud storage.
Price of the Get More Unlimited Family Plan: $220 per month and $80 upfront.
6. Verizon Prepaid Family Plans
Verizon has postpaid and prepaid plans and Verizon has got multi-line prepaid family plans that allow you to pair up with the unlimited talk and text with a data allotment of the choosing. There are different lines: first line, second line, third line, and fourth lin. You have the prices for all the lines here:
First Line: $75 for unlimited data
Second line: $55 for unlimited data
Third line: $55 for unlimited data
Fourth Line: $55 for unlimited data.
If you are going complete unlimited and you will be paying $240 for 4 lines, so you should get the prepaid one. This will help you understand how much data you are actually using and also save money on mobile bills.
FAQs Verizon Unlimited Family Plans 2020
How can I save money on my Verizon bill?
You can save a bit of money by taking the pre-paid plan because you exactly know how much money you want to spend here. There is also no activation fee and there is no contract for the pre-paid smartphone plan. You should also deal with only authorized Verizon retailers for trying to save money on the Verizon bill. You can also try and not use the complete limit of the unlimited data, and then try bill auditing.
Does Verizon have an unlimited data family plan?
Yes, Verizon has different unlimited data family plans that you can choose from. You have plans like Start Unlimited, Play More, Get More, Do More plans that offer unlimited data. You even get a mobile hotspot of 30 GB. You can choose from 1 line, 2 line, 3 line, and 4 lines.
How much is Verizon unlimited data for 4 lines?
Here, the monthly comparison of different unlimited family plans that offer 4 lines. For the Start Unlimited Family Plan, it comes for $140 per month. For the Play More Unlimited Family Plan, offers unlimited data and it comes for $180 per month. There is Do More Unlimited Family Plan which is for $180 per month too. Then, you have prepaid plans that come with 2 GB plan, which is for $120 per month. There is a Prepaid Family Plan that offers unlimited data for $240 per month.
How much is Verizon Unlimited for 3 lines?
Now, as we have already explained about the different plans. The Start Unlimited Plan has three lines for $165 lines. Next, you have Play More unlimited which is $195 for three lines. Then, you have the Do More Unlimited Family Plan that has unlimited data to 50 GB. The three lines can cost you $195. You then have to Get More Unlimited, the most premium plan of all the unlimited family plans. Then, there is a free Apple Music subscription and for three lines it is $225.
Verizon Family Plans: Summary
Verizon Family Plans are great if you consider the prices or features they offer. Verizon offers some of the best features in a mobile plan. As they say, if you want the best coverage, you have to choose the Verizon Unlimited family plans. This is the real appeal of getting with Verizon and thus it is suggested that you take it if you want better coverage. Though most of the plans do not come with high-quality video streaming, they are still worth a shot due to the coverage they offer. In fact, for people who travel internationally and stay in rural areas, it is great for them.
The Play More Unlimited Plan is an excellent choice too if you want to use all the features of that plan. You can also add this Just Kids to any plan. It is for just $35 per line and includes 5GB of data and also built-in parental controls too. You can add in location tracking, block a few apps and have some content filters too.