Unlimited Wifi Hotspot Plans: Unlimited Data Devices For Mobile
Whether you're running across town or across the country and beyond, staying connected is important and one way to do that is a Wi-Fi hotspot. Such technology has become increasingly popular for business and pleasure alike, and with its popularity, the need for unlimited Wi-Fi hotspot plans is a reality.
First, you have to choose what hotspot device is right for you. There are quite a few on the market. Some popular models are the T Mobile 4G Hotspot, the Verizon Jetpack 4G LTE Mobile Hotspot, The AT&T Unite Mobile No-Contract 4G WiFi Hotspot, the Karma 4G Pay-As-You-Go Wi-Fi Hotspot, and the Overdrive Pro 3G/4G Prepaid Mobile Hotspot by Virgin Mobile.
Each of these options is available on Amazon for anywhere from $40 to $250 depending on the unit you choose.
Table of Contents
Setting Up An Unlimited WiFi Hotspot
After you've chosen your hardware, you need to set up your hotspot. It will be slightly different depending on whether you have an Android or Apple device. Under the settings menu, select the Network & Internet option. Select hotspot and tethering. Select WiFi Hotspot.
This screen is where you will turn your hotspot on/off, change the name of the network, the type of security, your password, etc. You can use this menu to customize your hotspot to best meet your needs.
On an iPhone, open your settings app and choose mobile data. Select a personal hotspot and set to on by tapping the slide to turn it green. Select the WiFi password and choose a secure password. Check to see if the name of your hotspot appears under the To Connect Using WiFi menu on the device you want to connect. Select the WiFi icon in the menu bar. Open the Settings app and select WiFi, choose WiFi HotSpot. Enter the password you created. You should connect!
Related Post:
Best Portable WiFi Hotspot Devices
The Best Unlimited WiFi Hotspot Plans
To utilize your new mobile hotspot device, you're going to need a WiFi hotspot plan through most likely a mobile company – although there are a few other options. Getting unlimited internet for home is the best choice. So your best bet is to get an unlimited WiFi hotspot plan. On this list, you will find the best and cheapest Unlimited WiFi Hotspot plans available right now. As a word of warning, some of these are not completely unlimited but have enough gigs available that you will likely not need more than that per month.
If you want to know more in-depth about Wifi Hotspot Plans, we have prepared an article about it you can read here.
1. Tello Unlimited WiFi hotspot
Tello offers an unlimited talk text and data plan for $39 per month. This includes unlimited 2G after 25 GB of 4G LTE data is used. You can turn your smartphone into a hotspot with free tethering to share your data across multiple devices. They allow you to build your own plan, so you can have as much data as you need but leave behind the talk and text if you don't need it. Plans renew automatically every 30 days and you can cancel at any time without any charges. You can also upgrade or downgrade your plan at any time, so if you need the unlimited option for a short period of time you can do that without any fees.
View Tello Unlimited Hotspot Plan
2. Boost Mobile Unlimited WiFi Hotspot
The Boost Mobile Unlimited Gigs Plan is $50 per month and includes 12GB of 4G LTE mobile hotspot data to share the data in your plan with other connected devices. They provide High Speed Internet without cable or phone line. Boost offers a tiered WiFi Hotspot plan. If you use WiFi a little, you can opt for their $25 plan, which gets you 1,5 GB. This is best for people who want to check their email and surf the web, but don't need the extra gigs for streaming. Boost only allows you to use the broadband devices that you purchase with the company. Any unused data in the plan expires at the end of the month.
View Boost Mobile Unlimited Hotspot Plan
3. Cricket Wireless Unlimited WiFi Hotspot
Cricket Wireless has a More Unlimited & 15GB Mobile Hotspot Plan for $55 per month and $9.99 upfront. If you opt not to use their auto-pay feature, the price goes up to $60 a month. Cricket's mobile hotspot plan relies on tethering other devices to a compatible smartphone. Their list of compatible phones is quite lengthy and they are always adding phones. You can connect devices via WiFi or through a USB cable. If you require more than the 15GB included in the plan, you can add 5GB for $5 or 15GB for $10 as many times as you want.
View Cricket Wireless Unlimited Hotspot Plan
4. Metro by T Mobile Unlimited WiFi Hotspot
With their $60 Unlimited High-Speed Plan, you get 15 GB Hotspot Data, in addition to some perks like an Amazon Prime membership and 100 GB of Google One cloud storage. This plan does require $25 upfront. If you buy online, you can get a MetroSMART Hotspot, valued at $80 for free. You can connect up to 15 devices to the hotspot and enjoy a secure, private connection on the go. They allow you the option of adding a mobile hotspot data plan to an existing plan when you order the device for $35 a month for 10GB of LTE data. you can also upgrade that to 30GB for $75 a month when you add a line.
View Metro by T Mobile Unlimited Hotspot Plan
Read Also: AT&T WiFi Plans for Low Income Families
5. T Mobile Magenta Unlimited WiFi Hotspot
T mobile also offers the Magenta plan for seniors, age 55 and older at $50 a month and $25 upfront. The plan includes 3 GB of 4G LTE mobile hotspot, then unlimited mobile hotspot speeds up to 3G. If that's not enough, you can add an extra 10GB of extra high-speed mobile hotspot or $10.
6. Unlimitedville WiFi Hotspot
For $199 per month, they provide truly high-speed wireless internet from sea to shining sea. Unlimited 4G LTE. No data limit. No throttling. 14 day, no-risk guarantee. There is a one-time $99 membership fee. This is a great option for those who travel frequently and need reliable service no matter where they are going, as Unlimitedville covers virtually every inch of the United States.
View Unlimitedville WiFi Hotspot Plan
7. Verizon & Sprint Unlimited WiFi Hotspot
The Family Motor Coach Association offers special deals to their members, including special offers from Sprint and Verizon for Unlimited Mobile Hotspots. For existing customers, the deals are: FMCA Sprint – $49.99/unlimited ($39.99 device fee)
FMCA Verizon – $49.99/25GB ($0.01 device fee w/2-year contract)
View Verizon & Sprint Unlimited WiFi Hotspot Plan
8. Unlimited LTE Advanced WiFi Hotspot
For $89 a month and a money-back guarantee, you get portable WIFi hotspot devices and plans with unlimited data. They sell name brand hotspots, unlocked, with no monthly equipment fees. Unlimited LTE Advanced is a reliable source of internet for rural customers, RVs truckers, travelers, and boaters. They don't limit the number of devices you can connect and even suggest their hotspots as a good option for home automation, connection security systems, smart thermostats, televisions, Google Home, Amazon Echo, Nest, and other home technology.
View Unlimited LTE Hotspot Plan
9. Infinite LTE Data Unlimited WiFi Hotspot
Infinite LTE Data says they provide high-speed mobile internet at home, work, or on the go, with plans starting at $42.99. Their data plan has no set throttle point unlike some cell phone hotspots that will not slow down to unusable speeds after 10 of 15GB of data usage in a billing cycle. Infinite LTE coverage does not include everyone, but using the coverage tool on their website, if you fall into a fair or partner roaming area, they won't process your order.
View Infinite LTE Unlimited WiFi Hotspot Plan
10. Gypsy Wireless Unlimited 4G LTE Hotspot
Gypsy Wireless offers a fully unlimited 4G LTE Mobile Hotspot for $60 a month with no throttling and no data caps. They offer various data packages and different hardware based on your needs including hotspots, modems, and routers. In order to take advantage of their service, you must purchase or already have a new unactivated AT&T compatible SIM card for them to activate their service on.
View Gypsy Wireless Unlimited Hotspot Plan
11. Visible Unlimited WiFi Hotspot
Visible offers a $40 Unlimited Plan. The plans are only available online. A mobile hotspot comes with the plan, capped at 5 Mbps and only one tethered device at a time. They are currently offering a $200 prepaid Mastercard for new customers. They also offer a referral program that saves you $20 a month when you bring a friend.
View Visible Unlimited WiFi Hotspot Plan
12. TextNow Unlimited LTE plan
TextNow offers an Unlimited LTE plan for $39.99 a month. Hot-spotting is available from LTE devices on the CDMA network. In addition to their hotspot service, TextNow automatically monitors signal quality to be able to switch between WiFi, 4G LTE, and voice.
View TextNow Unlimited LTE Plan
13. Simple Mobile Unlimited WiFi Hotspot
The Simple Mobile $60 Unlimited Plan includes a 10 GB mobile hotspot for 30 days per billing cycle. Those who opt to use the auto re-up feature will get a break of $57 a month. When things get busy, customers may notice the reduced speed. Speeds may be further reduced for those who used more than 40GB of data.
View Simple Mobile Unlimited WiFi Plan
14. Sprint Unlimited WiFi Hotspot
Sprint's Unlimited Plus Plan is $70 a month and includes 50GB LTE Mobile Hotspot, with the additional benefit of Hulu and Tidal subscriptions. They offer special savings for those in the military and seniors, age 55 and up. SD video streams up to 480p, music up to 500 Kbps, and gaming up to 2 Mbps. Unlimited 4G LTE data for almost everything else.
View Sprint Unlimited WiFi Hotspot Plan
Most of the major carrier does not offer a truly unlimited mobile hotspot plan without a significant reduction of speeds when you reach a data cap. If you use hotspots frequently, it's best to have a dedicated hotspot with a device, rather than tethering to your phone. I outlined above some good choices for stand-alone hotspots if that is the right option for you. Amazon or eBay are good places to start your search.
Recommended to Read:
There are a few good options out there for unlimited WiFi Hotspot Plans, but be sure to research and make sure their coverage area includes where you will be using your hotspot the most. Not all networks cover all areas and it's important to know ahead of time what, if any, gaps in service you can expect. This doesn't tend to be as big of an issue in cities, but rural customers run into this problem frequently much to their frustration.
Public WiFi Hotspots
When you are in need of free WiFi access at home and you don't have a hotspot of your own, there are several national chains that let you log on for free:
STARBUCKS
It seems like there's a Starbucks coffee shop on every corner these days. They teamed up with Google to provide free WiFi at 7,000 locations across the United States. You may get hassled to buy a cup of coffee in exchange for this "free" service. A tall cup of coffee is under $2.
MCDONALDS'S
McDonald's is another restaurant that seems to be taking over the nation. WiFi is available at 11,500 locations, and they can boast internet speeds twice as fast as anyone also who offers the same perk. The food may leave something to be desired, but it's cheap and their bathrooms are usually clean.
PANERA BREAD
Nearly every Panera Bread location in the United States offers free internet at home without paying. They offer a wide variety of beverages and food and can, whether you are looking for a cup of coffee, a small snack, or a big meal. Their comfortable surroundings make this cafe a good choice to log on but beware of rush hour. When they get ultra-busy, online sessions are limited to 30 minutes.
DUNKIN DONUTS
Dunkin Donuts is another great chain that offers customers free WiFi and who can resist a cup of coffee and a cruller? With great prices and a growing menu, no wonder they say America runs on Dunkin.
BUFFALO WILD WINGS
If you're a sports fan and like to surf the web at the same time, Buffalo Wild Wings is the place for you. You can check out any number of different games on their big screens, and they even let you check out free pay-per-view sporting events. The WiFi is free but the wings and beer are not.
WHOLE FOODS
Whole Foods sometimes gets a bad rep for being high-priced and too upscale for a working-class Joe, but between the free WiFi and their in-store cafes with a great selection of coffee and tea, don't count them out.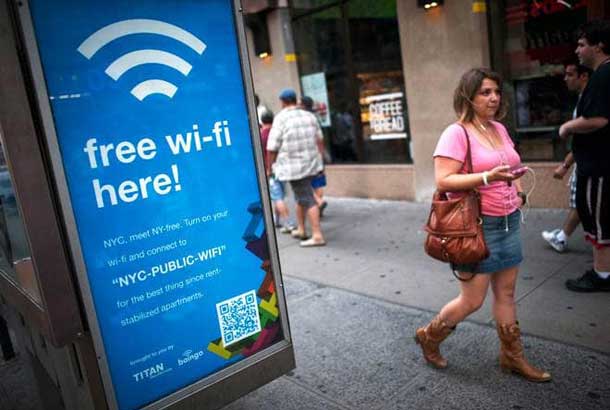 BARNES & NOBLE
ManyBarnes & Noble locations have Starbucks coffee shops inside, making them a great place to grab a book, maybe a cup of coffee, and some quiet, while you check your email or listen to music through your earbuds.
BEST BUY
While there isn't a good place to sit down and spend hours on the internet at Best Buy, they do offer some incredibly fast and free WiFi that is great for sending a quick email or comparing prices of that new laptop you've had your eye on.
STAPLES & OFFICE DEPOT
Staples & Office Depot both offer free WiFi. Like Best Buy, there's not a great place to sit and surf, but the employees don't seem to care if you hang out for a bit and use some of the broadband or do a little price comparison.
MARRIOT HOTELS
Marriott Hotels provide WiFi in every room. Not all hotels/motels offer this service. Locations include Fairfield Inn and Springs, Springhill Suites, Residence Inn, and Townplace Suites. Strangely enough, it's more likely to be budget motels that offer free WiFi when you're traveling as opposed to fancier hotels.
APPLE STORE
The Apple Store obviously needs WiFi to show its customers who their products work, but they also allow others to access the WiFi even if they aren't even in the store but within range. Many Apple stores are located in malls, which will also sometimes have food courts with free WiFi.
TARGET
Target stores offer free WiFi and have a great little cafe to sit at and enjoy a quick drink and whatever is happening in your virtual reality. The stores are also a great place to Pokemon Go hunting if that's something you – or your kids – are into. Gotta catch them all!
Other places you can often access free WiFi include public libraries, museums, hospitals, public parks, trains and buses, airports, doctors' offices, salons, and gyms or yoga studios.
Security on Public WiFi
Having your own hotspot is unequaled, but can be expensive. If it isn't an option for you, there are other ways you can stay connected while out on the open road. While accessing public WiFi can be a great option, it isn't always the most secure.
There are a few ways in which you can protect yourself while you are on open networks so that free WiFi doesn't come back to haunt you.
1. Don't ever enter personal or financial information while on a public network
It leaves you vulnerable to savvy criminals who can commit credit card fraud or even worse identity theft. If online shopping is your passion, leave it to secure networks, like what you have at home or work.
2. Use secure websites whenever possible (https)
Many websites will do this for you, making sure you are always on a secure connection, but watch the URL you are on just to be sure.
3. Use two-factor authentication on frequently used websites
This added layer of protection (such as the addition of a phone number) will make it less likely that someone will be able to hack even a password-protected site.
4. Remember to forget
Forget the network when you are done using it. If you don't, it will automatically connect the next time you are in range, leaving you exposed and vulnerable to a cyber attack. You can stop your smartphone from doing this automatically by deselecting "Connect Automatically" in your settings.
These few little tips can help you stay safe while surfing on free WiFi and help protect you from identity theft and credit card fraud.