Netgear Nighthawk C7000 Cable Modem WiFi Router Review
The Internet connects us with the rest of the world. It has become a necessity rather than a luxury. You can indulge in extensive gaming; listen to songs, stream HD videos, and do many other fun activities. All you need is a super fast and stable internet connection. Hardware rentals usually charge you a lot for average daily usage. Switching to wireless modems might save you a few bucks. Choosing the right modem router might be hustle but you don't need to worry as we got you covered. Scrutinize this review of the Netgear Nighthawk C7000 cable modem router to know why it is the pragmatic choice for you.
Review of Netgear Nighthawk C7000 WiFi Router
Save monthly rental fees: Model C7000 replaces your cable modem and Wi-Fi router, saving you up to 168 dollars/year in equipment rental fees.
Speeds by carrier: Xfinity (up to 800Mbps), Cox (up to 500Mbps), Spectrum (up to 400Mbps).
Fast Wi-Fi performance: Get up to 1800 square feet wireless coverage and 30 devices connected with AC1900 speed (up to 1900 Mbps).
Versatile connections: 4 Gigabit Ethernet ports and 2 USB ports give you fast wired connections to your computer, printer, game box, storage drive, and other devices.
Modem technology: Engineered with 32x8 channel bonding and DOCSIS 3.1.
Note: Refer to page 102 of user guide for troubleshooting steps
Alluring Design
This lucrative device is compact, thin, and light. The durable black plastic casing gives an aesthetic outlook to the Nighthawk C7000. It perfectly fits in your modern space because it won't consume a lot of space. The sleek design includes LED lights along the edges of the device that signifies its performance. On the backside of the device, there are several ports. You can see one USB 2.0 port, one coaxial cable port, a port for the power cord, and lastly, four gigabit Ethernet ports. If you aren't fond of protruding antennas, then this modem has an edge. It has a minimalist feature of locating the antennas inside the device.
Installation
You might be wrong if you thought it is super easy to set up a modem. Firstly, you will need to collect all the ISP information that comprises the username, account number, and all the basic data before you start the procedure. Thereafter, you discreetly fix cables to the power cord port and the coaxial cable port. Make sure you disconnected your previous modem beforehand. Then you activate the modem. How to do that? Connect your desktop to Nighthawk C7000 through Ethernet and then log on to the browser interface. Xfinity service will enable the activation of your modem.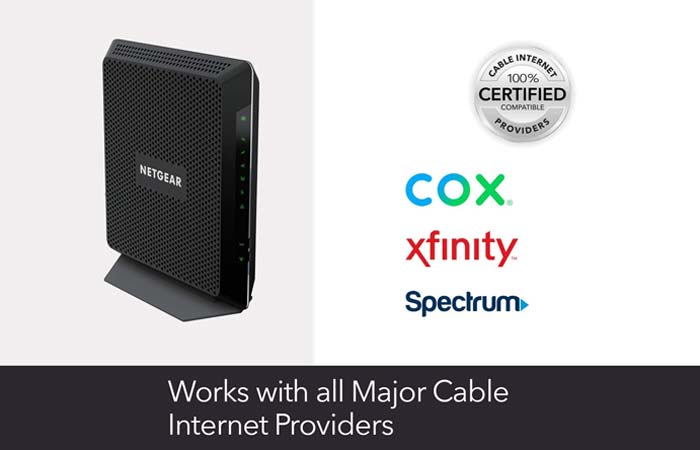 You have a very detailed explanation of the procedure in the user manual just in case you do not have any experience with modems. However, you can always take guidance from the Netgear customer care for troubleshooting processes.
Read Also: Netgear Nighthawk AC1900 Modem Router Review
Software
Although the Nighthawk C7000 doesn't bag in the superior software, it works magnificently to control your network with little or no interruptions at all. You can easily manage your network, fix parental controls, and handle your wireless settings. The device is engineered in such a way that even everyone can smoothly sort out things right from the installation to the security prospects.
If you are an extensive user and would love to have better control over the network connections then, you may opt for the advanced tab that not only enables DNS settings but also gives you detailed information regarding your network.
Good connectivity
Nighthawk C7000 has four gigabit Ethernet ports and one USB 2.0 port which is definitely not the finest option but it is sufficient for maximum users out there. You can connect a couple of game consoles and a computer. The inbuilt antennas in the net gear denote a stable internet speed about the dual-band router. AC 1900 Wi-Fi renders 600 Mbps on the 2.4 GHz band and the other hand, 1300 Mbps on the 5.0 GHz band. You can expect a decent internet connection of 250 Mbps even at extremities.
24×8 DOCSIS 3.0 modem is commendable because of its efficient channel bonding. Let us break it down for you. There are 24 channels confined to the downstream data and 8 channels confined to the upstream data. This modem can easily manage connections to the extent of 960Mbps. However, this bandwidth might be overwhelming for an average user. In that case, there are other variants like the 16×8 or the low-end option of 8×4 DOCSIS 3.0 modem that cost comparatively less.
Learn Also: Best DSL Modem for Centurylink
Functionality
Usually, the all-in-one devices give a weaker performance than the specialized ones. But the in-built router of the Nighthawk C7000 certainly proved it wrong. The amazing 1.6 GHz processor enables smooth surfing on the internet and hassle-free gaming. The device comes with a 256MB RAM and a flash memory of approximately 128 MB. The carefully mechanized security system gives access to WPA, PSK, and lastly, WPA2. Alongside the double firewall protection of the device, you also get a DoS attack preventative program. Another prominent feature is beamforming which enhances your Wi-Fi range.
There is a companion app for the Nighthawk C7000 which allows you to easily cross-check the settings and parameters. However, the app is considered to be outdated.
Is it cost-effective?
If you consider the initial investment of about 200$, it might feel like a lot but it is worth it in the long run. You compare your cable and internet bills you pay monthly on one hand and the appealing features of the Nighthawk C7000 on the other. You can see the difference.
Read Also Related Article:
Overview
 Netgear Nighthawk C7000 Cable Modem WiFi Router perfectly fits for your home and office requirements. The streamlined outlook and user-friendly configuration is an added advantage. That aesthetic vibe blends in modern spaces. It is important to thoroughly go through the guidelines in the user manual to avoid messing up the installation. In case you already did that, you have reliable services from the Netgear customer care to fix your problems. Although the pricing of the device might incur hesitation, always look on the brighter side.
As being said earlier, consider the amazing specs it gives for that price. The durable, lightweight, sleek design, fast internet connectivity, and good Wi-Fi range would make this a solid choice. The company also provides a one-year manufacturer warranty. Considering all the amazing specs and functionality of the device, there is hardly any option left but to fall in love with the product. Scrutinize the pros and cons of the device and make the right choice that fulfills your needs. With that being said, you have a lot of other good alternatives to this product in the market to consider.