How to Get Free (Low-Income) Internet for Low Income Families
It is even hard to imagine life without the internet. It is interlinked to the extent that it can ruin our day if there is an internet shutdown. It is obvious that the prices are getting higher. Just think about all those low-income families who cannot afford one of those internet services at home. Hence, there are a lot of surprising plans for low-income families. There are quite a few low-income internet providers, and here is the thing: you may sign up with the high-speed internet they provide. There are multiple ways to receive support regarding the subsidized internet plans and it comes under the Lifeline Program.
If you are probably new to this term, we shall explain it to you in a while. But before that, three types of internet were available outside. You can get DSL which is super affordable, slow, and reliable internet. Then, there is a cable that has speed and is value for money. The last one comes to the fiber that has limited availability, fast speeds, and is also expensive.
All the low-income internet providers need families who are already enrolled in the low-income assistance program like public housing or Subsidized Nutrition Assistance Program.
What is the Lifeline Network?
The Lifeline Network is where many low-income internet providers come together and launch plans for low-income families. This is primarily a government initiative or a subsidy program that helps all the low-income families get internet too at a heavily discounted price. To be in the Lifeline Network, you need to be an enrolled member in the following: Medicaid, SNAP, SSI (Supplemental Security Income), and Federal Public Housing Assistance.
8 Best Low Income Internet Providers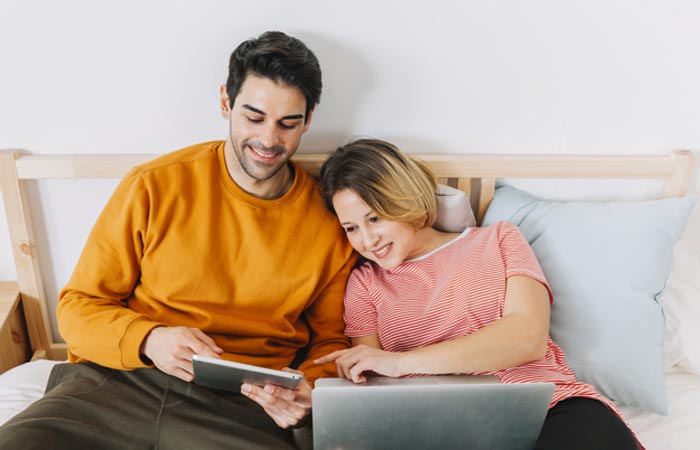 If you want to find yourself a good low-income internet plan, then here are the top 8 best Low-income internet providers.
1. Spectrum low-income internet
Spectrum offers high-speed internet at an affordable price. The Spectrum Internet Assist is helpful exclusively for low-income households. Here are some of the features:
They get free internet service modem and high-speed internet at the speed of 30 Mbps. There are no data caps for this program that means all the kids can do as much as homework they can do, have the Internet to download any video they want to see, and also downloading films because you don't have any data cap. No contracts signed too.
To qualify this Spectrum Internet Assist, you need to be in one of the Government enrolled program like the following:
National School Lunch Program(NSLP)
Community Eligibility Provision (CEP) of the NSLP
Supplemental Security Income (for people who are senior citizens- 65 + age)
There are a few programs that do not qualify in the Spectrum Internet Assist Plan too and they are Social Security Disability, Social security Disability Insurance, Social Security Retirement, and Survivor Benefits. These programs are not eligible for this plan.
Price of Spectrum Internet Assist Plan: $17.99 per month.
To save more money on this plan, buy a cheap internet modem from Amazon. Ask them to only install the internet as you already have the internet and this way you can save five dollars from the plan.
That makes it the first program specifically aimed at seniors who so desperately need a low-income Internet plan for which they can qualify.
Learn Also: How to Get Spectrum Low Income Internet
2. AT&T low-income internet
AT&T Access is the Low Income Internet, and it is just $5 for the month and gets you a fast internet of 3 Mbps download speed. You also get 5 Mbps and 10 Mbps for $10 per month. AT&T will also give the speeds respective to the faster speed of the particular area. So, it depends on your area how fast the speeds are over there. This means that even if your area is the fastest, you may not be able to apply for slower internet speeds.
AT&T is better to choose because it has waived off all the activation fees and this plan is providing a free wireless router. Thus, it is just why you should consider it. Another wonderful thing about this plan is that it can provide computers and qualifying computers for just $150.
However, there is a data cap set for people who use more than 600 GB per month and they overcharge when you use more than that.
You are qualified for AT&T Access if you are in SNAP and if you are in the AT&T 21-state service area. You will not qualify is you have outstanding debt for the AT&T fixed internet service for the last six months.
3. Comcast Low-Income Internet
Comcast offers a low-income internet plan called Xfinity. It is an Internet Essentials plan for all the people who can purchase the plan for just $9.95 per month. This Internet Essentials plan is designed to help all the students, senior citizens and also low-income families. The program also offers 15 Mbps free internet and they also get additional perks such as how to get wifi at home for free and no credit check for them. Just like AT&T, Comcast's low-income internet plan also provides low-cost computers for just $149 and they get Microsoft Office, Norton Security Suite and a 90-day warranty for the laptops/desktops.
To be approved for this low-income internet plan, the family should have at least one child who is enrolled in the National School Lunch Program and also a few other requirements.
Learn Also: Comcast's $9.99 Internet for Low-Income Families
4. Verizon low-income internet
Just like other offers, there is Verizon that offers lifeline programs so that every home gets to enjoy the benefits of internet connectivity and also it is especially for all the low-income families. For the American residents, who are in the low monthly income and can get a lifeline discount from the country's biggest internet provider, Verizon. It is now offering lifeline plans for home broadband and phone services.
It also has a speed of 10Mbps or above. Verizon also offers vice calls and broadband internet and voice calls offers. You can subscribe to 10 Mbps if you are qualified for the low-income discount offer. With this plan, you can get to download 250 GB only at $9.25 per month. The voice calls come for 750 minutes at $9.25 per month. Verizon revises its plan regularly that could benefit more people.
5. Centurylink low-income internet
For all the low-income families out there, you can get the best discount offers from CenturyLink. Century Link offers the best price for the internet services and it comes for $49 per month for all the speeds up to 100 Mbps. Or, you also have their offering of the services where they have collaborated to provide inexpensive computers and the internet for the households.
The exact price that is going to be charged is combined with what services people may opt for. The Internet Basics may provide the service for as low as $10 per month that includes all the taxes and fees. People who are eligible for this program are those who get SNAP food stamps or LIHEAP for energy bills, free school lunches, etc. This is in focus because Century Link helps the kids for school homework and other educational purposes.
6. Cox low-income internet
Cox Free low-income internet is till May 12, 2020, but it is the first of its kind. The low-income internet program is called Connect2Compete and it is free. The internet services also provide free phone and remote desktop support during the time of the program. This is completely affordable and is great for all the low-income families that have children who go to school. They also help in providing connectivity, digital literacy training, and some equipment. Who can qualify for this Connect2Compete program? If you are a child in a K-12 school, participate in more than one government subsidy program like NSLP, Supplemental Nutrition Assistance Program(SNAP), Temporary Assistance for Needy Families, Public Housing and haven't subscribed to Cox Internet Service for the last 90 days.
Also, if you have no outstanding debt or unreturned equipment with Cox, then you can qualify for the program having cleared the above eligibility.
7. Frontier low-income internet
If you are someone who cannot afford phone service or internet service and trying different ways to try and make ends meet, then you can probably qualify for the Frontier Low Income Internet Lifeline Program. Frontier helps all those low-income individuals for their telephone services or internet access service. It serves through the Universal Service principle. You can be a part of this if you are not having access to a traditional telephone service that Frontier provides.
Frontier has this program through all the states and hence it would be better if you can visit their website, select the state you live and find out the eligibility criterion. You can also contact the Customer service for more information. For instance, it is $9 if you are in Michigan.
8. Mediacom low-income internet
Mediacom also has the Connect2Compete program where it rolls out its own Lifeline program. They also provide low-income internet for families. It is committed to providing high-speed internet service for just $9.95 per month. Their criterion is that the families should have at least one child enrolled in the free reduced lunch program or the SNAP program. So, this is run with collaboration with Everyone On and it is for $9.95 per month that includes all the taxes and fees too. You don't need to deposit any money or have any contract and with the internet services, you also get signed up for the Wi-Fi modem that has no-cost lease.
Recommended Article:
FAQs of Low Income Internet
Q. How do I get the Internet with low income?
There are always many ways to get free internet from companies and one way you can do it is through the Lifeline program. The government offers this and you can also get it a subsidized rate. Apart from all that, you can always have this as an option of internet service duly considering you are an eligible candidate for the lifeline program. You can use the internet for basic services like checking your DMs, answering emails or surf the internet for school homework. There are a lot of companies like Spectrum and Comcast offering free internet services now due to the Coronavirus spread.
Q. How do I get the Internet with SNAP benefits?
If you are in the Subsidized Nutrition Assistance Program and people call this program like food stamps, you qualify for all the Lifeline programs internet plans. Internet service providers like AT&T and Cox need you to be a SNAP enrolled person.
Q. Does AT&T offer low-income internet?
Yes, absolutely. AT&T offers the internet for low-income families. It offers 5 Mbps internet for $5 and 10 Mbps for $10 per month. Go to their source website and get first-hand information.
Q. Can I get free Internet at home?
Yes, you need to check with your ISP (Internet Service Provider) and there is a great chance for your internet service provider to extend the Wi-Fi hotspots where you can connect for free. You can get pretty good coverage when you are at home and all you have to do is connect to the hotspot. For example, Comcast calls these Xfinity hotspots that offer free Wi-Fi.
Q. How do I get the internet with a low income?
Yes, you can get the internet if you have a low income. So, you need to qualify in the Lifeline network where you get subsidized internet that is provided by internet companies like Spectrum, AT&T, Cox, etc. For 10 Mbps, you have to pay $10 per month if you subscribe to AT&T. If you like Cox, you get up to 15Mbps for $9.95 per month. Mediacom provides up to $10 Mbps for $9.95 per month. Spectrum offers up to 30 Mbps for $14.99. Finally, Cox has Xfinity for $9.95 per month and gets up to 15 Mbps speed. It is a great way to get the internet with a low income.
Final Thoughts
Thus, the best way to get the internet for all the low-income families out there is to choose one of the ISPs in the Lifeline Program. What if you don't qualify in any of the programs listed above? Then, you can still save a lot of money on your internet. You can buy your own Wi-Fi modem and look for the best offer out there for you. Try using the free public Wi-Fi if you live by some cafes or stores. Always ask your internet service providers for a discount and they might be able to provide you one.