Spectrum Business Internet Plans and Pricing 2021
Consumers across the US are cutting their cable TV cords, yet cable internet remains vibrant. For small business owners, internet service providers such as Spectrum allow operations for your online business to run at high speeds and affordable costs. In this article, we are going to address one vital question: is the spectrum business internet worth it?  With offers including no-contract option plans, outstanding entertainment packages, as well as speeds of up to 940 Mbps, make spectrum internet worth a look like a viable business internet provider. Spectrum Business is the Charter Communications' division, an ISP serving businesses in 41 states in the US, more than any non-satellite internet service provider in America does. The company primarily provides internet through the same cables many consumers use to get their coaxial television connections.
Even though Spectrum offers fiber-optic connections in select metropolitan regions, the service is still uncommon. To see if the company's business internet is available in your area, you can check their website by entering your ZIP code to get a comprehensive list of all available local plans and pricing.
Spectrum Business is unique for providing an impressive variety of bundle choices, from which businesses can pick depending on individual needs, leveraging value, and flexibility. Bundle options mean that companies that would be spending on other services, including TV subscriptions and phones, can merge them into one monthly payment from a single provider. In this way, businesses get to simplify financial planning and save money. The best thing about all their plans and bundles is that each is available with extra services and free tech packages, which can help you get more from your internet plan. For example, bundles come with services such as;
Internet with different speed choices
Unrestricted long-distance phone
A TV with over 40 channels
Related Article:
Spectrum Business Internet: Plans, Speeds, & Pricing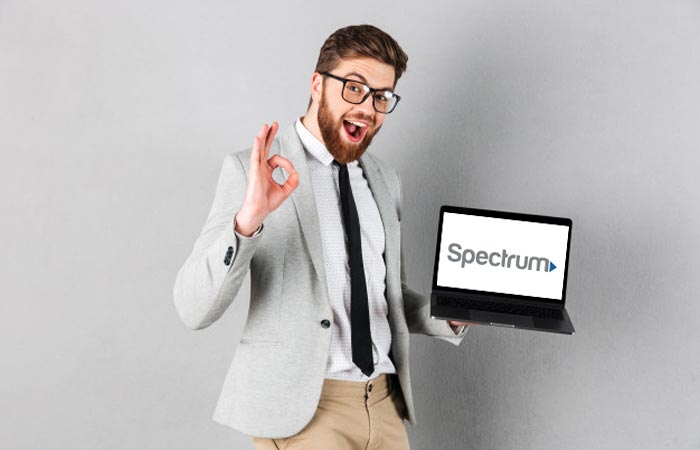 Could Spectrum internet make an excellent investment for your business? Based on our research, that would depend on the kind of business you run. Our findings reveal that Spectrum is an excellent choice for offices, bars, and restaurants in need of stellar TV bundles. Since the company provides various internet bundles, including cable TV bouquets, businesses that need to entertain customers as they eat, shop, or wait for services can gain the most by subscribing to these packages. Internet plans combining these services may be suitable to businesses like;
Hairdressers and beauty shops
Sporting and cultural centers
Casual eateries and clubs
These businesses can enhance their value to customers by providing both TV and Wi-Fi. Non-bundled internet plans from Spectrum may not be too shabby for other types of businesses because for starters; these plans have no data caps. Along with fast speeds, spectrum business internet pricing is reasonable. Also, the company has plenty of fascinating tech features, even for single packages.
If you need a cheap internet option for your small business, Spectrum's $59.99 monthly business internet 100 bouquet may be the right plan. The package gets you up to 100 Mbps download speeds, sufficient to simultaneously, connect about 10 devices. On the other hand, if you crave for speed, you'll want to get Spectrum's Ultra plan going for $109.99 per month. With the plan, your download speeds can jump to between 300 and 400 Mbps, based on your location. Upload speeds can be anything between 7 and 20 Mbps. Those speeds can allow you to connect additional devices with easy downloads while uploading large files.
We share more details concerning these packages in the sections below.
The Things To Consider Before Getting Spectrum Business Internet
In the sections above, we have told you what it is we like about Spectrum. However, what about the downsides and not-so-greats? The following is a quick rundown of the pros and cons of spectrum business internet.
Pros
Reasonably priced high-speed packages
Plenty of free technology upgrades
Special offers for restaurants and bars
Internet-only plans with no contracts
The company buys customers out of their existing contracts
Generous plans with extra business essentials, including phones
Availability in 43 states
Cons
Faster plans have slow upload speeds
Intermittent fiber availability
Bundles come with lengthy contracts
Unimpressive customer service ratings
While you can get faster download speeds with cable internet than you would get with most of the competition in the DSL internet category, cable upload speeds from Spectrum are unimpressive. Spectrum advertises 35 Mbps as the fastest upload speed. As the maximum upload speed and not an average, it means the actual upload speeds could be lower than what they advertise.
Upload speeds are essential in many ways, including;
Preventing interruptions with backups and large-file downloads
Having seamless VoIP services
Stellar video conferencing
Using cloud-based apps
If the core functions of your business rely on these services, you may experience hitches with Spectrum's internet plans. There is little variation in upload speeds from one plan to the other for spectrum business internet. Therefore, we recommend that you pay for extra speed, only when you need to double or triple your download speeds. Besides, low customer satisfaction ratings should make you wary.
Spectrum Business Internet Plans
Spectrum cable provides a simple variety of internet plans, which are good or bad, depending on what you need for your business. Download speeds for cable internet plans can vary by up to 400 Mbps. The company also has fiber plans with limited details, which we will explain.
Spectrum Cable Internet Plans
From 100 Mbps download speeds, spectrum internet comes in five suites:
Business internet 60
Business internet 100
Business internet 200
Business internet 300
Business internet 400
Like we previously mentioned, upload speeds are lackluster, but the download rates are incredible.
| | | | |
| --- | --- | --- | --- |
| Plan | Monthly starting price | Max download speed | Max upload speed |
| Business Internet 100 | $59.99 | 100 Mbps | 10 Mbps |
| Business Internet 200 | $59.99 | 200 Mbps | 10 Mbps |
| Ultra Business Plan | $109.99 | 300 Mbps | 20 Mbps |
| Gig Business Plan | $249.99 | 940 Mbps | 35 Mbps |
Spectrum Fiber Internet Plans
Spectrum's fiber-optic network across the US is ongoing to ensure you have lightning-speed internet plans in your area. We were unable to find specific plans and pricing information regarding their fiber internet plans during our research. However, we did dig up a map of Spectrum's fiber coverage areas. Check out the map to see whether the fiber-optic service is in your business location. If so, you can reach the company at 888-692-8635 for more details.
Spectrum Bundles and Bouquets: Entertaining and Connecting Customers
Internet service providers often offer bundles for more than residential consumers. The companies are savvy enough to give discounts for bundled services to tempt you to take advantage of the deal. Spectrum's business packages do not disappoint and are worth considering. The bundles combine decent high-speed internet with television services or long-distance phones, or both.
Bundle Type
What You Get
What You Pay
Spectrum Business TV

200 Mbps internet
TV with over 45 channels
Phone + service: unrestricted long-distance and local calls

$69.98 per month
Spectrum Business Entertainment TV

200 Mbps internet,
TV with over 80 channels
Phone + service: unrestricted long-distance and local calls

$89.98 per month
Spectrum Business Game Time TV

200 Mbps internet
Over 110 TV channels
Phone + service: unrestricted long-distance and local calls

$149.98 per month
N/B: Spectrum guarantees unchanged prices for 12 months if you bundle
Spectrum Business Internet Technology
One of the shining aspects of spectrum business internet plans is the free tech they throw into their deals. Also, you can buy some paid services to style your business's internet experience. From web hosting to cloud backups, we found the company serving up the following technology upgrades:
Free Services
Type of Service
Meaning of the Service
Cloud backup
Gives you up to 100 GB free cloud storage to back up your critical business data
Web hosting + domain name
Allows you to build and host a professional business site, plus a unique domain name with 5 GB web storage
Email
Get up to 25 email addresses with your business domain name
Modem
Plans up to 300 Mbps allow you to lease a free cable modem from Spectrum
Uncapped data usage
Allows you to use unlimited data on your business internet plan
A unique internet security solution
Safeguards your business from spam, spyware, and viruses among other online threats
Wi-Fi
Spectrum provides an exclusive Wi-Fi network that customers at your business can connect to, encouraging to stick around
Paid Services
Static IP address
Spectrum simplifies hosting your business VPNs, servers, and other services with unchanging internet protocols for $14.99 per month
Private business Wi-Fi
It provides an exclusive business Wi-Fi network to which employees and devices can connect. Call Spectrum for pricing
Spectrum Reliability and Support
Our research found nothing out of the ordinary concerning support and reliability from spectrum business internet plans. You should be able to trust your business ISP to provide a reliable connection. Issues such as service downtime and outages often interrupt essential business operations, including point-of-sale systems, receiving or sending emails, and file sharing, among others. Let us see the kind of reliability you can expect from Spectrum's business category internet.
Uptime and Latency
Based on our research, we can describe Spectrum's uptime and latency as down with downtime.
Uptime describes the time percentage of working internet. Even though we couldn't find the company's uptime legal service agreement from the internet, a chat with their customer service representative revealed that Spectrum assures 99.9% business internet uptime.
The figure sounds almost perfect. However, 99.9% is nearly the industry standard, as per our research. Another competitor, Verizon, provides a more solid uptime assurance of 99.99%.
Latency is another reliability marker. Sometimes known as lag, latency refers to the duration it takes for a single data packet to move from one internet connection to the other. You will notice high latency issues during video conferencing or when streaming videos. Unfortunately, we did not find information concerning Spectrum's average. Also, they do not provide ant latency guarantees. You will want to go with a company that offers a latency assurance if latency is a serious concern for your business operations.
Technical Support
Technical support refers to the help you can get from the ISP anytime you need it. If issues arise with your internet connection, you should get quick access to tech support. Spectrum has 24/7 phone-based technical support for its customers in the US. Additionally, the service provider offers an array of articles and answers to frequently asked tech-related questions under Spectrum Business Support.
The Fine Print
Before signing up with any internet service provider, consider checking their costs as well as other details apart from the sticker price. For that reason, here is a breakdown of Spectrum's fine print, including equipment, contracts, and fees.
Equipment
Spectrum will lease your business a free cable modem, unlike the majority of ISPs in its class. The free offer may compensate for the fact that Spectrum does not allow customers to use personal TV equipment of modem, even during the limited-time trial period.
Contracts
Spectrum is among the fewest ISPs offering business internet with several contract-free options. AT&T is the only other company we have reviewed offering no-contract business internet, but only for its fiber plans. The company buys out your existing contract by up to $500 along with the contract-free option, making it easier to switch.
Businesses have up to 30 days to try out any of Spectrum's business internet plans. You can contact the service provider before the 30 days elapse and return your equipment for a full refund of the plan charges if you are unimpressed. Nonetheless, the $99 installation fee is non-refundable.
Fees
The company has a one-time activation surcharge of $99 for the cable internet service. The price is lower than what several other competitors in its category charge. We could not find any details on termination fees.
Recommended Article:
Frequently Asked Questions for Spectrum Business Internet
Q. Can I get Spectrum business internet at home?
Ans: The majority of internet service providers have costlier business internet packages with great features, including no data caps, throttling, and higher speeds. The chances are that you can avail of a business internet plan in your home, regardless of whether you own a business or not.
Q. Is the spectrum business internet faster than residential?
Ans: One of the notable differentiating features between business and residential internet is the price. Business internet is often costlier than residential internet due to less latency, fewer cases of packet-loss, and faster speeds.
Q. How much is the internet for a small business?
Ans: The cost of internet for a small business will depend on the individual business needs. Different ISPs, each have an array of business internet plans catering to the dynamic needs of businesses, from small enterprises to the more established corporations. For example, Verizon's business internet 1 starts from $39.99 per month.
Q. How much is business internet monthly?
Ans: If you are looking for a basic internet package, the average monthly costs can be about $50 or less, such as Frontier's FiOS 30/30 business internet plan that starts from $49.99 per month. On the other hand, stellar internet packages with high data allowances and faster speeds are likely to range from $60 to over $100 every month.
Q. What is the best business internet for business?
Ans: The best business internet for business will depend on what you are looking for. Frontier, for example, has excellent budget-friendly business internet plans, while Verizon offers the best high-speed business internet option.
Q. How much does business-class internet cost?
Ans: The rates for business class internet can be challenging to pin down. Individual ISPs have different pricing structures for their business class internet. For instance, while business internet pricing from Spectrum can range monthly from 49.99 to $109.99 based on speed tier and list of bundled services, Comcast's business internet plans can vary from $59.95 per month up to $369 every month.
The Bottom-line
Save for the poor customer satisfaction ratings; spectrum business internet provides some affordable and fast options for your business. The lagging consumer reviews are worth a second thought before signing up your business for the company's internet plans. However, you will also want to consider that the decently priced plans come with no contract options. In the event you experience serious issues, you could cancel under their terms and conditions without extra charges.
Popular Articles: