Buy One Get One Free iPhone | Everything You Need to Know
It's that time of the year where you'll find many promos ranging from apparel deals, unlocked cell phone offers, and household specials that could save you significant bucks off the regular rates. Mobile phones are among the favorite commodity deals for most consumers. The cellphone offers often include deals where you can get a free handset when you buy one with different terms and conditions, such as buy one get one free iPhone promos. Customers and providers refer to these amazing promos as BOGO deals, which are available with mobile virtual network operators, standard wireless operators, including select retail and online stores. National chain stores like Walmart run the buy iPhone get one free deal to clear stocks in preparation for new phones.
On the other hand, Telcom companies, such as the Verizon buy one get one free iPhone offers, aim at attracting more customers to their network. The buy one get one free iPhone or other cellphone deals are a great choice, especially if you are looking to hand someone a new phone for a gift. It is also a good deal when planning to get a secondary device for the home. But are these BOGO specials good for everyone?
Each provider has different terms and conditions that may not work for all customers. For that reason, we'll be discussing the buy one get one free phone deals in this post, focusing more on Apple's iPhones. We will tell you how BOGO free cellphone deals work, factors to consider before choosing one, the best buy one get one free iPhone offers, and answer the most common questions before wrapping up the article.
Everything You Must Know About Buy One Get One Free iPhone Deals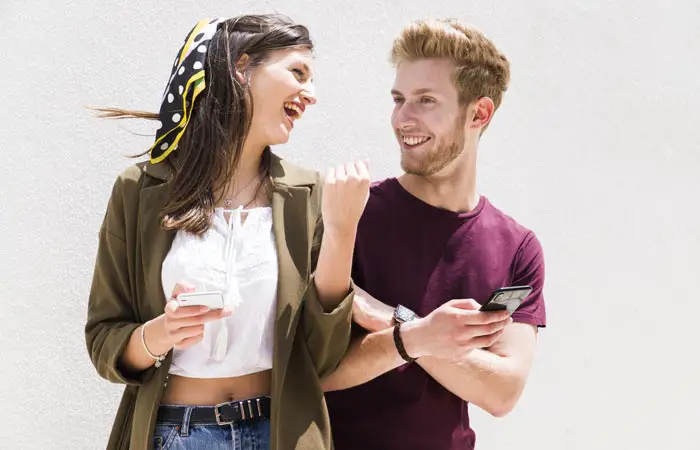 Nothing compares to a new mobile phone, especially when obtaining two new handsets for the cost of one. Are you in the market to get more than one phone? You are in luck because the top wireless carriers are offering the buy one get one free iPhone promotions, including the latest Android devices and iPhones. Note that most of these deals are usually only for a limited time and while stocks last.
Buy one get one free phone offers are mostly legit when you understand the provider's terms and conditions. But all BOGO free iPhone specials are not equal. For instance, when you purchase your device from an online or retail store and get a second one free, there are likely fewer restrictions in terms of the network operator you are going to use with the free handset. However, when you purchase a cellphone from a wireless provider such as under the Verizon buy one get one free phone promos, the company may lock both your iPhones to their network on specific plans for a set duration.
The time restriction can last between eighteen and thirty months, depending on the service provider, after which you can change to your preferred cell phone company. Furthermore, depending on the company, a BOGO offer could be free, discounted, or free credits and vouchers with the purchase of another iPhone. It means you can use the coupon to obtain the free device or any other phone accessories eligible with the credit. With that in mind, you are probably wondering, "Are the buy one get one free iPhone specials really free?" While a BOGO promo gives special rates for buying two phones simultaneously, you must meet certain requirements to qualify for the deal.
Requirements For Buy One Get One Free iPhone Promotions
Individual cell phone companies run the buy one get one free iPhone promos with different conditions. Nevertheless, some features of the deals are similar across most providers. Therefore, we'll explain what it is you are getting into before jumping into a BOGO phone offer. Some of the common requirements with most BOGO specials include:
Leasing or Monthly Installments: Consumers should purchase both iPhones on monthly payments or leasing plans. You are unlikely to find outright device purchases with BOGO deals.
New Service Line: Most carriers require customers to activate at least one new line of service. It means existing customers will not qualify for the buy one get one free iPhone offer if both their service lines already have an account with the wireless company.
Qualifying Unlimited Plans: The majority of cell phone companies require interested subscribers to register for an eligible plan. While it may not always be the case, BOGO promotions will sometimes ask you to join specific unlimited cellphone plans.
Apart from the above features, it is crucial to consider that your free iPhone won't always be free instantly. You will be receiving monthly credits in your account for the leasing or installment plan term. Let's say you're getting a BOGO deal from AT&T; the company will be depositing the monthly credits in 24, 30, or 36 equal installments before owning the second iPhone for free. T-Mobile and Verizon often credit their customers' accounts for 24 months for the subscribers to secure the second handset without paying.
It implies that both handsets must have active lines with the respective BOGO credits provider for the full duration to obtain the phone for free. Note that if you terminate the cell phone plan early, you'll have to pay the remaining non-discounted balance on the device, including early termination fees, depending on the provider.
Read Also: How to Get Free WiFi on iPhone
5 Useful Things To Consider Before Getting The Buy One Get One Free iPhone Offer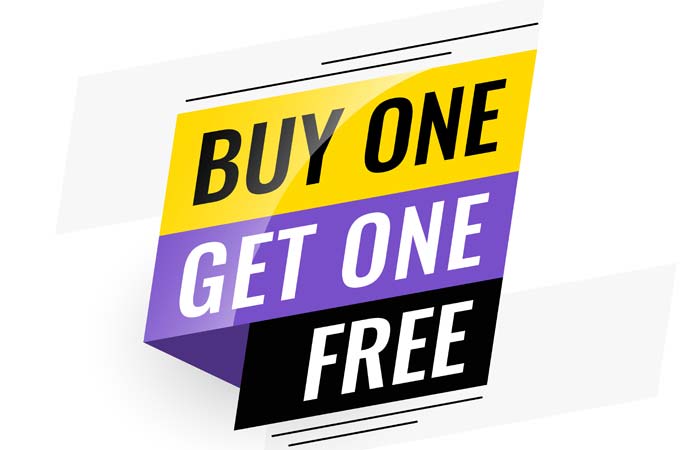 You have seen the most common requirements for getting the buy one get one free iPhone deals, which might seem disheartening for first-time BOGO customers. Even though BOGO free phone specials are not for everyone, there are several things you should factor in before signing up for the program. Here are some factors to consider when opting for the best BOGO free device promos.
1. The Cellphone Provider
The network service under which you'll subscribe to receive the free iPhone after purchasing the first device is crucial in these deals. It's always best to evaluate the provider's terms and conditions before signing up for the phone specials. Make sure you read and understand the buy one get one free iPhone fine print to avoid nasty surprises.
2. Flexibility Of The Deal
How flexible is the BOGO free iPhone offer? Some cellular networks will give you multiple options for availing of the second device. Some cell phone companies like Verizon Wireless will provide you with a $700 discount on the second iPhone to purchase the latest iPhone and activate a new unlimited plan by adding a new account to one of the devices. Moreover, there's $150 in Verizon Gift Card for switching to the network's unlimited plan, plus another $550 off an array of iPhones with qualifying trade-ins.
3. Payment Schedule
Most Telcoms will have you under their unlimited plans for a set timeframe before allowing you to own the second iPhone for free. You'll want to sign up for BOGO deals that come with the shortest possible payment schedule, like between 18 and 24 months. Keep in mind that the longer you pay for two service lines that you don't need, the more you lose out on the deal.
4. Quality of Free iPhone
All the buy one get one free iPhone promotions right now are not the same. Some companies will give you the same brand and series of the device you bought for the free offer. In some cases, you might get the old generation or refurbished iPhones for the second BOGO handset. It's always best to aim for deals that provide flagship or brand new free iPhones. You'll also want to keep off providers giving a free mobile phone that is of far lower value to the cellphone you purchased.
5. The Cost Of Monthly Service Plans
Buy one get one free iPhone specials are not as free as you might expect them to be. Instead, these are mutually beneficial deals for both parties where the cell phone company profits when both BOGO handsets stay within the network for the contract period. In return, the customer gains from using a secondary device, which they might or might not keep when the agreement expires, depending on the terms of service. For that reason, you'll want to stick to reasonably priced plans that won't leave you paying late payment charges.
Read Also: Best Ways to Get Free Government Internet and Laptop
The Best Buy One Get One Free iPhone Deals
If you are in the market for cell phone specials involving two devices, the current buy one get one free iPhone offers won't be disappointing. Here are some of the best BOGO free iPhones you can get in the market right now.
AT&T has a way for you to avail of a free Apple device when you purchase an eligible iPhone and secure another one free or discounted if both handsets are on a qualified installment contract.
How To Get The AT&T BOGO Free iPhone Deal
Buy two select iPhones on an eligible installment plan.
The first device could be an iPhone 8 Plus, iPhone X, iPhone Xs Max, iPhone 8, iPhone XR, or iPhone Xs.
Pay for the above handset through an installment agreement at $48.34 for months.
Alternatively, pay for via equipment installment plan at $40.28 a month for three years or $60.42 every month for two years.
You will get the 64-Gig iPhone 8 Plus, iPhone XR, or iPhone 8 for free with $750 in equal monthly credits.
The credits could be up to $25 in thirty monthly installments, $20.83 through thirty-six monthly payments, or $31.25 over twenty-four monthly credits.
You must maintain both lines the same account and on eligible service throughout the term period.
 Note that you can get up to $1,750 savings through this BOGO free iPhone deal as follows:
BOGO credits of up to $750
Up to $300 in reward card when order online
Up to $700 off for a new iPhone purchase with an eligible port-in of a new line
Verizon Wireless is giving a free or discounted iPhone when you purchase an eligible iPhone on a qualifying, unlimited plan.
How To Get The Verizon Wireless BOGO Free iPhone Deal
Purchase two qualifying iPhones on a device payment plan
The second iPhone of a similar or less value than the first one
The company will apply the promo savings each month on your billing account for 24 months to cater for the second iPhone
Participating Apple devices include; iPhone 11 Pro, iPhone 7, iPhone 11 Pro Max, iPhone SE, CPO iPhone 8, CPO iPhone XS, iPhone XR, CPO iPhone Xs Max, CPO iPhone 7, CPO iPhone 8 Plus, CPO iPhone XR, CPO iPhone 7 Plus, iPhone 7 Plus, CPO iPhone X, iPhone 8, iPhone 8 Plus, and CPO iPhone 6s.
You can also avail of the iPhone XS for free without a BOGO offer. The 64-Gig Apple device is available when you switch to the network on an unlimited plan with an eligible trade-in, including the iPhone 8 or newer device.
Sprint Mobile is running the best BOGO deals where you can obtain two iPhones for cost one.
How To Get The Sprint Mobile BOGO Free iPhone Deal
Lease the 64-Gig iPhone XS Max at $19 a month for eighteen months
Add a new line of service to Sprint on a qualifying, unlimited plan
Lease the second iPhone XS from Sprint without paying
The company will credit your account with $25 every month for the free device
The unlimited monthly plan includes Apple TV with a free trial
Recommended Article: 
Frequently Asked Questions
Are there any buy one get one free iPhone deals?
Yes. You can get buy one get one free iPhone deals with some wireless carriers like AT&T, Sprint, and Verizon Wireless. However, each provider has distinct terms and conditions for its BOGO offers.
What phone company has buy one get one free?
Currently, you can get the buy one get one free phone offers with Verizon, Boost Mobile, AT&T, T-Mobile, and Sprint Mobile.
Does Verizon still have buy one get one free iPhone?
Yes. Verizon has a great selection of BOGO free iPhones, ranging from iPhone 11 Pro to iPhone 6S.
Does AT&T have buy one get one free?
Yes. You can obtain a wide range of free BOGO devices from AT&T, including Samsung Galaxy S10+, iPhone XS, Note 10+, LG G8 ThinQ, iPhone 11 Pro Max, and Google Pixel XL, and Motorola Z4, among others.
The Bottom Line
BOGO free phone specials are among the most amazing offers you can receive from a cellphone company. The deal gets even better when it's a buy one get one free iPhone promo, involving the latest devices. You can secure some of the range Apple devices for free, such as the iPhone 11 Pro Max and the 2020 flagship iPhone SE from Verizon,  iPhone XS, and iPhone XR from AT&T, as well as the iPhone XS Max from Sprint Mobile, among other devices. However, it's best to read the fine print before you sign up for any deal to make the most out of it. For example, you must keep both phones on the provider's service and eligible monthly unlimited for the agreed duration. If you cancel early, you will have to pay the un-credited balance on the free phone.