Cell Phone Leasing VS Buying Everything You Need to Know
Do you remember some years back when you'd earn the 'lavish spender' title just for owning the newest iPhone model? Well, today, that's changed. There are several options for buying a new phone. You can pay the full cost upfront, make partial payments through monthly installments, or lease the cellphone. To lease a phone means committing to monthly payment with a specific upgrade plan. Some prospective customers find cell phone leasing as a waste of resources. They share the same reasons homeowners would prefer purchasing a house to renting. It may appear like leasing your phone isn't the best idea, although, for some, the plan is a money saver.
You can put away money in the end if you lease a phone. Let's take a page from the car industry where you could buy, finance, or lease a vehicle. With cell phone leasing, you'll get to make payments for the unit and just trade it in for a newer model at lease end. But is it really a great deal? The answer is quite complicated and has been the source of endless debates. Online and TV ads make the latest devices to look super amazing. You'll get the impression that these latest devices are super amazing via TV and online ads. Regardless, there's good chance any top-level handset from the past two or so generations still meets your needs.
Avoiding outright phone purchases helps to lower monthly premiums and accommodate more budgets. It's also a great way to upgrade your device when companies release new cellphone models every year. But not everyone needs a phone upgrade every few years. Besides, some consumers would prefer a plan that lets them keep handset once they complete payments. It's because of these sharp controversies that we want to help you make an informed choice. So, in this article, we'll explore everything you need to know about cell phone leasing vs. buying. Our guide will help you get a clear distinction between the cheapest and best way to get a new phone.
Related Article:
What You Should Know About Buying vs. Cell Phone Leasing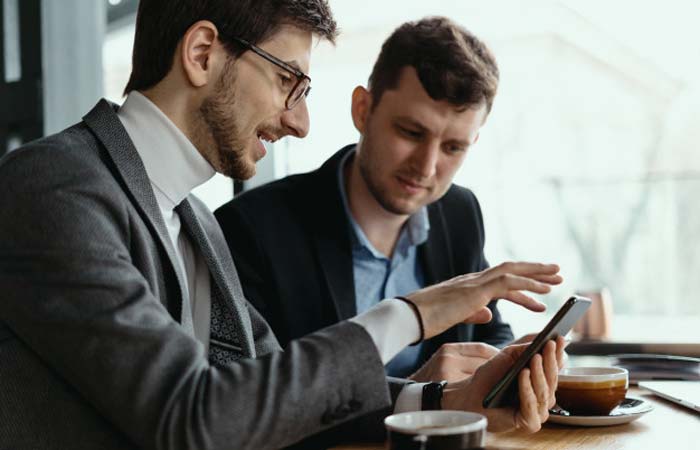 Should you buy, finance, or lease your next cell phone? Carriers use these terms, which make it even harder for customers to comprehend the best deal for their needs. Cell phone leasing isn't a foreign concept in the market, especially if you've been leasing cars. But you must still trade with caution to get the most out of it.  For example, you can use a cell phone lease to own a smartphone. Lease agreements usually will vary depending on the phone company. Providers like Sprint will let you buy out the handset when your leasing period expires.
Phone leases continue to receive criticism and support in equal measure. But thanks to cell phone leasing, getting the latest smartphone today shouldn't cost a premium upfront. It's the reason big-name operators like AT&T and Verizon began ditching two-year agreements to offer payment plans where customers charter classy handsets like iPhones. Changes in phone payment contracts show financing plans accounting for 25% of new smartphones between 2013 and 2014.
But do these payment plans offer the smartest way to secure a smartphone? That's another complicated question. And with that in mind, let us first consider some background on this subject before we look into the arguments for cell phone leasing, financing, and full payments.
Changes in The Cellphone Market
For more than a decade, the standard procedure to secure a cellphone involved the two-year contract. You would sign a two-year deal with T-Mobile, for example, and pay $200 upfront to get the Sidekick II. The process was similar if you wanted to a Palm Treo from Sprint and the iPhone 3G or 4S from AT&T.
Later in 2003, the big four carriers dropped the subsidized contract deal. Instead, subscribers could either finance their preferred cellphone through monthly bills or pay the phone's full retail price upfront. With the subsidized phone deals no longer on offer and more handsets hitting the market, cellphone prices have since gone up. It might explain why some customers are weighing their options on financing.
Unlocked Cell Phones
One of the significant differences between financing your device and an outright purchase is that, unless you pay the whole amount upfront, the carrier will lock it. It means that you can only use the handset on the provider's network, and prevents you from taking a cellphone you owe money on to a different operator. However, once you complete payments for your device, you can request the carrier to unlock it.
An unlocked handset is not really a necessity for some people. But you'll consider the full payment if you don't want to get restricted to a particular carrier.
Leasing vs. Financing Overview
To be clear, cell phone leasing and financing are different plans. In a financing contract, you'll be paying monthly installments that'll add up to your phone's total cost, allowing you full ownership rights. Like the case with auto leasing, you'll need to return the leased device at the contract term expires.
Some carrier programs are complicating the confusion even more by blurring the distinction between the two concepts. AT&T Next, for instance, lets consumers buy phones, pay monthly premiums based on their preferred option, and trade in the device after a set timeframe. If not, you could skip your early upgrade and maintain regular payments to keep the phone.
Cell Phone Leasing Offers
Today, each of the major mobile network carriers has a leasing program.
Sprint Flex Lease: The program lets customers lease phones for up to 18 months. At the end of the term, you'll choose from buying out the phone, upgrading to a new model, or continuing the existing lease. You can upgrade eligible devices after 12 months.
AT&T: The carrier's Next Every Year and Next programs allow for upgrades after one year and two years, respectively. Monthly payments range from 18 to 24 and 30 months.
T-Mobile Jump and Jump On Demand: You can upgrade after paying at least half of the phone's price. T-Mobile's payment schedules are similar to AT&T's, with 30 months being the most prolonged period. Qualifying customers can upgrade up to three times a year. At lease end, customers can opt for a buyout, upgrade, or lease continuation with a trade-in.
Verizon Edge: The program allows you to trade in an existing device for an early upgrade or wait until two years. Payment schedules are similar to what T-Mobile and AT&T offer.
Apart from the major carriers, Apple runs an independent iPhone Upgrade program. Unlike iPhone deals with mobile network operators, Apple's iPhone leasing program offers Apple Care. Besides, the phone manufacturer allows you to switch service providers even after activating. Therefore, if you are thinking about leasing, it's a great idea to consider all the available options and do comparison shopping. It's also worthwhile to ask questions before signing a deal since these plans can be confusing.
Trade-Ins
The trade-in offer is another emerging trend with cell phone plans. You've probably encountered iPhone 11's lower-priced commercials. Some rates are as low as 50% discount with qualifying trade-in.  While the promos make it a little easier to digest the price tag, it's always wise to take a closer look at the requirements.
Let's consider the iPhone 11 Pro, for example. Most of the deluxe offers need you to trade in good condition iPhone XS. T-Mobile gives a $500 or $550 credit for the iPhone XS or XS Max trade-in, respectively. Older models like the iPhone XR will attract significantly fewer discounts. And you won't get a price cut if you're looking at the outmoded iPhone 7.
Meanwhile, you'll want to watch out for the generous offers from some operators. Most networks give high values to new customers only. Verizon, for instance, provides $500 for a selection of devices going as far back as the iPhone 7. Nevertheless, the deal only allows new lines. An upgrade can only get you $200.
It's advisable to read the fine print before you trade in your cellphone for a better one. Also, make price comparisons on Amazon or similar websites to see if it's a better deal to the trade-in at your wireless carrier.
Read Also: How to Pay AT&T Internet Bill by Phone
Buying vs. Leasing vs. Financing: How It Works
We've mentioned the terms, buying, leasing, and phone financing on several occasions, and you're probably wondering what they mean. So, we'll be shedding light on these terms in this section concerning getting a new phone. We'll also highlight a few benefits and downsides of each method to ensure you get an in-depth understanding.
Say you've seen the new release Google Pixel, iPhone, or Samsung Galaxy and find yourself itching to have it. You call your cellphone provider to find out how much it's likely to run you. After some moments of disbelief, you learn that the gadget will cost a lot. Sadly, the news doesn't stop your desire for the phone. So, what options do you have?
You'll probably have to choose from;
Purchasing
Leasing
Financing
Each of the methods provides exclusive advantages and disadvantages. If you're keen to learn the best approach for your situation, we're about to cover everything concerning striking the perfect balance in flexibility, long-term costs, as well as upfront savings.
How Everything Works
You can choose to get your smartphone at full retail prices ranging between $600 and $700 for units like the Galaxy S6 and iPhone 6. If not, subsidizing the phone with the mobile operator would be another option. Initially, this would mean a $200 down payment and signing a two-year contract.
But that's no longer the case since cellular provides are now offering to finance. So, in the place of the money down, you'll pay for the handset over your contract period. AT&T's Next and Verizon's Edge plans are such instances, as are Verizon's Edge plans and Verizon's Edge plans. All these financing examples embody quasi-lease. Although you technically "own" the gadget, you must turn it in when the contract ends.
Cell phone leasing isn't the same. You never get to own the device. Instead, it belongs to your carrier, and you're only paying for its use for an agreed period. You'll turn the phone in at lease end to upgrade to a newer model. In addition, you'll have the option to buy the device.
Now, let's look at each method with its pros and cons.
1. Purchasing Outright
Purchasing your phone outright is nearly always the smartest option if you have the resources. Keep in mind that this the option that needs you to gather the most amount of cash beforehand. Therefore, before making the full payment for an unlocked cellphone, consider the following points;
Pros
It doesn't come with leasing or financing charges
It offers the freedom to switch mobile carriers
You'll access cheaper monthly cellphone plans
You have the option of reselling the device at will
Cons
You must make the full retail price payments upfront
You must sell the phone in the future to get its best value
It's clear that the benefits outweigh the downsides. But the first disadvantage concerning full upfront payment is significant, especially if you're working on a tight budget or you prefer regular phone upgrades.
2. Cell Phone Leasing
Cell phone leasing is the most popular way of upgrading an existing phone or getting a new one. Some operators refer to them as early upgrade plans. Consider the following points before you sign a lease contract to avoid nasty surprises;
Pros
You don't have to worry about reselling the device
Deposits and monthly premiums are affordable
You'll be eligible to frequent carrier upgrade discounts
The terms of payments are flexible
You have the option to buy the phone upon completing the lease
Cons
Leasing can become a perpetual payment cycle
It limits you to a particular service provider
You can't resell the device without paying the full balance
You'll be liable for a damaged, lost, or stolen phone
Involves a hard credit check that lowers your scores
Cell phone leasing is a challenging method because your mobile provider gets the advantage. It takes about twenty-four months to clear all payments. After that, your phone bill will never reflect lease charges.
But that is where the company gets you. You may never pay your balance in full if you are always using early upgrade offers. It means you'll never free your bill from the charges until you discontinue the upgrades.
Also, while this plan doesn't officially tie you to the provider, it prevents you from using the device elsewhere until you pay all balances. So, if you don't pay the full phone balance before upgrading, you'll only be paying to borrow the cellphone.
Regardless, leasing can be a decent deal if you;
prefer consistent upgrades
are happy with your service provider
are avoiding the difficulties selling your old handset to buy a new one
3. Cell phone Financing
Financing phones is not a common method in some areas. Even so, it's still an effective way to make modern smartphones more affordable. You'll find some mobile operators calling using the phrase 'equipment installment plans' or EIP interchangeably with cell phone financing.
Usually, instead of paying for an agreed term followed by a trade-in for a new phone, you get to clear the remaining balance and own the device when ending your agreement. It doesn't come with new upgrade options in cellphone leases. But financing rates are similar to those in leasing. Also, you can use a check or credit card with financing plans at local or online phone retailers.
Irrespective of how you choose to finance your handset, be sure to keep the following in mind;
Pros
You'll own the phone as soon as you complete all payments
It offers affordable fees and minimal deposits
Cons
The plan will lock you to a particular carrier
You cannot resell the gadget without completing all payments
Financing costs increase the final phone's price
You'll be held responsible for paying for stolen, lost, or damaged phone
Includes a hard credit check that affects your FICO scores
Cell phone financing carries the same concerns with leasing. But if you're not fond of upgrades or are looking to evade the temptation, it's a better method of accessing affordable premiums on a new smartphone.
Watch out for the charges, though. Credit card use comes with interest that can quickly increase the cost of getting a phone. It's even worse if you are financing multiple gadgets. It doesn't matter if you're financing through a carrier or retailer, it's almost obvious they'll include fees. Make sure you understand how the extra charges influence the cost of owning the device.
Which is Cheaper Between Cell Phone Leasing vs. Buying?
If you're considering the major carriers, customers often prioritize three things;
Network coverage
Eligibility for phone upgrades
Prices
The following charts compare leasing and buying the Galaxy S6 and iPhone 6 on T-Mobile's and Sprint's lease plans versus buying methods.
The 16GB iPhone 6
| | | | | | | | |
| --- | --- | --- | --- | --- | --- | --- | --- |
| | Flex Lease by Sprint | Easy Pay Plan from Sprint | Sprint's Agreement | JUMP On Demand Plan by T-Mobile | JUMP Plan from T-Mobile | Edge Plan by Verizon | Next Plan from AT&T |
| Cellphone Payment + Phone Plan | $20 + Monthly Unlimited $60 for $80 | $27 + Monthly Unlimited $60 for $87 | $0 + Monthly Unlimited $85 for $85 | $28 +  Monthly Unlimited $60 for $88 | $28 + Monthly Unlimited $80 for $108 | $25 + Monthly Unlimited $85 + 4 Gig Data for $110 | $23 + Monthly Unlimited $65 + 3 Gig Data for $88 |
| Upfront Rates | $0 | $52 inclusive tax | $199 + tax of $16 | $0 | $0 | $0 | $0 |
| Totals After Two Years | $1,920 | $2,142 | $2,256 | $2,112 | $2,592 | $2,640 | $2,112 |
The 32-Gig Samsung Galaxy S6
| | | | | | | | |
| --- | --- | --- | --- | --- | --- | --- | --- |
| | Flex Lease by Sprint | Easy Pay Plan from Sprint | Sprint's Agreement | JUMP On Demand Plan by T-Mobile | JUMP Plan from T-Mobile | Edge Plan by Verizon | Next Plan from AT&T |
| Cellphone Payment + Phone Plan | $20 + Monthly Unlimited $60 for $80 | $27 + Monthly Unlimited $60 for $87 | $0 + Monthly Unlimited $85 for $85 | $27 +  Monthly Unlimited $60 for $87 | $27 + Monthly Unlimited $80 for $107 | $27 + Monthly Unlimited $84 + 4 Gig Data for $112 | $22 + Monthly Unlimited $65 + 3 Gig Data for $87 |
| Upfront Rates | $0 | $52 inclusive tax | $199 + tax of $16 | $0 | $0 | $0 | $0 |
| Two-Year Cost | $1,920 | $2,142 | $2,256 | $2,112 | $2,592 | $2,640 | $2,112 |
Leasing a new gadget is often cheaper, depending on the cellphone plan you choose. But this does not take into account the smartphone's resale value.
Resale Value For Smartphones
A spot check on the internet shows a good condition, used iPhone 6 with 16GB on the Sprint network can fetch around $416 in private markets. And the same gadget on T-Mobile's network will fetch about $546. The 32-Gig Galaxy S6 on Sprint's network is worth approximately $371. The one on T-Mobile nets around $429.
We all know that you cannot resell a leased smartphone since you have to return it to the carrier at the lease-end. If it's a device you buy, look at how the net totals would turn out if you choose to sell it as a used smartphone.
2-Year

Sprint Contract Totals

Resale Price
Net Price Sprint + Resale
2-Year

Sprint Lease Totals

2-Year

T-Mobile JUMP Totals

Resale Price
Net Price T-Mobile + Resale
2-Year

T-Mobile Lease Totals

32-Gig S6 Galaxy Phone
$2,256
$371
$1,885
$1,920
$2,592
$582
$2,010
$2,112
16-Gig iPhone 6
$2,256
$416
$1,840
$1,920
$2,568
$468
$2,100
$2,088
Considering the resale price from the table above, buying would give you a better deal. Keep in mind that these figures could change depending on your cellphone plan and purchase option. Besides, they don't include insurance costs, which is a great idea when leasing because you are responsible for device damages.
Here's a summary of the factors you'll weigh for and against cell phone leasing and buying
The Pros
The Cons
Leasing
No charges upfront
You must return the phone in good condition since the customer is responsible for damages.
Minimum monthly installments
There's no resell or trade-in option.
Regular phone upgrades
The plan only offers high-end smartphone models.
Option to buy at lease end
You must pay the phone and lease balances to terminate the contract.
Buying
You'll own the phone immediately after payment
High upfront costs
You get the option to resell your used phone for credit or cash
High monthly charges
The plan offers financing options.
High early termination costs
You can trade-in the cellphone to leverage carrier promotions
Can't access frequent upgrades
Frequently Asked Questions (FAQs) about Cell Phone Leasing
Is it a good idea to lease a phone?
Cell phone leasing might be a good plan if you don't want to make upfront payments and are planning to stay with your current provider indefinitely. It's also a good deal if you intend to upgrade your smartphone up to thrice annually.
Can I lease a phone with no credit?
One of the downsides with leasing a phone is that it comes with credit checks. So, it's unlikely your carrier will allow you to lease a phone if you don't have a credit or with poor FICO scores.
Does leasing a phone build credit?
Yes. A phone lease can build your credit if you make timely payments because the process involves regular credit checks.
What happens if you don't return a leased phone?
The cellphone provider will charge your account with the balance owed on the device plus any other charges. This is going to reflect on your credit report and can prevent you from accessing credit facilities in the future.
Is it better to lease or buy a phone?
Cell phone leasing or buying ultimately comes down to personal preferences and prevailing circumstances. Buying a new smartphone is an excellent choice if you can raise the lump sum upfront payments. The phone becomes a personal property, and you can do with it as you please. However, leasing is more affordable for frequent phone upgrades. It means you won't have to pay for it in full each time you upgrade.
Recommended For You:
The Bottom Line
Phone payment plans have changed over the last few years. Although the $200 handset with a two-year agreement is no longer an option, you can now choose cell phone leasing, financing, or just make a full payment. Purchasing a new smartphone outright is often the smartest option, provided your budget allows it. The plan offers minimum restrictions, the lowest long-term expenses, and you can always sell your used device when upgrading.
Should you choose to finance, make sure to confirm any added fees. While the program makes the phone easier to afford upfront, you might be overpaying significantly before you own the cellphone. Regular upgraders may find leasing a better match. Just ensure you read the fine print to know your obligations before you commit. Whichever you choose, make sure it's an affordable plan that makes financial sense to your unique situation.