Motorola MG7550 Cable Modem Plus AC1900 Wi-Fi Gigabit Router Review
Are you renting a modem from your internet service provider or cable company? If so, there are two vital things you must know. First, the gadget is likely to be a router combo. Secondly, it would be wise if you stop it. For starters, you're probably not getting the latest hardware in the market. And chances are you are using a refurbished unit that another customer broke or simply became faulty. Besides, you are wasting a lot of money. Although the seven to ten dollars or so every month they are charging you may not seem expensive, it adds up. Purchasing a combo unit is the best way to do away with a rental, particularly if you stream content to wireless gadgets like laptops, phones, or tablets in your personal network.
The Motorola MG7550 is a fast cable modem plus gigabit router, assembled in a single, well-designed casing. Keep reading to decide if you should be replacing your rental hardware with the MG7550 series Motorola modem in this full review.
Motorola MG7550 Cable Modem
16x4 DOCSIS 3.0 cable modem plus a built-in AC1900 Dual Band (2.4 GHz and 5 GHz) WiFi Gigabit Router with four Gigabit (GigE) Ethernet ports, a firewall DFS, Power Boost, and more. This product is recommended for actual cable Internet service speeds up to 375 Mbps. A Broadcom cable modem chipset provides security from Denial of Service attacks. WiFi performance is exceptionally good, even in multi-dwelling units with lots of WiFi noise from neighbors. DFS and Power Boost are key
Requires cable Internet service. Approved by and for use with Comcast Xfinity and Xfinity X1, Cox, Charter Spectrum, Time Warner Cable, Suddenlink, WOW., CableOne and other cable service providers. Eliminate cable modem rental fees up to 156 dollars per year. (Savings are shown for Xfinity and vary by cable service provider. No cable modem is compatible with fiber optic, DSL, or satellite services from Verizon, AT&T, CenturyLink, Frontier, and others. Model MG7550 has no phone jack.)
Built-in high-speed Wi-Fi router with AC1900 Wi-Fi, and Power Boost, and DFS provides Internet access for Wi-Fi devices including smartphones, notebooks, tablets, game stations, HDTVs, Amazon Echo, Google Home, Chromecast, Roku, Amazon Fire TV, and AppleTV. Four 10/100/1000 Gigabit Ethernet LAN ports provide wired connections to Windows and Mac computers, HDTVs, game stations, streaming TV devices, and other Ethernet-capable devices.
Wireless Power Boost adds high-performance WiFi power amplifiers to boost the wireless signals to the legal limit, giving a significant boost in speed and range. The router can work on WiFi DFS frequencies, unlike most routers, so it is much less vulnerable to WiFi interference from neighbors. In addition, AnyBeam beamforming at both 2.4 GHz and 5 GHz frequencies focuses the signal on wireless clients to further enhance performance and range.
Integrating the cable modem and router creates a reliable connection that reduces unwieldy wiring and power adapter clutter while conserving desk space. The vertical design minimizes shelf space and improves cooling while looking great in any home or office. A two-year warranty plus rugged lightning and power surge circuits protect your investment.
Basic Features
686 Mbps max speed
Three internal antennas
DOCSIS 3.0 standard connection
Four Gigabit Ethernet ports
Sixteen downstream channels
Four upstream channels
AC1900 Wi-Fi Gigabit router
FCC-limit wireless power booster
Two-in-one functionality
Integrated parental control features
Interoperable with IPv6 and IPv4 network addressing
Up to 10 LED lights for status reports
Two-year limited hardware warranty
Design and Overall Performance
The Motorola MG7550 modem comes in a standard design in terms of cable modem construction. The extended oval-shaped housing is about nine inches long by two and a quarter inches wide by eight inches high. The gateway's base, front strip, and top cover are all black, while the rest of the area apart from the back panel is in grey. The sides and top panel are well-perforated and ventilated to allow ample airflow in the internal components.
Software: As with most gateways or routers today, the MG7550 provides a firmware to modify your settings. When you open a web browser, fill in the specific local IP address that will give you access to more settings that most modem users need.
You can change the 5 GHz and 2.4 GHz wireless networks' passwords and SSIDs through the basic settings. It is also where you can view your connectivity info like IPv6 and IP addresses. Most people will find basic settings sufficient, although there are tons of advanced settings if you like to tweak. You can alter features such as protection and parental control, advanced router, VPN, and status, from the advanced settings.
Usability: The most complicated thing you will encounter is waiting for your internet service provider to find their way to your MG7550 cable modem router and get it working. However, the user has very simple main steps. After removing everything from the box, connect the coaxial internet cable to the back of the device, attach a LAN cable to the modem router combo, and your PC, then call your ISP to initiate their process.
Performance: After setting up, your performance is going to vary according to your connection speed and internet provider. But the Motorola MG7550 is a 16×4 cable modem Wi-Fi router that can manage what most cable companies will throw at it. It can handle up to four upstream and sixteen downstream channels. While your results will depend on your cable internet plan, this unit can push as much as 123 Mbps upstream and pull 686 Mbps downstream. Apart from the few using Google Fiber and its like, this modem should handle what your ISP is providing.
Wireless connectivity is just as powerful. According to an independent Nepterian study, this gadget beat its fierce rivals like Netgear and Arris for Wi-Fi accessibility and reliability in real-world scenarios. It should cover a two-story building if you receive your internet connection from the first floor, while an apartment will be a walk in the park for this gateway.
Value: It's $179.99 MSRP is quite an amazing deal. Note that this router is going to replace both the modem and router in your home. It is certainly a no-brainer for anyone renting a gateway or modem. If not, it is an excellent choice for replacing your outdated modem and router at an affordable price.
Modem Router Capability: The Motorola MG7500 modem features a 16×4 channel bonding while the router uses an AC1900 dual-band platform for a total of 1900 Mbps in wireless speeds. The specs make this combo unit compatible with high-speed cable plans with heavy data usage.
Integrated Firewall: The majority of modems usually don't have any firewall or security feature since the wireless router that broadcasts the connection typically handles that. Fortunately, the Motorola MG7550 features a built-in firewall as a router component, demonstrating the convenience of an all-in-one gadget.
Learn Also: Netgear Nighthawk AC1900 WiFI USB Adapter Review
What is Good and Bad About Motorola MG7550 Cable Modem?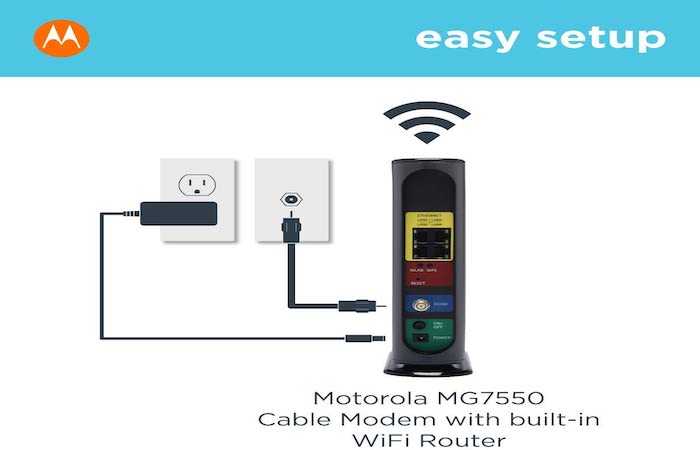 The Motorola MG7550 might be what your small office or home requires. It is stable, affordable, and gives incredible Wi-Fi speeds.
The Pros
It is easy to install
It offers a sturdy and stable Wi-Fi connection
The four Ethernet ports make it a central hub for wireless and wired connections
It provides sixteen times faster downloads than the DOCSIS 2.0 system
Up to three internal antennas, supporting triple send and receive channels
It supports IEEE 802.11ac, g, b, and n devices
It delivers an extended Wi-Fi range and speed through its Wireless Power Boost technology
It is a great choice for streaming videos, gaming, browsing
Even though this modem router Wi-Fi combo is popular for great speed, users identified some of its shortcomings.
The Cons
It has compatibility issues with Nintendo Switch that most gamers want
It doesn't support the latest DOCSIS 3.1 system
There's no support for USB connection
The modem and router combination gives a large footprint
It doesn't allow you to upgrade or replace single components
Recommended to read more: 
The Bottom Line
The Motorola MG7550 offers impressive performance plus convenience and is the way to go if you are looking to cut down on wires and boxes. It delivers an outstanding 686 Mbps of cable internet with dual-band AC1900 wireless functions ideal for present-day high-speed connections. The gateway also boasts a robust Wi-Fi courtesy of some built-in proprietary tech. It is a solid contender that works with the majority of mainstream cable ISPs like Comcast Xfinity, Cox, Time Warner Cable, Wow, Xfinity X1, CableOne, Charter Spectrum, Suddenlink and others.