How to Connect iPhone to Samsung TV – ISP Family
Many people love watching videos on their iPhones because of the outstanding display quality it provides. Nevertheless, iPhone screens have grown over the years but it's quite difficult to obtain most of the exact details by cause of the small screen size many times, especially when lots of motion are come off inside the movie. Hence, you may want to experience these videos or movies on a large screen. Because there is nothing more enchanting than watching your favorite show showed on a much larger screen. In this case, you can connect the iPhone to your Samsung TV.
Some People may think that connecting the iPhone to non-Apple TV might be impossible. Also, think if possible, its function might be complicated. But nowadays people are more willing to live comfortably, that is why more and more applications are being established.  Luckily, it's easy enough to connect your iPhone to Samsung TV or any recent TV for a larger-screen media experience. Connecting your iPhone to a Samsung TV grants you to play or share content from the phone on the TV (This is called screen mirroring). For this reason, iPhone screen mirroring becomes so famous and widely used.
By reading this article, you will be informed about everything you need, especially"how to connect iPhone to Samsung TV".
How to Connect iPhone to Samsung TV?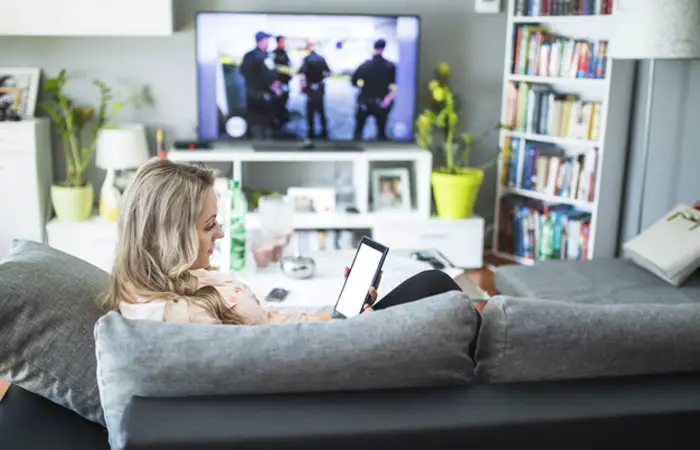 Small Screen is not enough for watching movies and videos. You will get excited in you to experience a larger screen when you connect your iPhone to Samsun TV. Now it's really simple to send video and music from your phone to your Samsung TV.  Anyway, there are many ways you can use it if you want to connect your iPhone with a Samsung TV.  Here are the seven ways.
1. Make use of Lightning Digital AV Adapter
The Lightning Digital AV Adapter permits you to connect iPhone to Samsung TV easily. It comes with two varieties where one for lightning device and another one come with a 30-pin dock connector. This allows streaming movies and audios on the iPhone. Here's the step to connect iPhone to Samsung TV.
Connect your AV Adapter into the charging port of your iPhone.
Access your HDMI cable and then connect it to the adapter.
Insert the other end of the HDMI cable to your Samsung TV.
Now switch on the TV and choose the appropriate HDMI input with your remote control.
Once you finished, now you can play the videos on your iPhone and see them on TV directly.
2. Use AirPlay to Connect iPhone with Samsung TV
Airplay is the easiest way to connect wirelessly is with Apple's AirPlay feature, and already built into your device's operating system. It enables you to mirror content from your iPhone via the Apple TV or TVs that support AirPlay 2. Only Apple TV users can get this option. You can access all this setup using the simple airplay option on your iPhone.
Connect your Apple TV and iPhone on the same network(Same wifi connection)
Turn on the AirPlay option on your iPhone.
Swipe to the control center and then select the AirPlay choice.
Choose the device on the receiving end to connect to your TV.
Once the connection is fixed, your Samsung TV will display the same screen which is on your iPhone. Now you can play any type of media files easily
3. Use Google Chromecast to Connect iPhone with Samsung TV
With Google Chromecast, you can not only play movies or songs with your phone, but you can also browse the internet easily. You can easily download the Google Chromecast from the Apple store from your iPhone and then simply connect it into your Samsung TV. Here are the steps to follow:
Come up with the Google Chromecast app on your iPhone and it will automatically connect to your device.
Select the Wi-Fi network
Now choose the device which you are willing to connect. This will allows you to give the option to easily connect to the device.
Now, Start media playback, and then displayed on the television as opposed to your iPhone.
Read Also: How to Get Free WiFi on iPhone
4. Use Roku Streaming Device
It is the new type of screen mirroring device that allows you to connect your iPhone to Samsung TV. You need to link up both the devices and configure properly for the sender and the receiver. Therefore, you need to figure out two basic things including building up the Roku in your iPhone and then configuring it with the receiver. You can follow these steps to connect the iPhone to TV.
Go to the systems by opening the Roku from your TV and then select the Screen mirror option.
After opening the screen mirroring option, you will need to verify the prompt box that arises. Now select allow the option to make it accessible to connect.
After that, download the Roku Streaming Device application to your iPhone.
After installation, search for the available devices. Just tap on the device when it is found.
Now select the Photos with the option to start the mirroring option for your screen.
5. Video TV Cast
This program allows displaying videos playing your iPhone to Samsung Smart TV and Blu-Ray players. You can play online and offline movies without any time limitation through the Video TV cast. However, the below steps can help you to connect the iPhone to your Samsung TV.
At first download and set up Video TV Cast App on both devices. It is available on the App store.
In your iPhone simply click the Cast icon which is present in the upper right corner of your display.
After clicking the icon, a new pop-up window will show containing an IP address. By using your remote controller, set the IP address on your Samsung TV
Once the devices are connected, search for the movie which you would like to see and then play it.
You can exhibit videos being played on your own iPhone on Samsung TV with this App.
6. Use AllCast
You do not have an Apple TV, no need to worry. Still, you can send photographs, videos, and others from iPhone to the TV by using AllCast. This program performs with any system that supports DLNA rendering. You need to download and install to establish a connection as it is an application. You can install both premium and free version. However, follow this step to connect iPhone to TV.
At first install the Allcaston your iPhone. Once the installation finished starting with your Samsung TV.
Now go the All cast app and then click on the allow option to access your photos and music.
Tap the cast icon that presents on the bottom left side of your screen. Here you can see a list of the noticed devices which will pop up.
Now, Click on the selected device for getting connected with the TV. After tapping, the screen mirroring option will start automatically.
7. Airbeam TV
It is similar to most of the wireless connectivity options that you can obtain. It is simple and is exactly designed for your Apple devices to get connected. The connectivity options are simple and you can easily connect to the TV by following these steps:
Install the Airbeam TV on both devices which is available on both the App Store.
Once the installation is finished now open it from your iPhone, after that click on the cast option.
Now switch on your TV
After opening the cast menu, you can easily obtain the device to be paired with. Just click on the device and the screen mirroring will appear.
8. Stream iPhone to TV
Streaming content from your TV from an iPhone is a great concept if you need a larger screen to showoff your movies or photos. You can also stream apps, games, and more from your iPhone directly to your TV. There are many ways to enable streaming on your iPhone. Some ways are completely wireless and associate with little setup and some are by plugging system. You can stream via cables with an adopter, Chromecast, Apple TV, and in other ways. These applications allow you to stream your movies by following some simple steps. However, for streaming, you can download the mobile streaming applications that will work as a remote controller between your iPhone and a Samsung TV. StreamToMe, mobile streamer, and media player support videos of various forms. Here there is no need for conversion or copying.
Recommended Article Suggested for You:
Frequently Asked Questions
Can I connect iPhone to Smart TV?
Yes, you can connect iPhone to Smart TV by following some methods. These are Lightning Digital AV Adapter, Apple TV, Google Chromecast, Airbeam TV, etc. By these, you will get simple steps to connect iPhone to Smart TV. Just randomly choose any of them.
How do I wirelessly connect my iPhone to my TV?
You can connect iPhone to TV wirelessly in several ways. However, you can go with AirPlay. Link up your both devices on the same network. After that turn on the AirPlay option and Swipe to the control center and then select the AirPlay choice and finally, choose the device to connect to your TV.
Can I mirror the iPhone to Samsung Smart TV?
Yes, you can mirror iPhone to Samsung Smart TV. Simply choose Airbeam TV and follow the steps. InstallAirbeam TV on your devices. After clicking on the cast option just switch on your TV and select device for screen mirroring.
Is it good to connect iPhone to SamsungTV?
Yes, it is good to connect iPhone to Samsung TV. In this way, you can easily be watching your favorite movies and videos on a big screen.
Bottom line
Therefore, connecting the iPhone to Samsung TV is not a difficult job rather there are many processes by which you can connect your iPhone to Samsung TV. You can do it easier to stream your youtube movies and videos by following the methods which are listed above. So this all about from our side, hopefully, you will get everything you need.