Suddenlink Internet Plans and Pricing in 2021
Nowadays, the internet has become everyone's priority. And if there is an internet service provider that offers a good speed at affordable prices, he becomes the talk of the town. In recent times when Covid -19 has struck everyone badly, companies are still keeping their employees safe at home. Not all companies have started in a full-fledging stream. So, many employees are still working from the comfort of their homes. And to fulfill their work or entertainment needs they need to have a good internet plan. Not everyone has a good budget when it comes to payment of monthly bills on the internet. Not many people can buy premium internet plans for their daily entertainment or official work of any kind. So here, Suddenlink hops in.
About Suddenlink
Suddenlink is a broadband cable provider, and it serves its customers with lightning-fast internet speed in the United States. It provides its services to almost 1,00,000 businesses and 1.5 million residential areas. Besides this, it also caters to the needs of U.S. residents with its services like home security, home automation, digital Television, ph Television wireless home networking. Its huge network makes it the 7th largest cable provider in the U.S.
Its network of subscribers can be seen across 20 states in the U.S. Besides serving in the suburban areas, it is also available in rural areas.
It is gaining popularity with one goal in mind to provide seamless and affordable services for home entertainment and communications.
It has also stood out as one of the top 5 companies working for women by women in cable communications.
If the applicant wants a new connection and is unsure about the area, whether covered under the services or not, they need not worry. They need to feed their zip code in the search bar of the company's serviceable area, and they are good to go.
Features of Suddenlink
Following are the distinctive features that give an edge to Suddenlink Internet and make users choose them:
Availability of high–speed internet in rural areas
A majority of rural areas are well covered with Suddenlink. So, the users do not feel the low speed in rural areas, and they can enjoy the perks of high-speed internet. Up to 20 wireless devices can enjoy the internet service.
The Speed range is quite wide.
Four different speeds are provided to users as per their degree of use. And this limit reaches 1Gbps. So if the user wishes to opt for a lower internet speed as per your personal needs, she can do so. This makes the plan useful and affordable at the same time.
Data Cap is not required.
All the internet plans provided by the company come with a feature of unlimited data.
Absence of any Contractual commitments
If the user is not looking for any long commitment with the company, they can also use the company's service because it does not call in for any contractual commitments. And this does not affect the reliability of the company too.
In case someone opted for some other internet services provider, and they are still stuck with them, then Suddenlink comes to their rescue. In case the user switches to Suddenlink for better plans, the company provides help of up to $100 to seek an early termination fee.
If the user opts for a 1Gbps plan, she can see that it acts as a lifetime plan for her and her family. The bill never tends to increase, and this relaxes the user to a limit.
Amazon gift card worth $50
There is good news for all the new subscribers because the company gifts its new users with a token of love for joining them. A $50 amazon gift card is given to all the new members who join the Suddenlink family. But if the user makes any late payments, the company calls off this offer, and the gift card is not mailed to the user.
Impressive Rural Connectivity
In case the user lives in a rural area, then they need not worry. Suddenlink has impressive rural connectivity for U.S residents. Be it a daily browsing routine or heavy online streaming; it covers all for its users. And if the users are someone who loves to engage themselves in any online gaming activity, then amazing deals are open for them.
The offer is good at a flat and lucrative rate of $30 per month, which speeds around 200 Mbps. In addition to it, the speed can be increased up to 1Gbps, but it depends on the area of serviceability too.
When someone subscribes to the company's internet services, they are sure to get a seamless Smart WiFi feature. The company also provides technical support for 24×7 schedules. So, if the user is facing any issue with the service, they can contact the company for technical support.
If the consumer wishes to use the internet services in a bundle with TV services, they can opt for that. And for a complete home entertainment experience, an Altice Amplify Smart hub can also be built.
Suddenlink Options at a glance
Suddenlink provides a variety of services like internet and television services as well. And they extend their services both to the native residents and businesses running in the United States. Suddenlink also caters to the needs of rural and suburban customers.
To offer a variety of services, Suddenlink extends its hands for the following:
Internet
The plans Suddenlink provides for internet services start from a nominal and average range of $30 per month.
The internet speed can be extended up to a whopping 1Gbps.
Television
Suddenlink provides access to around 340+ channels. So its consumers are never bored and can enjoy unlimited entertainment.
The recording facility for the users can record up to around 15 shows at a time. So, even if they miss their favorite show, it is recorded for them. And they can enjoy them at any time. With the suddenlink2go application, the recordings can be done through smart devices as well.
There is an added-on facility of Apple TV integration too.
Bundle Services
When the users opt for bundle services at Suddenlink, they are provided with great and lucrative discount offers. This helps the users in managing everything at a budgeted price.
The facility of taking online orders and provision of free installation is also very useful for the users. They can enjoy the services of the company without paying anything extra for installation.
If the user is lucky enough, they can also avail of an amazon gift card from the company. This gift card can be up to $100.
Suddenlink Internet Plans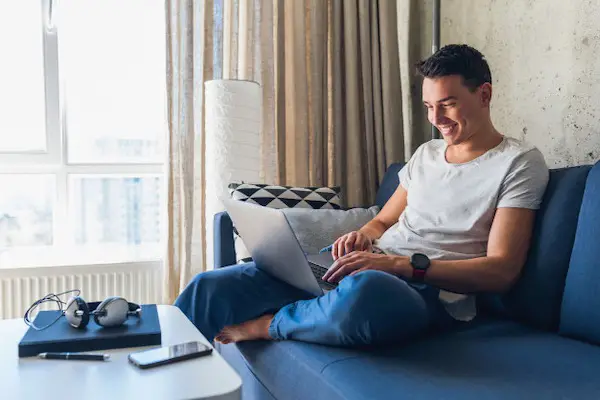 Everyone should have a good customized internet plan. And so, the company has devised some categories of plans for its users. They can choose their desired plan, and they need to spend accordingly.
Following are the available plans to choose from:
Suddenlink internet 100 Mbps:
If the user has a small working area at your home or a small household, this plan is ideal for their needs. This plan covers all such devices that stream and helps in browsing the web, and it helps with the easy download of large files. This plan can be availed for $39.99.
Suddenlink internet 400 Mbps:
In case the user has a household of a moderate size wherein multiple devices are available for the plug-in, this plan is ideal for them. If the user is fond of 4K UHD, multi-player gaming, music activities, and needs to download larger size files, this plan can prove beneficial for them. This plan can be availed for $59.99.
Suddenlink internet 1 Gbps:
Big households with a variety of needs to look after must go for this plan. In the 1Gbps plan, there is an availability of the fastest internet service. It helps in streaming movies or music, whatever the users prefer to experience at lightning speed. Those users who love gaming and need to download large files in no time from multiple devices must go for this plan. This plan is sure to give its users a seamless experience. This plan can be availed for $89.99.
Suddenlink2Go:
With this feature on the device, the users can watch their favorite entertainment regardless of their place. The user needs to download the free application, and he/she is good to go. This allows them to enjoy popular channels like NBC News, E!, Oxygen, Bravo, and much more. The users have access to Suddenlink2Go.com, and they can watch an ample 400,000 titles on any such device that is enabled with WiFi.
Suddenlink Wifi@home:
It is a monthly service that enables home WiFi usage, and its fee is $10 per month. A complimentary care coverage comes with the plan too.
Equipment and fees:
There is a need for the right equipment to cherish a wonderful experience, and Suddenlink provides its users with everything. Its equipment range is as follows:
Fee for Installation:
Except for the 100 Mbps internet plan, Suddenlink waives off standard installation fee for every other plan. The installation charges for the 100 Mbps plan are $99. In the case of premium installation, regardless of the plan, $149 is charged. This installation helps the user to connect to WiFi on up to a maximum of 6 devices. The company assists fully in the creation of a Suddenlink ID too.
WiFi Modem:
If the user wishes to rent a modem through the company, it can cost up to $10 per month. The modem comes with a router. But the user is always free to use their modem and can avoid the modem rental fee. However, the user will not receive technical support from the company if he/she is not using a Suddenlink modem.
Suddenlink internet Activation fee:
Unlike many service providers, Suddenlink does not add its activation fee in the installation. An additional fee of $40 is charged for internet activation.
Fee for network enhancement:
In case the user opts for any network enhancement, then it is chargeable additionally. A fee of $3.50 is charged per month for this feature.
Not returned equipment:
In case the user wishes to keep the company's modem, it may be chargeable up to $150.
E-billing:
The paperless billing feature provides for a discount of around $5 for e-billing an auto-pay feature. In case the user wishes to cancel this feature, an additional charge of $5 is levied on the monthly bill.
Contract:
Fortunately, the company does not call for any contractual commitment from its users. So any early termination fee never causes worry for the user.
Data Caps:
The feature of unlimited data extends to every plan included in the company's internet package.
Price Rise:
Unless the user purchases a 1 Gbps plan, their monthly bill increases yearly on a 100 Mbps plan. In the case of the 400 Mbps plan, the increase occurs after 24 months.
Upgrade in existing plan:
The user can upgrade their internet equipment by visiting suddenlink.com/better, and they can check their eligibility. Then they can order online for the required equipment, and it is shipped for free. For a live chat session with an online agent, the customers can call 844-790-7477 or visit their local store and get their upgrade.
Related Articles:
FAQs of Suddenlink Internet Plans
Is Suddenlink Internet Unlimited?
If data is used for various purposes such as gaming, surfing, sharing of files, streaming, and browsing, it isn't easy to calculate the usage of data. For each segment, the calculation cannot be precise.
The company offers a variety of plans for its valuable customers to choose from. So if the customer opts for a 50 Mbps or 100 Mbps plan, they get a 250 GB data cap. There is no such option available to add an unlimited data feature to these two plans. If the customer wishes to exceed the data limit, they can pay $15 as an extra amount. And this amount is chargeable on every extra 50 Gb of data used over a 250 GB cap. However, if a 400 Mbps and 1 Gbps plan is chosen, it provides unlimited data.
How much is Suddenlink Internet for a month?
The plans offered by Suddenlink are affordable, and they start at an affordable price of $24.99 per month. Taxes are excluded from this amount.
What is the cheapest Suddenlink package?
The cheapest Suddenlink package comes at $39.99 for 100 Mbps. It has a monthly usage allowance of 250 GB and a download speed of up to 100 Mbps. The upload speed can go up to 10 Mbps.
Is AT&T better than Suddenlink?
Both AT&T and Suddenlink have a starting price of $35 per month. However, Suddenlink provides a minimum of 100 Mbps and a maximum of 1Gbps speed, whereas AT&T ranges from 5 Mbps and goes up to 940 Mbps.
The data cap for Suddenlink is 250 GB or unlimited. And the data cap for AT&T is 1 TB per month DSL and is unlimited with AT&T fiber.
So definitely, Suddenlink is far better than AT&T.
Learn Also: AT&T Business Internet Review: Plans and Pricing
Does Suddenlink have senior discounts?
Suddenlink has attractive benefits for senior members. It offers Altice Advantage Internet to all the households that are eligible and fall under their area. And to participate in the same, the residents are required to participate in National School Lunch Program (NSLP). Or if they are a resident of New York and have attended any New york city public school, they are eligible.
In case the applicant is 65 years or above, they are eligible for receiving Supplemental Security Income (SSI). And if they are veterans, they receive either assistance from the state or the Federation. Altice Advantage Internet plan comes with a basic 30 Mbps speed at $14.99 per month. Taxes are also added to this amount, and installation charges, if any, are applicable. However, a free smart router is provided that comes with a modem and unlimited data, and there is no contract for the same.
Learn Also: AT&T Senior Discount Internet
Why is my Suddenlink bill so high?
It depends upon the plan chosen by the customer. In case of extra services being availed the company charges some extra amount for the same. So, it is advisable to check on the services in use and monitor monthly bills from the company. In case the user sees a sudden hike in the bill, it may be reported to the company, and the issue will be resolved. The user may also ask for the usage details and check the reason for any sudden hike in the bill.
The company never charges for any service that is not provided to the customer. So, the user will rarely face such an issue. The customer support is so helpful that any query is resolved within no time.
Company Customer Support
The company provides constant customer support 24/7, and the users may get in touch with the team in case of any issue. For services such as bill payment or any FAQs, the users can visit the company resources page, which is available online. In case of any technical support, the customer representative is available on the customer support number, 877-794-2724.
The company provides impeccable internet services and is known for its supportive team. The users can look for a long-term commitment from it, and they will be able to enjoy a seamless experience of its services. For any further queries or knowledge of any internet plan, the new user can contact the customer support team anytime. The company has an online as well as offline presence all over the U.S. The customers need to search for their options, and they can avail themselves comfortably.